Keeping short hair can actually be much more fun and stylish than you might think.
For centuries, people believed that 'the longer your hair, the more you can do with it'.
But who says it always has to be that way? 
In this article, I'll be giving you tips and tricks on how to style your very short hair, with major emphasis on curls.
Yeah, curls; the elusive hairstyle that seems only reserved for those with long hair, and many celebrities seem to drive this point home, flipping their lush curls in our faces.
Perhaps, you've always coveted them as you take a tan by the beach (Well, Spoiler Alert: it's like pretty easy). 
So whether you rock a bob, pixie cut or maybe even a faux hawk, you can still stay in trend with the latest curls.
And what's more, you don't have to break the bank to do so. Read on…
This post may contain affiliate links. If you click through and make a purchase, I'll earn a commission, at no additional cost to you. Read my full disclosure here.
---
Looking for a flat iron that can curl very short hair?
Check out the Babyliss Prima 2000 3/4-inch mini flat iron.
It packs a punch and work just as hard as full-sized hair straighteners! It's dual voltage so it's perfect for traveling too. You can read our full review of the Babyliss Prima line here.
---
How to Curl Very Short Hair With a Flat Iron
Let's face it, curling short hair can be a little challenging.
But that's it, the results are totally rewarding.
Naturally, women with longer hair have the advantage; I mean their curls are so pronounced.
But don't lose hope… with your short hair, a flat iron, and a few off the shelf items, you can create your own hair magic and be on equal footing with those long-haired divas who always seemed out of reach.
RELATED: Different Ways To Curl Hair With A Straightener
Look on the bright side; short hair is perfect for the all-year-round stylish look. And what's more, short hair is quicker to curl.
Curling short hair with a flat iron, however, is a different ball game from using any other curling tool. If you prefer heatless methods, there are other ways to curl short hair without heat.
While you might not get it exactly right the first time, with just a little practice you'll improve quickly.
From choosing the right flat iron size to getting your hair ready, this article covers all you need to know, and gives some useful tips to ensure you achieve the curls you want, and maintain them for as long as possible. 
---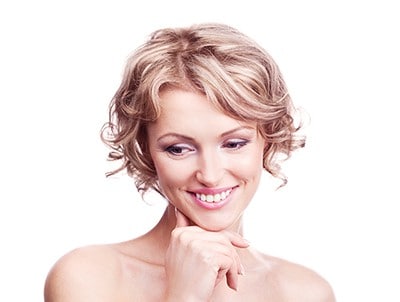 Use a good protective spray to prevent any damage. A good quality heat protectant spray is a good investment if you're going to curl or apply heat on your head on a daily basis. Once the spray is on, and your hair has dried, then you're ready to start.
Next, add a styling product. This works well especially if you haven't washed your hair to give a bit more grip and texture. If you have fine or very straight hair, an excellent product to use is a texturizing spray. This will make your hair thicker and fuller. If your hair is thick, it will also help with lift.
Then, section out the hair. You can start at the bottom or at the top. But it's easier to clip the back part away from your face, leaving the front part loose and the rest out of the way.
Some people like to start from the back. But when you're learning this technique, it's sometimes better to start from the front. This way you can see what you're doing and practice until you can achieve the curl you like.
Starting in the front of your face, take a one to one and a half-inch section and clamp it into your flat iron.
Twist the iron 180 degrees, not 360, twisting towards the back of your head, then pull it straight down to the tips of your hair. The idea is that you're bending your hair around your flat iron, not curling it.
For the shortest strands at the back of your head, you can twist them slightly to create the wave. If you want more lift? Then put your flat iron as close as possible to your scalp. Hold for a few seconds with the hair standing up at the base.
Take the next section, it should be the same size as the first and rotate the flat iron in the OPPOSITE direction to the first section.
By doing it this way, you will add a lot of movement and much more body to your hair. This will also stop the curls from clumping together.
Just repeat the curling steps alternating the direction for each section you select, until your whole head is completed.
A rule of thumb is that a greater number of alternate repetitions will give you a 'beachy' look with better texture, and fewer repetitions (more spaced waves) will result in a softer, more soothing look. 
Spray with fixing spray and let it cool. You can now use your fingers to separate the curls. Break apart the waves to create a fun Beachy curled look.
CHECK OUT: 10 Tutorials That'll Show You How To Create Flat Iron Curls
---
Pin Curls
To create these wrap your hair around your finger in a tight curl and pinch it in place. Then (minding your fingers!) clamp your straighteners down flat over the top of your curled hair.
You'll want to hold it in place until it cools and use a hairspray to give it some staying power too.
This technique will give you a soft ringlet curl and is perfect if you can't master some of the other, more tricky techniques.
You can also use rags or any old shirt for rag curls. Just cut up smaller bits for really short hair.
---
Corkscrew
For this one, you'll need to find something like a pencil or makeup brush that is heatproof for you to wrap your hair around.
Once you've found something take small sections of your hair and wrap it around tightly, getting it as close to your roots as possible. Then clamp down on your hair with the straightener to lock in the curls.
It's better to leave the hair to cool for a few seconds before removing the pencil or makeup brush too and this will make them last longer. Finish by separating the curls with your fingers and running some serum through the ends to keep any frizziness at bay.
---
Loose Curls
Start by plaiting your hair in small sections and make sure to run the plait to the very end of your hair.
Run your straightener down the plait making sure they are fully heated up. You then want to leave them to cool down completely and spray them with some hairspray before taking out the braids and voila, you'll be left with very loose curls.
If you prefer heatless methods, bendy rollers for short hair is a great alternative.
---
 How to curl pixie hair with flat iron 
If you rock short hairstyles like a pixie cut, then a half-inch size flat iron is ideal. But you can still use a 1-inch flat iron like in the video above.
For longer hair types (that cross your earmark), a one-inch flat iron is a good choice. Note that flat irons larger than one-inch will not work for your short hair, and smaller than one-inch sizes will result in curls that are too tight for longer hair types.
READ: How To Curl Bangs With A Flat Iron
---
Flat Iron Tips and Tricks For Curling Short Hair
The finishing touch in styling your hair is important, as is the tipping point between regular and spectacular waves. Using your fingers to roughen up the ends of your hair with wax or pomade will result in more defined waves and a smooth finish.
For tighter curls, grab smaller sections, and for looser curls, larger sections.
The flat iron will hold the curls better if your hair is in its natural state, and has not been heat-treated recently. You will find it more challenging to achieve the curls you want if your hair has heat damage.
To ensure your curls stay in place for as long as possible, make sure the products you get are specially formulated for your hair type. 
Curling short layered hair can be challenging. But it's all on how to section your hair. Also, you have more control with a flat iron.
Sometimes, keeping your hair loose and untangled might prove difficult if you have stubborn strands.
To handle this, take your well-dusted flat iron and make gliding motions over the ends of your hair. In the end, your hair will look smooth and carry a natural finish to it.
Check Out: Curling Hair with Flat Iron vs Curling Iron
So I hope by now you know how to curl really short hair with a flat iron. It might be tricky, it might be hard. But with practice, you'll get it right eventually.
PIN FOR LATER!
Image Credits: Deposit Photos