Spoiler: It's Pretty Easy.
I'd love to have someone style my hair for me every morning. But that's just not the reality of things. And since you're reading this, we're probably on the same page. Does that mean we have to be stuck with average looking hair for the rest of our lives? No way!
While I can't wake up every morning looking extra. I can take a few minutes out of my morning to create a simple yet flirtatious look. My go-to look is the beach wave look. It's got an effortless, glamorous feel to it. And it only takes minutes.

How to Create the Perfect Beach Waves with a Flat Iron
Prep your hair so it lasts
The key to have those curls holding up all day is prep work. The prep work will depend on your hair type. If you have extremely dry hair, consider a heavy shampoo or conditioner that will weigh freshly washed hair down. For hair that is smooth and silky, a light moisturizing shampoo and conditioner should do.
Here's a little tip for prep. If you are looking for those curls to hold for an event, curl your hair on the second or third day after shampooing. Dirty hair holds curls better than clean hair. If your hair feels greasy, you can always start with a dry shampoo.
Prepping with setting spray is another great way to lock in your curls. Most setting sprays offer heat protection too.
Buy the right flat iron for beach waves
To get impeccable beach waves you're going to want to shop around for a flat iron that's ideal for curling.
You're essentially looking three specific things: plate size, a rounded body, and a slim design. 

What size flat iron for beach waves?
You're going to want a flat iron that has 1-inch plates or smaller. Anything bigger and you risk losing your curls. The flat iron will need rounded edges. You need to be able to wrap your hair through the straighter to create loose curls. Finally, a slim design with a good grip will allow you to effortlessly flick your wrist. 
READ: Flat Iron vs Curling Iron for Curls
---
How to get beach waves with a flat iron… in minutes
You've done the groundwork. Now it's time to curl. Believe or not, this is the easy part.
Step 1: Clip your hair up. This will allow you to start curling the bottom section of your hair first. If you have long hair, you may consider parting your hair from ear to ear first and then clipping the top into sections.
Step 2: Separate 1-inch of hair. Place the flat iron at eye level. Feed your hair through the clamps. Rotate half a turn and glide the flat iron away from your face towards the end of your hair. Release the flat iron before you reach the end.
Step 3: Take the next section and repeat. This time, alternate the curl. 
Step 4: Continue doing this, alternating the curl, until the entire bottom section has been curled.
Step 5: Unclip the stop section. Curl the top section in the same way.
Step 6: For a more natural look. Wait for your curls to cool. Once the curl sets, you can use a detangling comb to lightly brush your waves.
And voila sexy beach waves in 5 minutes!  

CHECK OUT: The Definitive Guide on How To Curl Hair With a Flat Iron
---
Game-changing hacks to create a flawless look
Using a flat iron to curl your hair is relatively easy. But creating flawless waves can take a bit of practice. Here are some game-changing hacks that will immediately change the way you curl your hair.
1. Start at Eye Level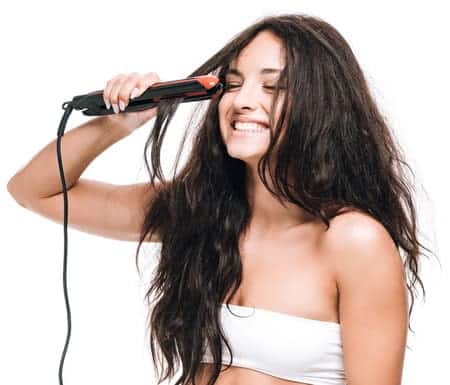 Sexy beach waves began a few inches from the top of your head. When curling with a flat iron, start at eye level. You can also use the flat iron to flatten out to the first 3-inches of hair before starting the curl.  
2. Omit the Ends
Everyone's got the new lazy beach wave look. To create this look, simply leave the ends of each section straight when curling your hair. Using a styling product at the ends, such as a pomade, will help you create a more textured look.
3. Keep Moving
Here is a hack from the Pros. It's important to keep the flat iron moving. The constant gliding motion keeps the curls soft and bouncy. It also keeps your hair from burning.
4. Angle Your Flat Iron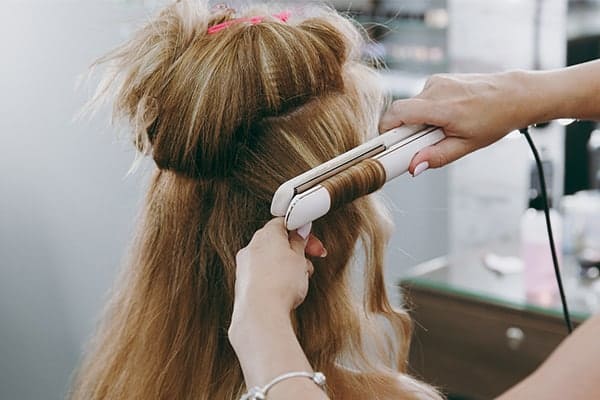 Holding your flat iron at various angles will change the volume of your waves. If you want voluminous waves, heat the root of your hair first and hold the iron horizontally as you create your wave. For less volume, hold the flat iron vertically, facing downwards, as you glide the iron through your waves.
5. Smooth, then Curl
For extremely curly or frizzy hair, smooth your hair first. Then go back to create the beach wave look.
READ MORE: 10 Tutorials That Shows You How To Create Flat Iron Curls
---
Beach Waves With Flat Iron: Short Hair Hacks
For short hair, it's important to curl the front section away from your face. This style will open up your face and keep the curls from falling towards your eye line. 
RELATED: How To Curl Really Short Hair With A Flat Iron

---
Beach Waves With Flat Iron: Long Hair Hacks
With long hair, you have the choice of changing the bends in your hair. To achieve a more blown-out look, you can consider bending the ends of your hair under. For a more undone look, stop before you reach the tips.
The repetitions in your waves will also create a different look. With more repetitions, your hair will look more textured and beachier. Bigger distances between waves will give you a more soft and glamorous look.
READ: How To Curl Long Hair With A Flat Iron
---
Use Finishing Products
Using a finishing product can keep those waves defined a little longer. If you are going to an event or looking for that extra look, consider applying a setting spray. The setting spray can be applied before, during and after curling.
It's worth the effort
While some of these tips can be daunting, practice makes perfect.
Are you a complete newbie? Check out How To Curl Hair With a Straightener: Step by Step Guide For Beginners
When I first started practicing the beach wave look, the processes took me time. I ended up with crazy textures and voluminous looks that I could not walk out of the house with. It was scary!
But over time, I learned what worked for my hair. I learned what worked for the weather and the occasion. And now, 5 minutes later, I walk out of my house looking like I stepped out of my bed with sexy beach waves.
PIN For Later!
Image Credits: Deposit Photos