Many of us long for beautiful, effortless curls but struggle to find the time in the morning to sit down and style our hair.
While you could reach for heated styling tools, these can damage your locks when used daily and time-consuming when packed in amongst your morning workout, breakfast, or commute.
Well, never fear!
We have put together a list of fast, heat-free curling methods for short hair, so you can spend less time in front of the mirror each morning but still look fabulous!
Hello Awin
---
How can I curl my short hair without heat fast?
Creating luscious curls without heat in just 5 minutes is a big ask.
So before we get to the methods, let's take a quick look at the science behind creating curly hair.
Your hair is composed of various proteins, one of which is called keratin.
The keratin is held together by molecular hydrogen bonds, whose job is to maintain the shape of your hair. These bonds can be altered using either two methods – heat or water.
By applying heat or water to your hair, you loosen the bond between the hydrogen molecules, allowing you to alter the shape before the bonds return.
Therefore setting damp or wet hair into your desired curl pattern and leaving it to air dry will result in simple, damage-free coils.
Of course, different methods and hair textures may require longer than 5 minutes to set.
But for those of you with freshly washed tresses, taking the extra bit of time to prep your hair before bed will still allow you to quickly reveal the stunning results the next morning.
READ: The Ultimate Guide on How to Curl Short Hair
---
How can I make my hair curly in 5 minutes?
Let's start with our fastest methods to achieve some quick curls.
If your short hair already has a slight natural wave, creating loose waves and curls is surprisingly simple. All you need are a few good styling products and your hands.
---
5 Minute No-Heat Beachy Waves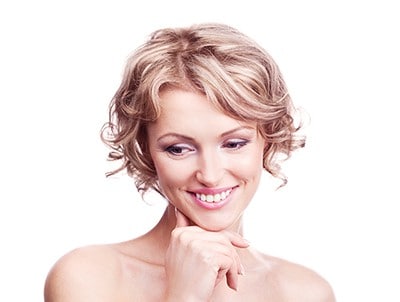 This method is by far the fastest way to create some effortless waves and texture in your hair, so you can look like you have just stepped off the beach in minutes.
Wash your hair and comb through your conditioner in the shower to remove any knots or tangles. Rinse and then flip your hair upside down and wrap it in a towel to absorb some of the moisture. You mustn't brush or comb it again.
Once your hair is free of excess water, spritz the hair with texturizing spray and begin to scrunch your hair from the ends, pushing up towards the root using your hands.
Next, flip your hair upside down once more and apply a generous amount of volumizing mousse and scrunch it in for a couple of minutes as your hair continues to air dry.
Once the hair has completely air dried, apply a small amount of anti-frizz serum to tame any unruly hairs. But remember, beachy waves are all about the messy "undone" look!
When satisfied, finish off your look with a spritz of hairspray to set your waves in place for the day.
The important thing to practice with this method is finding the correct balance of product for your hair.
Too much, and your hair will look stiff and have a crispness to it, but not enough, and your waves may not hold. So experiment and enjoy super simple beachy waves in minutes.
---
5 Minute Finger Curls
This method is just as simple and only requires some styling products and your hands to mold your damp hair into quick and easy curls.
Spritz your hair with water or run wet hands through your hair 3 – 4 times until damp, be careful not to over saturate the hair, or it will take too long to dry.
Apply a small amount of curl cream to your hair and then divide it into sections. The more sections you create, the tighter your curls will be.
Starting with the section closest to your face, wrap the hair around your finger and twist away from your face. Then, gently put the twisted hair down so it can set in place.
Take the next section of hair but this time twist your hair towards your face. Continue to alternate the direction of your curls until all of your sections have been twisted.
Spritz all of your sections with hair spray and leave to set for 5 minutes (or as long as you need to finish getting ready for the day.)
Very carefully untwist the hair without disrupting the curls, or flip your hair up and down a couple of times to reveal fabulous messy curls!
---
How can I curl my hair without heat in 2 hours?
Have a couple of hours to spare before you need to head out of the door but still want to keep your styling heat and damage-free?
These methods require minimal prep and can be left to set for just a few hours or overnight for beautiful curls.
Check Out: How to curl short hair using bendy rollers
Headband Curls
Do you have an elasticated headband lying around?
This underappreciated hair accessory can do so much more than decorate your hair; you can use it to create lovely curled locks fast!
Let your curls set for a few minutes if you are in a hurry or a couple of hours for a long-lasting defined style!
Allow your washed hair to dry a little or spritz with water until damp.
Add a little curling cream or hair mousse to encourage your curls to hold.
Put the headband on your head with the front resting across your forehead.
Starting with the hair closest to your face, take a small section and wrap it around the headband once.
Take another small section of hair, combine it with the first section and wrap it around the headband once more.
Continue until all of your hair is wrapped and leave to set until the hair is completely dry.
Unwrap your hair from the headband and gently finger comb or shake out your curls before finishing with hairspray to lock in your look.
Remember that the more water you apply to your hair, the longer it will take your style to set. If you are in a rush, just a gentle spritz of water will ensure the hair is pliable enough to create beautifully subtle curls in 5 minutes too!
While it'll take you less than 5 minutes to wrap your hair around the headband, it's advisable to leave it for at least half an hour to do its magic.
You can do you chores, put on makeup, cook breakfast or drink coffee while waiting for the curls to set. Aimee from A Mom's Take swears by this no heat, no stress 5 minute curls!
Instead of using headband, you can also use an old shirt for rag curls.
---
Braids
Using braids to curl hair is a method that has been around for hundreds of years, and if your hair is long enough, it is still a fantastic method to use today.
Although commonly worn overnight to reveal beautifully crimped locks in the morning, braids can effectively curl your hair in just a couple of hours with the addition of a few styling products.
Dampen your hair with a gentle spritz of water or by running wet hands through your locks 3-4 times.
Apply a curling cream or a small amount of hair mousse to encourage the curls to hold their shape.
Divide your hair into sections. For tighter curls, divide the hair into more sections to create smaller braids.
Once you have finished braiding your hair, spritz a light layer of hairspray and wait for your braids to set.
After a couple of hours (or overnight), gently unravel your braids and loosely shake out your curls – do not brush them, or you may create unwanted frizz.
This is an excellent method to use when heading out for the evening and taking your look from straight to curly with minimal effort. Simply pop in your braids and carry on getting ready, leaving 5 minutes in the end to reveal your stunning transformation.
READ: How to Curl Short Layered Hair
---
How can I curl my hair without heat overnight?
While you can use headbands and braids to create beautiful curls and waves overnight, for a really defined and voluminous look, hair rollers are a fab option for short hair!
Check Out: No Heat Curls for Short Hair
---
Hair Rollers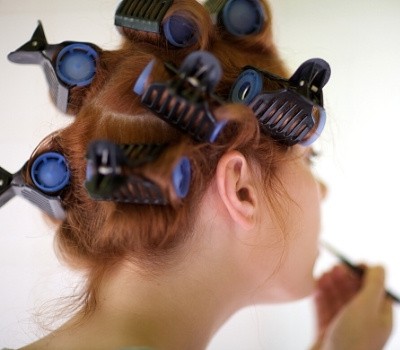 There are many types of hair rollers available, each with its pros and cons (for an extensive list, check out our definitive guide). Still, when using overnight to set your hair, we recommend opting for something soft and comfortable to sleep in such as foam rollers.
Wash your hair with a volumizing shampoo and conditioner, and towel dry until slightly damp.
Brush through with a wide-tooth comb to remove any tangles, and then apply a small amount of curl cream or mousse to help your curls hold.
Choose your foam roller. For tighter curls, opt for a smaller size; for looser waves, opt for a bigger size. Just ensure your short hair can wrap around the roller entirely.
Divide your hair into sections, one for your bangs, one for the middle section, and one for either side.
Take small sections of hair starting from the top and wrap them around the roller. For ringlets, position your rollers vertically or horizontally for softer curls. Continue until all of your hair is wrapped.
Leave your curls to set overnight, to protect against frizz and ensure your rollers are not disturbed while you sleep, a satin bonnet or scarf is a great investment.
In the morning simply take out your rollers and shake out your curls, finish off with a spritz of hairspray.
While this method does take longer to prep the night before it can make your morning styling routine a breeze. With just 5 minutes in front of the mirror before work or school, you are ready to go with mesmerizing curls.
---
The Bottom Line
Curling your hair doesn't have to involve heat.
When opting to use water to help set your hair, the key to speed is to not oversaturate that it takes too long to dry.
Work with lightly damp hair and ample styling products to set your curls fast, so you ready to rock your day in record time!