Short hair doesn't have to be short on style. One totally under-appreciated beauty tool that should be getting major kudos from short haired girls is the velcro roller.
That's right, these beauty warriors aren't just for Great Aunt Alice.
Velcro rollers are a tried and true styling tool that protects your hair while create a long-lasting, fantastic look.
They're inexpensive to buy and come in shapes and sizes that will fit any hair length, even your short hair!
Whether you want to add volume or have fun, funky curls, you'll find success without damaging your hair.
Stop selling yourself short and check out these tips on how to use velcro rollers on short hair.
This post may contain affiliate links. If you click through and make a purchase, I'll earn a commission, at no additional cost to you. Read my full disclosure here.
---
The basics
Starting with a solid base for your style will help save you time and protect your hair from damage.
While creating different looks calls for different techniques, some things stay the same when using these tools. Follow these rules when using your velcro rollers:
Damp hair, not wet. Velcro rollers work best on slightly damp hair. The drying process of your hair sets this style, so you don't need heat to create a perfect look. If you don't start with washing your hair, you can spritz it down with a water bottle.
Use a high quality setting product. Setting sprays and lotions allow your hair to mold to your velcro roller and keep their intended shape after you've let your hair down. This mousse by SGX NYC is lightweight, so will define your style without dragging it down. The ingredients include bamboo and Provitamin B5. These help add health and shine to your short hair.
Be patient, twice. Your hair should be fully dry before you undo your rollers. Taking them out too quickly will leave you with half a style, or one that falls out quickly. Check near your roots to make sure it's totally dry before you start working to remove your rollers. Also, don't yank your rollers out of your hair. Take the time to carefully unroll each one. Pulling on them can damage your hair and give you a frizzy mess instead of lux locks.
Speed up your dry time. If you're short on time, you don't have to wait on your hair to dry naturally. You can give your style a boost by using your blow-dryer for just a couple of minutes on low heat. Velcro rollers work through the cooling of your hair, so several minutes of high heat won't necessarily help create style, but it may damage your hair.
Make it last. Using a fine mist hair spray after you've finished creating your style will help it stay all day. If you are really active, live in a high humidity climate, or are facing a packed schedule, adding finishing spray will keep your hair looking fresh long after your 4th latte of the day.
---
Video Tutorial: How To Use Velcro Rollers on Short Hair
---
Volume with velcro rollers
Give your short hair a volume boost using velcro rollers. You'll want to choose small to medium-sized rollers for this, making sure you can roll your hair 1-2 full times around the roller.
Start using the biggest roller at the crown of your head, right in the middle of your forehead. Taking a section of hair, roll under until you've reached your scalp. For bangs, you may want to roll toward the front of your face. With the back sections of hair, roll to the back of your head, or, away from your face.
Velcro rollers are self sticking. With short hair, you shouldn't need pins to hold the roller in place. If your hair is falling out of the roller or it isn't holding itself in place, start over with a smaller section of hair.
Repeat this down the middle of your head, and then move to either side. you should have 4-5 rows of velcro rollers when you've finished.
You can speed your dry time by using your blow-dryer on a low heat setting.
One of the major benefits of velcro rollers is they allow you to avoid heat damage to your hair. You don't want to ruin that by blasting your style with high heat for 10 minutes!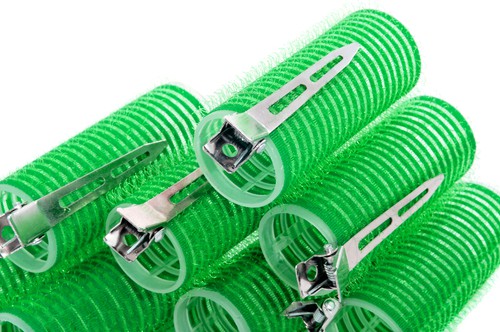 Once your hair is set (dried), carefully unroll each roller.
After they're all out, you can use your fingers to manipulate your style. Give your look a spray with a light hold hairspray, and you're good to go!
Check Out: How Velcro Rollers Add Volume on Fine Hair
---
Curl short hair with velcro rollers
Love curling your short hair but hate burning your scalp (ears, fingers, forehead)?
Try your velcro rollers for this look too!
Small rollers are best for creating soft curls in your short hair. This 24 piece set of small rollers will do the trick! For a more natural look, you can mix small and medium-sized rollers if your hair is long enough.
For this style, you'll want to place your roller in the middle of a small section of hair, halfway between your roots and your ends.
Wind the bottom half of your hair around your roller first, then wind your roller toward your scalp. Repeat this process all over!
READ: How To Curl Short Hair Without Heat or Curlers
Once you've gotten all your hair rolled up, relax! Finish your makeup, read a magazine, or paint your nails.
After your hair is dry, you can start to unwind your rollers.
Remember, go slow. Tugging on your rollers could release your curls, and all that work will go to waste.
Tousle your hair with your fingers and give your hair a shot of hairspray to protect your curls from the elements.
---
If you're tired of your everyday short hair style, velcro rollers can help you change up your tired look.
Choose a set that is the right size for the length of your hair, and make sure to grab lightweight styling products that offer all day hold.
Velcro rollers have been around almost as long as your Great Aunt Alice. Ladies with long, thick hair aren't the only ones who should be taking advantage of the versatility of these crazy inexpensive beauty products.
---
PIN for Later!
Image Credits: Deposit Photos