If you are looking for the ultimate guide on techniques for curling short hair, then you are in the right place.
Beautiful volumizing curls and textured waves are not just for longer-haired girls. With our tips and tricks, you can add some fun and flirty coils to your short do too. 
Whether your hair stops just after your ears, or you love to rock a pixie cut, we have compiled the best methods for curling short hair into one handy list.
So read on to discover the best way how to curl short hair for you!
This post may contain affiliate links. If you click through and make a purchase, I'll earn a commission, at no additional cost to you. Read my full disclosure here.
---
What is the best tool to curl short hair?
There are various heat styling tools that you can use to curl short hair. Which one is best for you will depend on the length of your hair and the style you are trying to achieve. 
When choosing your styling tool, there are a few factors you will need to take into consideration:
The size of your tool – short hair requires a smaller styling tool so you can quickly wrap your locks around
The heat settings – as you have less hair for the tools heat to penetrate, you can often curl at a lower temperature.
The material – Ceramic styling tools are kinder to hair and also great for beginners! 
Now let's take a look at each heat styling tool in more detail. 
---
How to curl short hair with a curling iron
Curling irons are a great styling tool for beginners.
With a handy clamp, it is easy to control your tresses while minimizing any potential burn risks, which is fantastic for creating defined curls, even for really short hairstyles. 
For pixie cuts, you will need a very small barrel that is 0.5 to 1 inch in diameter to allow your hair to wrap around the entire circumference. 
Longer hair that falls between the top of your ears to just below your shoulders will need a barrel between 0.75 and 1.25 inches.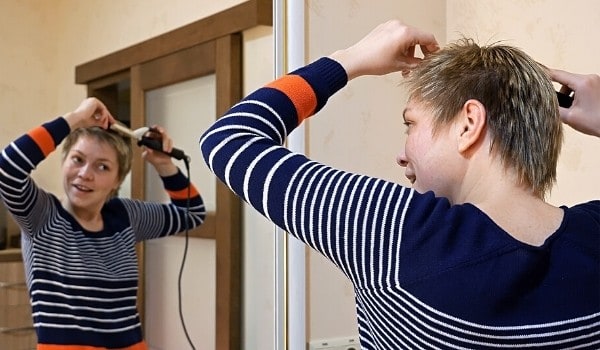 The bigger the barrel, the looser your curl, so for a more defined coil, opt for the smallest barrel suitable for your hair length. Conversely, for a looser, beachy wave effect, or to add more volume to your do, reach for the largest barrel that your hair can wrap around. 
Not sure which curling tongs to opt for? Check out these Hoson curling irons. Available in a range of ceramic barrel sizes and a fantastic temperature range of 225°F to 450°F, suitable for curling even thick short hair!
TIP: Allow your curls to cool completely before brushing them out with your fingers or a wide-tooth comb to help loosen your style.
---
How to curl short hair with a wand
Using a wand can be tricky, to begin with, but after some practice, it is an excellent tool for creating effortless loose curls and waves, even for short hair! 
Unlike curling tongs, a curling wand does not come with a clamp. We recommend using a pair of heat-protective gloves when wrapping the hair around the barrel, particularly for very short hairstyles.
Wands also come in a variety of barrel sizes and concave shapes. Choosing a wand with interchangeable barrels like the Bestope 6-in-1 curling iron wand set lets you easily switch up your style with one handy tool. 
Stick with the same sized barrel that you would opt for with a curling iron depending on your hair length, changing according to the style you wish to create. 
Pro Tip: Leave around an inch at the ends of hair uncurled if long enough to create a more natural beachy wave. 
---
How to curl short hair with a flat iron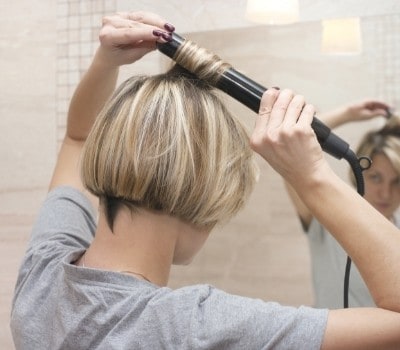 While flat irons are traditionally used for creating sleek straight hair, they have risen in popularity as a fantastic curling tool as well.
If you are looking for versatility or want to save money by spending less on styling tools, opt for a flat iron with small plates around 0.5 to 1 inch in width. 
Or for very short styles such as pixie cuts, a straightener like the Terviiix small flat iron is a great option with just a 3/10 inch plate ranging from 122°F to 450°F. This design will allow you to easily clamp the hair with enough maneuverability to twist the tool to create your curl, all without excessive heat.
Check Out: How To Curl Really Short Hair With A Flat Iron
Some people struggle to curl their hair with a flat iron.
But once you have mastered the wrist action for the twist and the pressure needed when clamping the hair, you may wonder why you didn't try curling with straighteners sooner!
Tip: Alternate the direction of your curls with each 1-inch section to create a more natural textured finish to your style.
---
How to curl short hair with rollers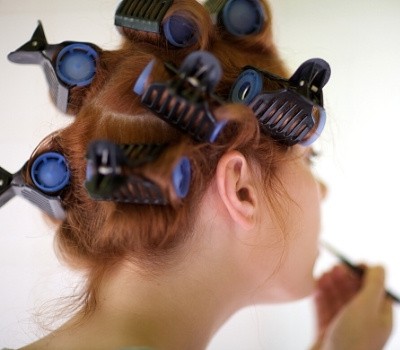 Hair rollers come in various shapes and styles, from velcro rollers, Flexi rods, magnetic and heated rollers, not to mention everything in-between.
Whichever roller you opt for, there are a few basic how-to's you should follow when using them to style short hair. 
READ: How To Use Bendy Rollers on Short Hair
The size of the roller you use will determine the style you can create. For tight, defined curls, use a small roller around ¼ – ⅜ of an inch thick. 
Increase the size depending on the amount of volume you wish to give your hair. Remember that the bigger the roller, the looser your curl will become. You can also use a volumizing iron if you aren't fond of curls but want to add volume to your short hair.
Heated rollers will set your style from the inside out, locking in your do for the day. Some non-heated rollers are best used on damp hair and set with a blast from your hairdryer from the outside. 
Tip: If you want to use hair rollers to curl your short hair but also want to minimize heat exposure, allow your hair to air dry completely for a few hours or overnight instead! As short hair is more lightweight, it will set much faster without heat!
---
How to curl short hair without heat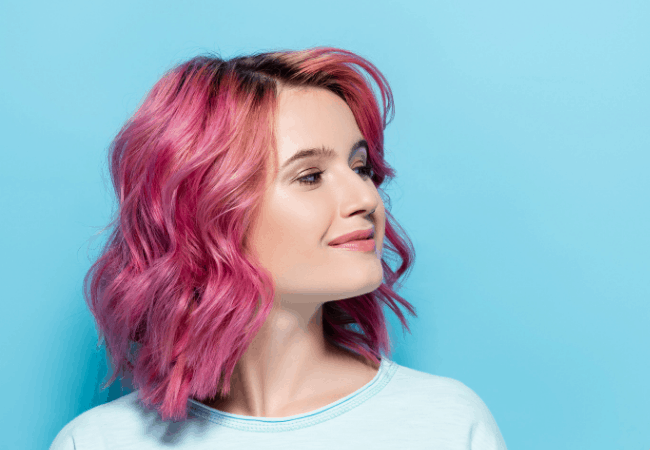 If you are looking to minimize damage to your hair, you may look for methods that allow you to curl hair without any heat.
Of course, we have already mentioned hair rollers, which are a great way of setting curls in your hair as they dry naturally. But here are a few other methods of making use of tools you may already have at home! 
---
Headband curls for short hair
This method tends to work better on short hair that falls below the ears, as the hair needs to reach and wrap around the headband.
But for those of you with hair long enough, it is an incredibly quick and easy way to get heatless overnight curls.
Start by placing an elasticated headband horizontally around your head, keeping it on top of your hair.
Then starting from the front of your hair, loop damp sections around the hair, add a small piece at a time, and combine them as you go. Once you reach the back, return to the front and do the same, starting from the other side.
Continue until all the hair is wrapped around the headband heat-free and leave until completely dry or overnight.
When ready, just remove the headband and reveal gorgeous coils that can be gently combed out with hardly any effort at all! 
Tip: If you have a concave bob, this method will create beautiful heatless curls at the front of your hair, but you may wish to touch up the shorter layers at the back with a wand or iron.
---
Sock curls for short hair
This hairstyling hack has been around for a long time, but a recent trend on TikTok has given it a new rise in popularity. There are a few different methods, but we will talk you through the best sock curling method for short hair. 
Starting with damp, sectioned hair, take a small piece near the front of your face and wrap it around the sock just once. Then take another small piece of hair and twist it around the sock together with the first section.
Continue adding and twisting pieces of hair until the entire section is wrapped around the sock. Then secure the curl in place with a hair tie. If your hair is long enough, twist the whole section again into a bun and secure it once more. 
Then simply leave your curls to set in place overnight. In the morning, simply unwrap the hair from the sock and shake out your curls. Apply some anti-frizz serum and hair spray to perfect your style, and you are good to go! 
Take a look at some other sock curling methods here!
---
Rag curls for short hair
The rag curling method has been used for hundreds of years to create stunning heat-free curls on hair of all lengths.
This vintage curling technique simply requires some strips of fabric, around 2 x 8 inches in size.
Simply cut up an old pillowcase, t-shirt, or another large piece of fabric until you have enough to set your whole head of hair. 
Once you have your rags, start with a 1-inch piece of damp, sectioned hair and place the end on the center of the rag. Then begin twisting the hair around the rag until you reach the roots, or midway up your lengths if you would just like to curl the ends of your hair.
Using the two ends of the rag, secure the curl in place by tying a knot around your hair. Try not to tie the knot too tightly, or you may need to cut the fabric in the morning. Continue until all of your hair is curled, and then leave overnight to set.
Just like our other heatless methods, simply unwrap your hair in the morning. Perfect your look with a gentle combing and some styling products. Then you are ready to face the day with a head full of effortless curls. 
---
How can I curl my short hair at home?
Curling short hair doesn't have to be intimidating.
With advancements in hair tool technology and many heatless curling methods, getting salon-style curls at home has never been easier. 
How to prep short hair for curling
Prepping your short hair for curling remains pretty much the same no matter which method you choose – although keeping your hair slightly damp will work better for heatless methods. 
While day-old hair generally holds a heated curl better than clean hair, we understand you may be keen to get styling straight after your shower. So here are the steps to follow to prepare your short hair for curling: 
Before blow-drying, thoroughly protect your hair with a heat defense spray or cream.
Dry your hair completely for heat-styled curling methods, or leave it slightly damp for heatless curls.
Add some grit to your hair using a styling mousse or texturizing spray. This will help your clean hair to hold onto your curls for longer throughout the day.
Mist a layer of light or medium hold hairspray over your tresses before you begin styling to give your curls more longevity and add a heat defense barrier.
Time to section your hair. If you have very short hair or a pixie cut, you may be able to skip this step instead, working with small manageable pieces at a time. 
For hair that grows past the ears, divide your hair down the middle.
Do this horizontally and vertically into 4 even quadrants, clipping each section out of the way. Then starting with the bottom layers, take a 1-inch section of hair at a time to begin curling.
CHECK OUT: How To Curl Short Layered Hair
---
To Wrap Up
Having short hair does not mean you are limited to just straight styles.
There are a wealth of tools and methods available that can help you create bouncy volume, beautiful curls, or beachy waves.
I hope this ultimate guide on how to curl short hair has helped you find the best way to create your dream do. Have fun experimenting and creating some amazing short curls!