I can remember when I was a little girl, my mom would put on her make-up so perfectly, while she was waiting for the curlers in her hair to do their thing. And with fascination I would look as she took out each curler and a lovely curl would form and make her already lush hair into soft waves around her beautiful face.
Back in those days, the curlers my mom put in her hair were very spiky, hard and uncomfortable to use. We used to call them curlers and not hot rollers back then. But unlike the 'curlers' in the past, that snagged and hurt the hair, today's models sport a ceramic base covered in velvet with a fastener that glides on without the snag.

What are hot rollers?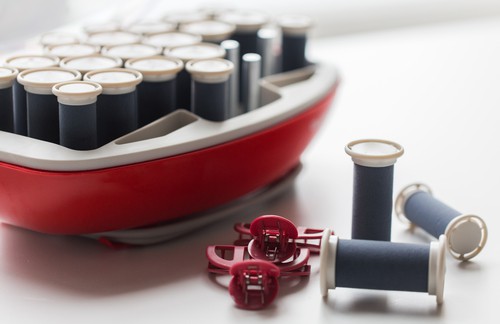 Hot rollers are electrically heated tubes, that you roll into your hair in order to curl it or to straighten it, whichever you desire. They are made from ceramic, (some wrapped in a velvet layer), plastic and/or foam.

Pros and Cons of Hot rollers
PROS
We all know by now that heat can cause hair damage because it takes the moisture out of our hair, but the pros in using hot rollers are they are not as hot as your flat iron or curling iron. They are gentle on your hair. That being said, never apply heated rollers on wet hair. If you do this, the rollers will absorb even more moisture than the flat iron or curling iron.
Once you have placed the rollers in your hair, you can do your make-up while you wait for your hair to curl, saving you much needed time in the morning rush.
The clips hold the rollers firmly in place, therefore the hair won't come loose or fall out before the curling is done.
Using hot rollers add volume and lifts your roots while keeping in the shine because it gently styles the hair using relatively low temperatures.
You can use hot rollers on your weave to create a different style every now and again, thereby saving some money in the process.
CONS
There might not be enough rollers if you have a lot of hair to curl. This means you might have to use bigger strands of hair or you might have to repeat heating the curls and doing the rest of your hair.
Because the rollers are not as hot as your curling iron or flat iron, your curls might not last as long.
If you have very long hair, the rollers might not curl the hair to the root because the heat isn't distributed evenly.
The clips that hold the curlers might leave a little line on your hair. If this bothers you, you can correct it with your flat iron or use butterfly clips instead.
Which features to look out for
The temperature of hot rollers
One of the great things about hot rollers is you can't leave them in your hair long enough to damage your locks. It takes the rollers about 12 minutes to cool down while curling your hair.
That being said, if you have thin or fine hair, choose rollers that have different temperature settings because 200F is hot enough to curl thin hair without damaging it.
Also, choose a model that heats up quickly as this will save you time when doing your hair. Gone are the days where you have to wait 20 minutes for the rollers to heat up, as some models only take 2 minutes to heat up.
Hot rollers with temperature control
Variety is the spice of life. Same with choosing the best hot rollers for your hair. There are rollers that have up to twelve temperature control settings. This allows you to choose the heat setting best suited for your hair. Thick, coarse hair needs a bit more heat, fine hair will curl just fine with 200F.

Hot rollers with auto shut off
If you're anything like me, you'll know that sinking feeling of returning from a party just to realize that your hot rollers have been left on the entire time. Thanking God that the house didn't burn down, you quickly switch it off. But wouldn't it be great if the hot rollers have an automatic shut off after one hour? This option is a must for all us ditzy ladies that forget to switch things off.

Hot rollers with retractable cord
We are surrounded by cords. Cords for our curling iron, for our laptop, our iPad, the blender. Cords, cords all around us. But some models of hot rollers come with a retractable cord, that, with a push of a button, "slurps" up the cord for easy storage.

Steam rollers
Hot rollers with steam work like this. There is a container with water in and you place the curler vertically on it. The steam penetrates the foam of the curler and this gives the roller its heat. You place the curler in your hair and the heat from the steam curls your hair. Just like that.
The curler takes approximately 10 seconds to heat up. Once in your hair, it takes about 10 minutes to give you the desired curl. If you want looser curls, leave them in for less time.
Are steam rollers better for your hair?
Yes, they are. The reason is, your hair gets extra moisture from the steam. As the roller cools down, the moisture from the steam evaporates and puts that moisture back into your hair. Where other styling products sucks the moisture out, the steam rollers put it back in.
Another great plus for steam roller curls are they tend to last longer, add volume to fine hair, and it leaves your hair soft and shiny. Also, you can say bye-bye to those fly-aways because it prevents static.

Hot rollers with dual voltage
If you travel a lot to different countries, it would be advisable to get a model of hot rollers with dual voltage. This means that the rollers can accept both 220-240 voltage and 110-120 voltage.
You can check if the model has dual voltage where it reads INPUT on the label or check out the description before buying. If the model has dual voltage, all you'll need is a plug adapter or travel adapter to use in other countries. Plug it in, curl your hair and off you go.

Size: What size hot rollers should I get?
Hot rollers come in different sizes and what you choose will depend on the style you're going for. If you want loose, soft curls, the 1.5-inch will suit your needs. If you want volume in your hair, go for the 2-inch option. The 1-inch rollers give you more tight curls, dependant on your hair length. To create a more natural-looking bunch of curls, alternate by using all the different sizes. Experiment and see what works for you.

Mini hot rollers
The mini-hot rollers are the smallest rollers in the hot roller set and come in small (0.7-inch) and petite (0.6-inch) sizes. These rollers will give you those tight curls, with a lot of lasting curl. If you have very straight hair and want vavavoom curls, wash your hair the day before without conditioner. Curl your hair with the rollers the next day. You will have better curl results because curls form and hold better in conditionless day old hair.

Jumbo hot rollers
These hot rollers can give limp hair volume from the root and, amazingly, it can also straighten curly hair. If you're wondering what are the largest hot rollers available on the market, there are 2-inch curlers available. These jumbo hot rollers are great for volume.
We all have those days were we want to blow out our hair to get that straight and sleek look but we're just a little lazy. Not a problem with the 2-inch jumbo hot rollers. Use very large sections of your hair and roll the section up onto a jumbo hot roller. Four or five will do the trick. Let them cool down and once you unwind them from your hair, you will have straight and shiny hair.
Another great positive for the jumbo hot rollers are people with longer hair can more easily curl their hair with these rollers because they are bigger and take more hair. That being said, the curls might be more wave-like, with volume, than curly.

What are Hot Rollers made of? Different materials To Choose From
Hot rollers have come a long way since the 1930's. In the beginning they used steel and later plastic. The next material that was experimented with was mesh frames with a steel structure.
In the 1960's, plastic was in. And so it evolved from curlers with wax cores to flocked or ribbed material. The velvet covered rollers with a ceramic base then gave way to tourmaline hot rollers that use crystals which influences the ions of the hair, promising shiny hair with less frizz.
Velvet Hot Rollers
Velvet hot rollers are the crème de la crème. Usually, the base is made from ceramic and the rollers are covered with velvet.

Flocked hot rollers
You can choose from two different types of rollers: flocked or ribbed. The flocked rollers have a velvety coating. This is great news for your hair because it grabs the hair to hold the roller better in place and are great for creating large curls.

Ribbed hot rollers
The ribbed version is more traditional and more people use it because they slip out of the hair easier when removing them. They can feature a ribbed or spiked surface that assists with gripping your hair while curling.

Wax core hot rollers
Some hot rollers have a thermal wax core. As the roller heats up, the wax melts. This allows the roller to retain high heat longer and helps your curls to last longer.
Think of it this way. If you have ever accidentally spilt wax on your skin, you know how hot wax is. And experientially you'll know that you have to endure the pain until the wax is hard enough to scrape off your skin. Same inside the roller. It keeps the heat for a long time and it's this heat that emanates from the roller to give your hair a longer-lasting curl. Great for curl-resistant hair types.

Tourmaline hot rollers
To understand why tourmaline rollers work so well to give you smooth hair with added shine, we first have to explore the technology behind it. Tourmaline is a crystal. To be precise, it's boron (a non-metallic solid) silicate (a salt that contains both silicon and oxygen) mineral (a solid, naturally occurring inorganic substance).
This crystal is crushed into a very fine powder. This is added to the ceramic of the roller in the manufacturing process.
Tourmaline emits negative ions. This is good for dry or damaged hair because damaged hair has an excess of positive ions. As the negative ions are added to the hair, the result is your hair becomes smoother and shinier. It also counteracts frizz and helps to seal in moisture.

Are ceramic hot rollers better for your hair?
Many people ask why ceramic hot rollers are so expensive. Well, it's probably because of all the research that went into making them and because they work really well. The reason for this is ceramic hot rollers have a ceramic core. The infrared heat safely penetrates the hair shaft from the inside out. This causes the hair cuticle to be sealed. And voila, shiny smooth curls!

Whether it's better for your hair will depend on the type of hair you have and what you feel comfortable with. Some people swear by ribbed rollers, others won't use anything but their steam rollers and others love their ceramic flocked velvet rollers. Your hair will tell you which one to choose.

Top Hot Roller BRANDS:
Conair Hot Rollers
Started in a garage, Conair has been a trusted household name since 1959. They're known for producing a wide selection of budget-friendly tools.
This popular brand offers several hot roller models. The most popular ones include the Conair compact rollers for those with limited counter space; Conair Big Curls hot rollers which is perfect for those who want volume; and the Conair Easy Start Hot Rollers for those who want a beginner-friendly set.
Conair Hot Rollers are affordable and easy to use. You can find plenty of Conair hot rollers instructions online, so you won't be left in the dark trying to figure out how to make it work for you.

Remington Hot Rollers
You can find the Remington brand in most countries due to its worldwide presence. Established in New York in 1937, their products are known for dependability and affordably.
The hair setters include Pro Hair Setter with Thermaluxe Advanced Thermal Technology, the Compact Ionic and Ceramic Hot Rollers, the Remington Ionic Conditioning Hair Setter, and the Pro Pearl Ceramic Hair Setter.

Babyliss Hot Rollers
Started in Paris, France in the 1960's by hairstylist Lelievre, Babyliss has grown to become a leading manufacturer of hairstyling products in Europe. It was acquired in 1995 by Conair and the Babyliss PRO line was launched. 
Known for their innovative and professional hair styling tools, Babyliss offers mid to high-end hair care products. The hair setters to choose from in their range include the Nano Titanium Roller Hairsetter, the Curl Pods, and the Thermo Ceramic Rollers.

CHI Hot Rollers
The CHI Smart Magnify Ceramic Rollers on a Platform looks like something from outer space. The set is ergonomically designed which makes curling your hair so easy as it only heats the roller, while the base stays cool to the touch. This is achieved because of the ceramic PTC heating technology.
CHI also specializes in amazing hairstyle products to protect your precious locks. Whether it's to hydrate, repair and build, protect your colour, make, and end to that frizz, or simply add some shine, CHI has you covered.

T3 Voluminous Hot Rollers
The T3 Volumizing Hot Rollers Luxe is, as the name suggests, a luxurious product that leans more to the high end with its advanced features and technologies. Yes, it's a bit pricey, but it takes curling your hair with hot rollers to a whole new level.

Calista Tools Hot Rollers
Calista is an unconventional brand that will inspire you to want to do your hair, even on those low spirited days. Their products are funky and 100% animal cruelty-free.
They sport two sets of hot rollers. The Nouveau Velvet Rollers and the Ion Hot Roller (set of 12).

Caruso Hot Rollers
When you talk about steam rollers, only one brand comes to mind: Caruso Professional Molecular Steam Hairsetter. Don't let its scientific name scare you. What it simply means is that the Caruso hair setter uses steam to curl your hair. Due to indirect heat from steam, they are less hot than conventional rollers and therefore considered safer for your hair. This results in less static and frizz, retaining your hair' moisture and shine. The base is smaller than most hot roller sets because you heat each roller as you need it. 
It comes in 2 sets: (1) a regular set containing 30 foam rollers and (2) a traveller set which contains 14 foam rollers. Each set offers foam rollers in different sizes which gives you more curling style options.
The styling guide will help you try out new styles. The comb clips are heated with the rollers for quicker curls and the handy carrying case is great for storage and travelling.

Paul Mitchell Hot Rollers
Paul Mitchell is an upmarket brand that has inspired and supported stylists, platform artists and educators for the past 38 years. Because of the founders' integrity, they are one of the most recognized and respected names in the hair industry.
The Paul Mitchell Neuro Cell Hot Rollers heat up in as little as 8 seconds and you can choose the heat to suit your hair type from fine, medium, coarse and max. A great tutorial can be viewed here.

Accessories
In this section, we'll discuss the different types of hot roller accessories used to hold the hair in place. These are hot roller clips, clamps and pins. The clips, pins or clamps are used to hold the roller firmly in place until the curl or volume is formed.
Hot Roller Clips / Clamp
The butterfly clip or clamp covers the whole roller and they are usually made out of plastic. If you want a mental picture, think of the butterfly clips you use to fasten your hair in a ponytail or bun. Unfortunately, the roller clips may leave marks on your hair. If you have this problem, pins might work better for you as they do not leave such visible marks in your hair.

Hot Roller Pins
Speaking about pins, this type of fastener is called a J clip or pin. They are usually made from steel and marked with different colours on the tips and correlates to the size of the roller it should be used with. If you have the problem were the pin causes a dent impression in your hair, just place a tissue in between the clip and your hair and the dent problem is solved.
Luckily the clips, clamps or pins will be provided for you with the hot roller set you choose and they are designed to fit that particular roller set best. But you can order additional clips or pins if the ones that came with your set does not work for your hair type.

FAQs
In this sections, we'll be answering some of the frequently asked questions regarding hot rollers and how to use them. We hope that you find the answers to your most pressing questions. If we haven't addressed them already, feel free to leave a comment or send us an email! 🙂
Are hot rollers less damaging?
Yes, they are. And the reason for that is we want to keep as much moisture in our hair as possible. That is what gives our hair that fresh, shiny and bouncy look.
Very high temperatures of heat take our much-loved moisture out from our hair. But we aren't all into the let's-leave-it-all-natural-look. Therefore we need to use heat to get the style we want.
Whether it's a blow dryer, curling tong, or hot rollers, they all take moisture out. But what makes hot rollers better is they don't reach those very high temperatures, which leaves more of the moisture in. Steam hot rollers will help avoid over-drying the curls and hot rollers that are ceramic-coated provides heat that is evenly spread and requires lower temperatures.

Are hot rollers bad for your hair?
They can be, depending on how you use them. Following the instructions are always a good thing because the companies spend a lot of money on research to give you the best advice.
For example, you could damage your hair if it's wet and you roll it onto very hot rollers. Your hair should be thoroughly dry. Pretreat each strand with a heat protectant product and then with your favourite styling product.
Also, if you use hot rollers on a regular basis, condition your hair daily and use a deep-conditioning mask every 3 days or so to ensure there's enough moisture in your hair.

How long do you leave hot rollers in?
The rollers should stay in until they're cool to touch. In most cases, this would be 15 to 20 minutes. Some models of hot rollers actually show you on the roller when it's time for them to come out. They have a colour-change indicator on the roller to give you peace of mind.

How hot do hot rollers get?
Some hot roller sets allow you to choose your own temperature setting. For thin or fine hair we recommend 200-280 degrees. For thick or coarse hair 300-380 degrees will work very well.

Do heated rollers work on fine hair?
Heated rollers work very well on fine hair. In fact, they can give you the volume and bounce that you want. You just need to take care to protect your hair when styling it. Use a protective styling product and keep the temperature to between 200 and 280 degrees.

Do hot rollers work better on clean or dirty hair?
This is up to you. Some people feel that dirty hair work better because it's a bit coarser with a bit more grip due to the natural oils in the hair. Others prefer clean hair because the cleaner the hair, the longer the style will last before the next wash.

Can you use hot rollers on wet hair?
No. The answer is a definite no. Imagine using a flat iron on your wet hair. Imagine the carnage. Same will happen to your hair if you place a very hot roller in your hair. It will burn your hair. Please, for your hair's sake. Just don't do it.

Can I use hot rollers on damp hair?
Some people say you can, but in most articles, it is recommended to dry your thoroughly and then curl it using a protective styling product. We only get one set of hair. Let's look after it best we can.

Are heated rollers better than Velcro?
Velcro rollers do not use heat, so in that instance yes, they can be better for your hair. But one of the cons with velcro rollers is they tend to snag and even break hair because they are made of spiky velcro material.

Which way to roll heated rollers?
This depends on the look you want. If you want the Farrow Fawcett look, roll the hair at the side of your face away from your face to get that 70s style.
If you want a more bouncy, wavy curl, keep the hair flat on the roller. If you want a spiral curl, twirl the hair before you roll it on the roller. Itsjudytime gives a great basic review on how to use hot rollers.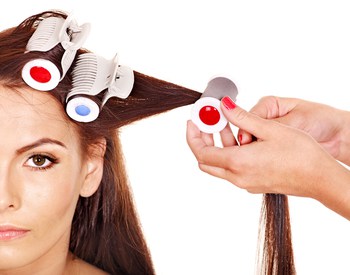 Do you roll hot rollers under or over?
Traditionally, you will part your hair in three sections. Roll the middle section from the front to back over the rollers. This will give you volume and lift from the root up.
Some people start at the tip, others in the middle of the roller. If you start at the tip and work your way up to the root, you will end up with a very, let's say, traditional curl. But if you want the 2019 look whereby its curl and wave, start in the middle, wind the hair to the scalp. Afterwards, wind the rest of the hair on the roller.

How long do hot rollers take to heat up?
That will depend on the brand you choose. Some take 15 minutes to heat up and others 15 seconds. The instructions will tell you the recommended waiting time.

How many hot rollers do I need?
Most people need between 8 and 10 rollers to get their hair curled. But if you have very fine hair, you might only need 6. And if you have thick, or long hair, you might need as many as 30.
This all depends on your hair and the desired style you want. Want more curls? Use a lot of smaller rollers. Want the wavy look? Use just a few of the medium rollers. Want volume? Use the jumbo-sized rollers.

What styling products to use with hot rollers?
It is always best to use heat-protection product on your hair before placing any heat near it. But which one will work better for your hair, the setting spray or the setting lotion?
The setting lotion is used to set your hair into a particular style or shape. It coats the hair and stops it from drying out when using hot rollers. Also, it keeps the style for a long period of time because it doesn't allow moisture from the air to penetrate the hair shaft because it's been coated with the lotion. Very neat.
Setting spray on the other is used after you have removed the hot rollers. It helps to keep your hair in the desired style you want for a longer period time, but it doesn't work as long as the setting lotion does.
My conclusion would be if you want your hair in a very specific style and it needs to stay like that, perfectly, for a day, then use the lotion. But if you don't have the time to add the setting lotion on each strand of hair, use the spray.

Best setting lotion for hot rollers
There are many setting lotions on the market. People use shea butter, or olive oil, or cocoa butter, or honey and black seed mousse. They come in sprays and mousse and creams and gels and oils.
The best thing for you would be to ask yourself, do I like cream, mousse, gel, oil, or spray consistency? Do I only want natural products in the setting lotion? What is my hair budget this month? Once you have answered those questions, you will find the right one for you.
PIN For Later!