Did you know that you can use the flat iron to get your dream curls? Few people know that it can be used for more than just straightening the hair. Yes, you can achieve those beautiful curls and gorgeous waves with just a flat iron. You can also do tight spirals or beachy waves. In this guide, we'll show you how to curl your hair with a flat iron, and the different types of curls you can do with it.
If you roll your eyes at the idea of using a flat iron to curl your hair thinking it's too difficult to do, then this guide provides tips for curling hair with a flat iron that will help you perfect the technique. Once you get the technique down to a pat, you will look super gorgeous and practically red-carpet ready.
Check out the best flat iron for curling hair!
Types of Flat Iron Curls
Though hairstyles come and go with different trends, curls will always stay in vogue. The following are the different types of curls you can get using a flat iron:
1. Big Curls with Flat Iron
The same tool that gives you pin-straight, glossy locks can also give you the big and bouncy curls you love. To achieve this, you need to blow dry roots of your completely dry hair first to create extra volume. Remember to always attach a nozzle to your dryer to direct airflow properly and to make sure your hair doesn't get too close to damaging heat.
Section your hair, pin up the top section, and lightly spray the unpinned section with flexible-hold hair spray. To create your desired big and loose curl, slowly slide the iron down the hair to the ends, turning your wrist to rotate the iron away from your scalp.
If you want to get a more contemporary and less fussy looking style, you should avoid curling the last inch of each section. Repeat this process till you've curled all parts of your hair.
2. Spiral Curls with Flat Iron
You can also use your flat iron to get modern-looking, spiraling ringlets. It's so easy! Simply run the flat iron through each hair section pretty much in the same way you would curl a ribbon by running the blade of a pair of scissors over it.
Mainly, this involves holding the flat iron diagonally over a hair section, pinching the iron close, and then rotating half a turn slowly. After this turn, slide the iron down the hair section to create that spiraling effect. Doing this half turn and tension with your flat iron is exactly how to curl hair with a straightener in 5 minutes, and get beautiful spiral curls as end result.
3. Pin Curls with Flat Iron
Yes, you can get superb pin curls using your flat iron. First, section your hair, apply your protectant spray on a section, then brush through with your fingers. Ensure that your parts are not too big, else the curls won't be consistent.
Next, slowly curl the hair section around two of your fingers. Once the hair is tightly coiled around these fingers, slide your fingers out. The hair will form a coil, which you should subsequently heat up with your flat iron.
Move the flat iron around the hair coil to evenly distribute the heat. After this, use a clip to secure the hair cool, then move on to the next section. When you are done with this section, you can remove the clip from the first hair section, and use it to hold down the second. The first hair coil section should have formed a fantastic pin curl that tapers down. This is how to curl hair with a straightener by yourself, and create gorgeous, consistent pin curls.
Prepping to Curl your Hair with a Straightener
Before curling your hair, you have to make sure that your hair is clean and completely dry. If your hair is wet, it won't curl at all, and damp hair won't also curl. Even if you have a wet-to-dry flat iron, it is best for your hair to be dry.
Also, you should have washed your hair in the past 24 hours because dirty hair won't hold curly shape very well. Use mousse if you are blow-drying your hair; this will add more volume to your hair and ensures that your hair does not look flat as you curl.
Flat iron gets stuck while curling, but not all. Hence, it is best to use a thin flat iron with a width of about 1 to 2 inches from plate to handle. This thin iron should also have rounded barrel edges as a paddle-style iron won't form smooth curls. If you have the right kind of flat iron, your hair will stay in the right place, and the curls will come out soft, shiny, and consistent. This is how to curl your hair with a straightener and get it right.
Next, you have to heat your hair to the minimum temperature required for your hair.
If you have thin and fine hair, keep the iron at below 300 degrees. If your hair tends to be frizzy, coarse, or thick, then you should turn up the iron to 350 or 400 degrees. But you can iron normal hair at 300 to 380 degrees.
After this, you should divide your hair into sections. It will be far easier to curl your hair when it is into sections than trying to tackle the whole hair at once. Generally, the thickness of your hair determines the number of parts you'll have to do.
Last but not least, spray a thermal spray or heat protectant all over your hair, so there can be a protective barrier between your hair and the flat iron. But, if you have very thick hair, you should apply the heat protectant on each hair section before using the iron.
How to Curl Ends of Hair with Flat Iron
Follow along to learn how to get the fabulous curls at the ends of your hair that you've always wanted.
1. Part your hair into sections.
Lay one section in front of a shoulder, and the other in front of another section. Hold the right section with a flat clip, so it is separated from the left part. Next, use your fingers to also divide the left hair section into half so that you can get a top and bottom left section Then, you can loosely twist and clip the top piece, so it's out of the way.

2. Start curling from the back of the left bottom section.
Separate a smaller part of your hair from this section for your first curl. Put this piece of hair into the straightener, and then twist it 360 ̊ away from your face. Start curling from about halfway down the hair so you can curl only the ends.

Ensure that the end of the flat iron points upwards by holding it diagonally. Then, twist it towards your ear to ensure that the hair is wrapped around the barrel of the straightener. Allow the iron to glide down the entire length of your hair slowly and gently.

As you slide down, don't pause as this can cause undesired crimping.

Once you get to the end, your hair tip should easily slide out of the iron. This way, you'll achieve a loose and relaxed curl at the end of your hair. Gorgeous! If you want the curl to be tight, hold the flat iron parallel to the ground and slide it very slowly down your hair.

3. Keep repeating this curling process.
Move from the back to the front, and ensure that each section of hair you pick wraps around the straightener's exterior part to create the curl. Use a mirror, so you don't work blindly.

Once you're done curling the left bottom section, use this same curling method for the top left section of your hair. Then once you're completely done with the left part, pin it, so it is out of the way, then repeat the same process all over for the right section. As you work on the right section, continue twisting the flat iron away from your face, so it falls on the opposite direction of the curled left half.

4. After curling all sections, remove all pins or clips.
Comb your fingers through your hair, brushing the curls to loosen them up. But if you want a tight and polished look, you can leave the end curls as they are.
How do you curl your hair with a straightener easily?
Basically, with each section, you only have to twist your hair with the iron, twirl it with your fingers, and toss it towards the back of your head.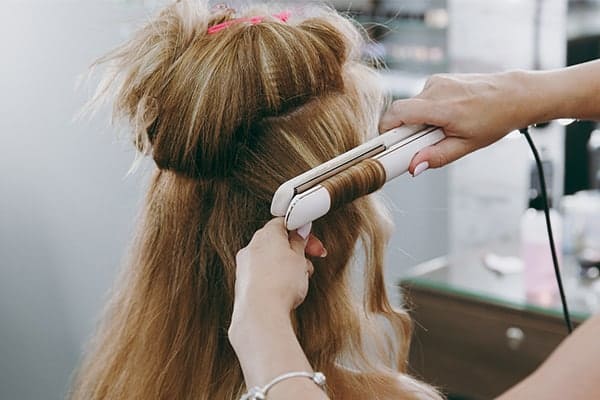 How to Curl Curly Hair with a Flat Iron
Yes, you can curl your curly hair. Curling an already-curly hair can provide you your hair with extra volume and also helps in defining your curl pattern. Ensure that your curly hair is clean and dry before curling it. You should apply some heat protectant, and allow it to dry on your hair.
How to do flat iron curls
When you are about to curl your hair, pull the top part up, pin it away, and allow the bottom portion to hang down. Part this bottom part into sections, and then run your fingers through the hair. Do not use a brush or a comb on your hair to avoid frizz and flyaway.
Then, take each section and wrap it around the flat around. Hold it for about 7-10 seconds, but if your curly hair is super thick, you can hold it for longer. Once you release the section from the iron, hold it for about 5 seconds to allow it cool off, and prevent the curl from falling out.
Then, pull on the next section, and continue like this till you are done with the bottom section. Hold this section down with clips, and then start with the top section. Split the top section into two parts, allow one to fall on each shoulder. Start curling from the left divide to the right. Once you're done, you can remove all clips, and watch your gorgeous curls bounce. This is how to curl your hair with a flat iron to define your curl pattern.
FAQs
Flat irons can do more than just straighten hair. You can use it for curling too!
Below I've compiled some of the most common Q's on using a hair straightener to curl hair. If you have any questions that I haven't answered here, feel free to leave a comment below and ask me!
Can you use a flat iron to curl hair?
Yes, you definitely can. Be it beachy, bouncy, big, pin, or spiral curls you want, you can achieve this with a flat iron. Ideally, you'll need a thin flat iron with curved edges.
Check out: How To Get Beach Waves With A Flat Iron
Should you straighten hair before curling?
If you have natural curly or wavy hair, and you want soft loose curls that hang down your back, then you should straighten your hair first before curling it. That way, you get to control what type of curls you get.
Do flat iron curls last longer?
Curls from a flat iron actually hold better and last longer, especially if you follow the right curling process and use the proper temperature settings based on the thickness of your hair. This is because your applying heat on both sides of the hair.
How long does it take to curl hair with a straightener?
To get extra volume in your hair and your dream curls with a flat iron, you only need about five to ten minutes. Of course, that depends on how long your hair is. Thicker hair also takes longer. You need time to practice but the good thing is, once you get the hang of it, you can shorten your curling time to just a few minutes.
Why can't I curl my hair with a flat iron?
If you've been having difficulties with curling your hair with a flat iron, then you might be using the wrong type of iron. It would be best if you only used a thin flat iron with rounded edges. Or, the problem could be with the way you've been using the flat iron.
Can you curl hair with wide straighteners?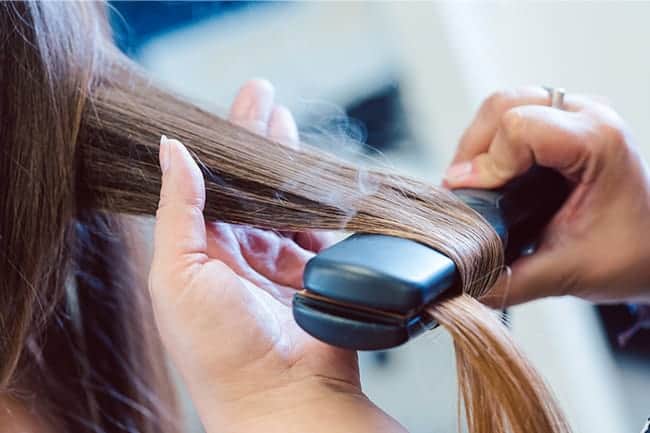 The ideal hair straightener for curling hair is one that is not too wide or bulky, typically within the range of 1.25 inches. However, if you only have a wide straightener available, you can also use it to curl your hair. But in this case, you will have to put in a lot more control, so that the curl comes out as you expect.
How to curl hair with a wide straightener?
It is basically the same process as with any other straightener. You only need a little more control to slide the straightener down your hair.
How to twist hair with straighteners?
Take a section of your hair, twist it loosely, and then slide a straightener through it to get instant beach waves. This is one good hair hack that'll save you time.
Wrapping It Up..
Now, you should have a detailed answer to the question of how to curl hair with a flat iron. This guide has discussed how to get big curls, pin curls, beachy waves, and spiral curls, using a flat iron. Even more, we also touched on how to curl hair that is already-curly.
PIN For Later!
Image Credits: Deposit Photos