Flat iron or curling iron–which one should you choose? I used to think that if I want curls, I'll need a curling iron. And if I want pin-straight locks, then I'll use a flat iron. 
However, I discovered that the flat iron is a versatile tool with which you can do more than just straightening hair. Those ladies with big curls you see on Instagram? Those are most likely done using a flat iron. 
But be warned. It can be very tricky to curl your hair, particularly when you don't know which tool would get you the type of curls you want. 
Flat Iron vs. Curling Iron
Both are heat styling tools, so you've got to be careful. Continue reading to know more about flat irons and curling irons. Get to learn the differences between the two, and know which can better get you your dream curls.
---
Flat Irons
Conventionally, flat irons are used to straighten hair. They are used to remove waves and curls from hair and make it straight. They do this by breaking down the natural hydrogen bonds between hair strands, which allows the hair to be curly. 
What's more, they can also be used to create enviable curls. This makes the flat iron a superb all-in-one tool that is great for when you don't want to spend much on styling tools. 
READ THIS TUTORIAL: How To Create Flat Iron Curls
However, you should know that not all flat irons are perfect for curling hair.
The ideal flat iron for making curls is one that is not too bulky and wide; be sure to get one that is around 1-2 inches.  Check out our top picks for the best flat irons for curling hair!
But if you only have a wide straightener available, don't despair, you can also curl your hair with a wide straightener. 
But you have to exercise a lot more control while sliding the straightener through your hair to ensure that the curl comes out perfect. 
On the plus side, you'll get loose and big curls with a wide straightener. You should also note that a flat iron for creating perfect curls should have curved edges.
Another issue with using a flat iron for curls is that it can creases on the hair when it is released. But to prevent this, ensure that you do not pause as you slide the flat iron down the length of the hair. 
Take note, when you use a flat iron to curl your hair, you heat both sides of your hair unlike curling irons which only heats up one side.
READ: The Ultimate Guide on How To Curl Your Hair With A Flat Iron
---
Curling Irons
Unlike flat irons, Curling irons are designed for only creating curls. They are designed in a smooth, cylindrical shape with a metallic barrel and a plastic handle, which typically has a single button. Clipless curling irons, also known as curling wands, have no clamp for holding hair, so there is no fear of crease. 
Curling irons can come with clamps, but it's just enough to hold the hair in place while the curl sets. If you do it right, it shouldn't leave a crease in your curls.
These curling irons can be made of ceramic, Teflon, titanium, metal, or tourmaline. These irons are great for beginners as they comfortably secure hair in place as they curl.  Some models even automatically rotate so you don't have to manually wrap your hair around the barrel. But one disadvantage of these curling irons is that the barrel comes in only a single size. 
So, unless you get one with a tapered barrel or interchangeable barrels , you can't achieve different sized curls. 
---
Flat Iron vs Curling Iron for Beach Waves
Is it better to use a flat iron or a curling iron to achieve beach waves? 
If you want to step out with a confident look on beach waves, then you're probably wondering if you should get a flat iron or a curling wand. 
The truth is both can get you gorgeous beach waves, and your choice depends largely on your style. 
Curling irons can give tousled beach waves, but they are only in a single size except you go with interchangeable barrels or a tapered wand. Flat irons, on the other hand, are a multipurpose tool that can create your desired beachy waves, but they take practice.
RELATED: 5 Flat Iron Hairstyles for Long Hair
---
Do curls with a flat iron last longer?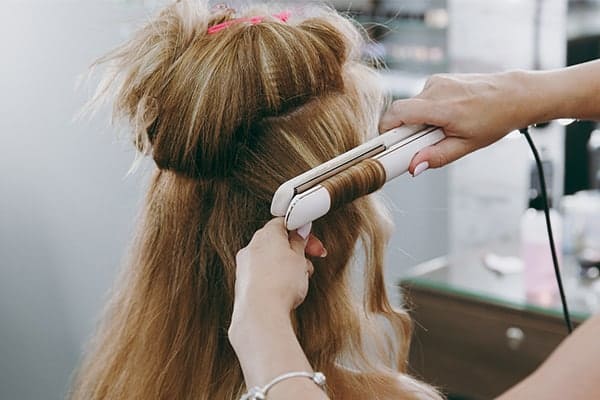 We all love awesome curls. But more than just making curls that won't last long, I'm pretty sure you'll prefer a beautiful curly hair that lasts and stays in place all day. 
It is no fun working hard daily to get volume and curls into your hair, only. 
Wonderful news! Curls achieved with flat irons last for a longer period than those made with curling irons before they disappear. 
This is because the ceramic plates of flat iron heat faster and evenly, and this is key to creating curls that last for long. 
Even more, to get long-lasting curls, use a flat iron with adjustable temperature settings, so you can modify the heat levels based on the thickness of your hair.
CHECK OUT: How To Curl Bangs With A Flat Iron
---
Curling hair with flat iron vs. curling iron
If you want to get fabulous curls with a flat iron, then you must be ready to use the right technique. First, you must select the right flat iron, one that is about 1.25" in width should work fine. Start sectioning your hair from the area near the base of your neck.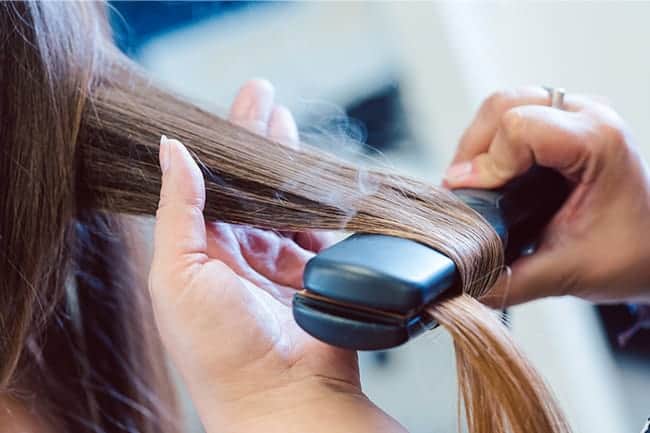 Wrap the hair over the iron, then run the iron through the length of your hair. One small section after the other, duplicate the process till you've covered your entire hair. 
When creating curls with a flat iron, how quickly or slowly you pull your hair through or wrap it around the iron will determine the shape and the size of the curls. If you want loose and beachy waves, run the iron over your hair quickly. 
To use a curling iron to get curls, start in the area closest to your scalp and wrap a little part of your hair about the curler's barrel. Once you've run the curling iron down to half your hair, you should change direction. In that same hair section, you should go one way and then the other to get beachy waves. 
To get spiral curls, section the hair into divides, twist each hair section into tight cords, and then wrap each part round the iron's barrel. Allow the hair to heat up a bit while still on the iron, before releasing it.  
For short hair, it's best if you use a curling iron, especially if you want tighter or more defined curls. While you can still use a flat iron to curl really short hair, the resulting curls are more like waves, at best.
---
Wrapping Up…
Flat irons are created primarily for straightening hair, while curling irons are only for creating different curl types. But the great thing is that you can also use flat irons for achieving gorgeous curls. 
PIN For Later!
Image Credits: Deposit Photos