One of the most common questions I get asked is how do you part your hair for curling?
After you have gone to the trouble of washing, brushing, and drying your locks, I understand you want to make sure your styling is on point.
In this article, I put together my tips on how to section hair for curling to ensure your curls wow the crowd, no matter your hair type or curling tool.
This post may contain affiliate links. If you click through and make a purchase, I'll earn a commission, at no additional cost to you. Read my full disclosure here.
---
What Do I Need To Curl My Hair?
Aside from your choice of heat styling tool and a hairbrush to remove any tangles, there are a few basic products that I recommend having on hand before you begin sectioning.
Heat Defense – Before any kind of heat styling, I always recommend evenly applying a heat protection spray or cream from root to tip to prevent damage.
Mousse – If your hair type is naturally straight, it can be hard to keep your curls from dropping. Applying some mousse to your hair before drying adds texture that will help to hold the shape of your curls.
Alligator or Duckbill Clips – You can also use hair ties to secure your hair while sectioning, however, I find they are more prone to denting the hair. Use alligator or duckbill hair clips to easily section your hair.
Hairspray – Not only does this provide hold for your curls but locks in volume of the overall style when sprayed at the roots.
Alligator clips are fantastic at easily gathering large sections of hair and clamping them out of the way without leaving dents.
Duckbill clips are shorter and have the same benefits as alligator clips, but work better for smaller sectioning. Check out this post featuring 12 different types of hair clips and pins!
---
How to Section Short Hair for Curling
Before parting your hair you will need to select a curler with a small barrel. The smaller the barrel, the tighter the curl.
I recommend using a 0.75 to 1 inch barrel for hair that falls above your shoulder line as you have less hair to wrap around the barrel.
For my short-haired girls, having less hair to handle can make the process of curling quicker and easier. Sectioning will depend on how short your style is.
If you have a pixie cut you may not need to clip your hair at all, instead, take a small, workable, section at a time and alternate the direction of the curl. Then you can simply shake your fingers through your hair to loosen the curl and create a stylish tussled look.
For those of you with hair that grows past your ears, I recommend a horizontal part.
To do this divide your hair into two sections, top, and bottom, following the line across your head from the top of one ear to the other.
Clip the top section out of the way and divide the bottom section in half vertically, clipping one side out for the way. You are then ready to begin curling.
For a looser and more wavy look, curl a wider section at a time.
When finished, allow to cool and shake out the hair to soften the curls, spritz with hairspray, and voila – you are done!
---
How to Section Long Hair for Curling
For longer hair, you must work in small enough sections so that it can evenly wrap around the barrel to allow the heat to penetrate the hair.
Trying to curl too large of a section at once may cause the hair to overlap and restrict the heat's ability to effectively curl the outside layers.
For long hair, use a curler with a larger barrel, 1.25 to 2 inches depending on the length of your hair and how tight of a curl you would like.
Remember, the tighter you wrap your hair around the barrel, the more defined your curl will be.
To make the hair more manageable, you will want to divide it into more sections.
Start with a vertical part, following the line from your forehead down to the base of your neck, clipping one side out of the way.
The rest of the hair you want to evenly divide into 3 sections, a top, middle and base layer. Then starting at the base layer, take 1 – 1.5 inch sections of hair and begin curling.
If you naturally have very straight hair, hold the curl when removing from the curler and allow it to cool before letting it drop, and then spritz with hair spray to keep your curls strong.
To create a wavier look, brush through the hair before spraying to loosen your curls.
---
How to Section Thick Hair for Curling
Thicker hair often takes longer to absorb the heat from your curler, so curling smaller sections at a time will allow for less heat exposure to your hair.
Just as described above, you should split your hair vertically into two sections and then divide it into your 3 horizontal layers. Take sections no bigger than 1 inch at a time and begin to curl.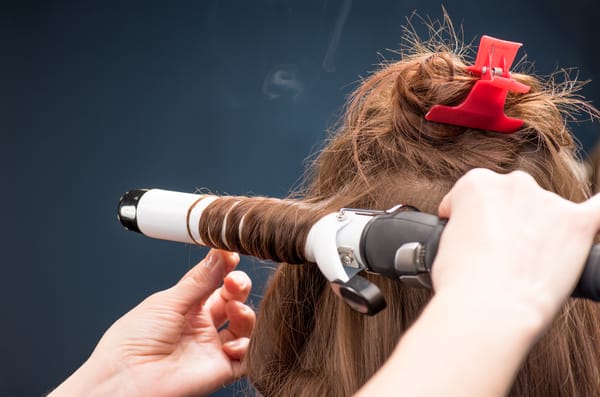 Although any curling tool can be used to style thick hair, I recommend using a wand rather than a curling iron.
Thick hair is more prone to denting and the outside layers are less able to take in the heat from the barrel, this often causes the clamp to flatten parts of the curl creating an uneven shape.
If using a wand, gently slide the curl off the barrel into your hand, for particularly stubborn hair you can clip the curl, still tight, to your head whilst it cools.
When finished, gently run your fingers through your hair to release your curls and spritz with hairspray to lock in your style.
---
How to Section Hair for Curling Wand vs Curling Iron
When sectioning your hair it is important to keep in mind which tool you are using.
If curling with a wand you will be starting your curl at the root and wrapping the hair around the barrel until you reach the ends. Using a wider horizontal section will create a more volumized look and a narrower section will create more waves.
If using a curling iron you begin by clamping the hair at the ends, so it is important you divide your sections so that they are even lengths to catch every hair.
Then hold the curler depending on the look you want to achieve, horizontal for more volume and vertical for a wavier finish.