They don't say that your hair is your crowning glory for nothing. It complements our skin, frames our face, and instantly takes years off our age. Most importantly, it can take pounds off our weight! No wonder why we are all about finding the best hair length and style for us, right?
Are you thinking about getting a new haircut soon? Finding the perfect hairstyle for you can be a lifelong search. You may be contemplating if your desired haircut can make you look fatter or thinner. 
You saw your favorite Hollywood star in a new bob cut, and you badly want the same look. However, your face shape is different from hers. Will it look the same on you? Will it make you look fatter or thinner?
We've got you! Take these suggestions below to guide you.
Does Long Or Short Hair Make You Fatter?
No one solution fits all. You bet this also applies to hairstyles. Have you ever wondered why the same hairstyle looks so much better on one Hollywood star than the other?
The same short haircut may make a person look fatter and another person thinner. While the same long haircut may make a person thinner, but may also make another person fatter.
Many hairstyles are fitting for many face types. 
Although generally, short hair will give a broad spectrum of the face. It means that the entire face is visible. Though having your full face visible doesn't mean that it will make you look fatter.
If you have a long, narrow, and angular face, short hair will create horizontal focus. Hence, it will make the face appear fuller. However, if your hair has too much volume, it will make your face thinner as it creates vertical focus.
You see, any good hairstyle is always about balance and proportion. Simply put, both long and short hair can make you look fatter. 
CHECK OUT: 5 Tricks to Styling Short Hair With Curling Wand
---
Does Short Hair Make You Look Thinner?
Yes and no. 
Contradictory, long hair commonly allows you to look slim down and thinner by drawing the eye downward. Although generally, not all types of short hair can make you look fatter. Not all long hairstyles can make you look thinner either. 
It means that short hair can make you look both thinner and fatter. So even if you have a round face, you can still have short hair that flatters. 
Anyone can wear short hair regardless of the shape of their face. Styles greatly matter. Voluminous and loose waves and curls can narrow your look and make your face appear thinner. The key is to look for inspiration in the style that slims and elongates your face.
Aside from talking to your stylist, keep these general ideas in mind:
Try different angles of side-swept bangs.
Add a little volume in the right places.
Add layers.
---
Will Short Hair Make Me Look Skinnier?
Yes, it is possible. Short hair can make you look skinnier as long as you apply balance and proportion. Your hair texture and its fullness can make your face look smaller in proportion and skinnier.
If you have a round face and are afraid that short hair may not be suitable for you, cheer up! The key is to not add volume to the sides. 
You can choose from asymmetric side-parted hairstyles, haircuts with choppy strands framing the face, angled bobs or lobs, and other hairstyles with volume on top of the head.
Here are some of the best short hairstyles that can make you look skinnier:
1. Clippered Pixie
2. Curly Pixie
3. Graduated Bob 
4. Lob
5. Cropped Pixie Cut
6. Textured Lob
7. Classic Bob
8. Side Swept Lob
9. Short and Curly
10. Box Bob
CHECK OUT: 20 Summer Hairstyle Ideas for Long, Medium-length & Short Hair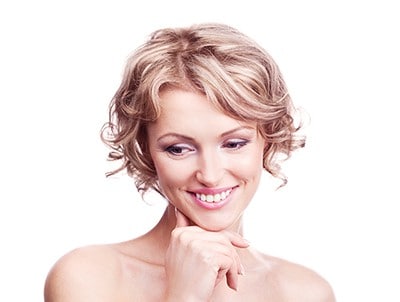 What Hairstyle Makes You Look Thinner?
One of the best slimming haircuts today is the Face-Framing Layers. Nothing can be equally flattering, feminine, and versatile. It goes well with any face shape. Be it more defined or softer hair, shorter or longer. You name it!
Feel free to tailor your Face-Framing Layers to highlight your best facial features. It is the safest hairstyle you can take without compromising your hair length. Face-Framing Layers let your hair follow the contours of your jawline and cheekbone, which gives you an instant slimming look.
Just like any other hairstyle, Face-Framing Layers also have varieties.
We listed some of the popular styles for you to get inspiration from.
1. Lob with Face-Framing Layers
2. Blunt Bob with Face-Framing Bangs
3. Blonde Longer Face-Framing Layers
4. Fiery Red 70s' Inspired Face-Framing Layers
5. Long Layers with Face Framing
6. Textured Haircut with a Fringe and Face Framing Layers
7. Graduated Bob with Face-Framing Layers
8. Chin-Length Bangs and Face-Framing Layers
9. Side-Swept Face-Framing Layers
10. Subtle Face-Framing Layers
CHECK OUT: How to Wear a Headscarf with Short Hair
---
Does Short Hair Make You Look More Grown-Up?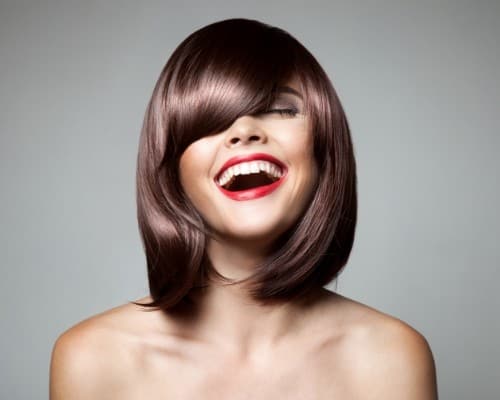 No. You may maintain a hair length that does not go past the ribs to make you look younger. Longer than that will not make you look younger because it draws attention to the neck, which shows early signs of aging.
We know that aging is a natural process that we go through, but this does not mean that we need to look like our age. Even if you have short or long hair, you can make it serve in your favor. Here are few reminders:
Add layers and depth.
Do not keep the same hairstyle for decades.
Try to add bangs.
Do not add too much volume.
Choose a cut that fits your lifestyle.
The right haircut, along with many other factors, can make a huge difference to your look as you age. However, aside from hairstyle, your confidence can also make you look naturally younger.  
So always consider how you feel about your hair. It should not be your stylist's decision alone. Choose a style that will make you happier.
Remember that for you to look good, you have to feel good. Your glow depends on how you feel about yourself. These hairstyle suggestions can only guide you. However, it is your inner self that will make you feel great and look great.