Bleached hair is a trend that doesn't seem to be going away anytime soon. 
Many people are choosing to have their hair lightened to get the perfect platinum blonde color. But they don't realize that bleaching your hair can cause it to become dry and brittle. 
If you want soft, shiny hair even after having it dyed, check out these 11 ways to make bleached hair soft and silky!
---
Why does my hair feel like straw after bleaching it?
The hair cuticle is the outermost layer of your hair that protects it from damage. When you bleach your hair, this protective barrier gets stripped away. 
Since bleached hair doesn't have its natural oils coating it to keep moisture locked in, there's nothing stopping water from entering and leaving as quickly as possible, which causes dryness and makes your hair hard.
---
Does bleached hair get softer?
Yes! All you have to do is take a little extra time and care with your hair after bleaching it.
---
Should I put coconut oil on my bleached hair?
If you're looking for a more intense hair treatment, try using coconut oil! The saturated fat in the oil penetrates hair and has antioxidants that help to repair the damage. 
To use it on bleached hair, lather your locks up with shampoo or conditioner first. Then cover them in coconut oil so that every strand is coated from root to tip. Let the oil sit for about 30 minutes before shampooing it out, and your hair will feel like silk!
CHECK OUT: The Best Bleach for Dark Hair
---
What is the best treatment for bleached hair?
The best way to make your bleached hair soft and silky is by using a protein treatment! 
Protein treatments add proteins back into the hair, which helps rebuild damaged bonds within each strand of hair, making it feel stronger and look shinier.
There are lots of different protein treatments you can use, but the best ones are collagen and keratin.
Collagen is a natural human protein found in your skin, hair, bones, and other connective tissues, while keratin is actually what your hair is made of!
If you're looking to restore your bleached hair completely, try using a keratin treatment. It seals hair cuticles, resulting in shinier hair. Keratin sealers strengthen hair strands and work to repair damaged cuticles by binding them together, which makes for much healthier hair!
This post may contain affiliate links. If you click through and make a purchase, I'll earn a commission, at no additional cost to you. Read my full disclosure here.
Keep reading for the 12 best ways on how to make bleached hair soft and silky.
1. Use a deep conditioner once per week.
Even if you are using the best shampoo and conditioner for dry or damaged hair, your hair still needs a little extra TLC every once in a while. Deep conditioning treatments help moisturize and hydrate your strands by infusing them with vitamins and nutrients that they may be lacking!
A great way of making sure your bleached hair is soft is by using a hair mask once or twice a week. Hair masks are usually packed with tons of moisture and nutrients, which stops your bleached, dyed strands from becoming dry and brittle. Leave them on for at least 30 mins. Even better, leave them for a few hours to 'work its magic' — the longer, the better!
2. Use anti-frizz serum or cream before blow-drying.
Frizzy hair is the absolute worst when it comes to bleached hair. If you want to keep your style looking sleek, smooth, and shiny for as long as possible, try using a heat protectant spray with an anti-frizz serum or cream directly before blow drying!
3. Use the proper styling tools when drying and styling your hair.
It's best to avoid using any heat-styling tools like flat irons and curling irons, especially when you've just bleached your hair. But if you must, choose high-quality tools instead of cheap ones that can damage hair further.
Using high-quality flat irons and blow dryers will help to prevent split ends and breakage.
However, using these tools regularly can be super drying!
Try squeezing a small amount of your favorite serum into the palm of your hand before you begin styling to keep hair moisturized as well as protected from heat damage.
4. Use a heat protectant every time you style your hair.
Even if you use the best curling iron or flat iron, it is still important to use a heat protectant spray before styling! This will help prevent split ends and breakage over time by creating an ultra-strong barrier between hot tools and strands.
Heat protectant sprays and creams help protect strands from the heat of styling tools and add a burst of hydration back into dry hair!
I recommend using one directly before blow drying or flat ironing your locks for maximum results. It also helps to repel dirt and dust so that your hair stays clean longer!
5. Keep bleached hair away from water.
Seawater and chlorine are both super drying for bleached hair, making hair frizzy, turning brittle, and even breaking off! Try keeping bleached hair away from water whenever possible for it to stay moisturized as well as healthy.
Avoid sun exposure as it can also be super drying for bleached hair.  Try wearing a hat when you're in the sun and keep your hair protected at all times with a good leave-in conditioner. Swimming pools typically have hard water, which can cause color to fade faster!
6. Use coconut or olive oil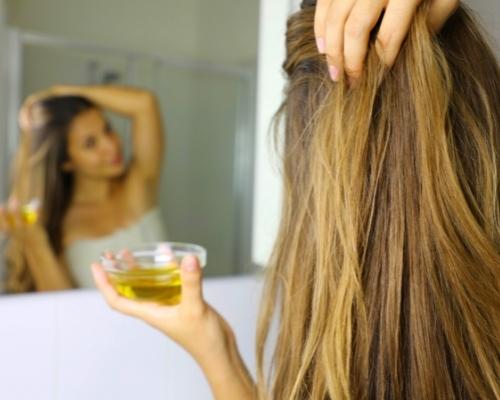 Many people swear by coconut oil as well as olive oil for conditioning and repairing bleached hair. Simply massage a few drops of either oil into your scalp before you shampoo to add some much-needed moisture back into your hair!
7. Try these tried and tested home remedies for dry bleached hair
If these oils don't seem to be working, there are plenty of other options that might do the trick.
Avocado is one of the best ways to soften and repair damaged cuticles, so try blending one half of an avocado with a little bit of olive oil, honey and yogurt into a nourishing mask! Apply this mixture to your damp hair for about 30 minutes before shampooing it out!
8. Moisturize daily with a leave-in conditioner
Even if you use the best shampoo and conditioner for dry or damaged hair, you still need to use a leave-in conditioner on bleached hair every day!
This will help ensure that your color stays locked into strands and doesn't fade. It also helps to smooth down any flyaway hairs as well as revitalize shine for more vibrant-looking locks!
Garnier Fructis' Sleek & Shine leave-in treatment is the perfect way to make your hair soft and silky!  It's designed specifically for people with dry, damaged, or frizzy hair.
This post may contain affiliate links. If you click through and make a purchase, I'll earn a commission, at no additional cost to you. Read my full disclosure here.
9. Don't shampoo every day if possible.
Even though bleached hair is typically thinner than regular dark strands, you still need to avoid over washing it too often!
Shampoo strips the natural oils from your scalp, which causes even more dryness and breakage. Try shampooing every other day or only once a week if possible for hair color to last longer between touch-ups.
10. Use the right shampoo and conditioner.
Make sure you're using a shampoo and conditioner specifically for bleached/colored hair!  These are usually higher-quality products with ingredients designed to help protect your color from fading as quickly as possible.
11. Try not to use too much heat on bleached locks
Even though it is recommended that you dry your hair before flat ironing or styling, try using cool air instead of hot air whenever possible.
The hot setting will only damage strands further, so always pull through evenly without tugging or yanking for best results. If you can, avoid using the hair dyer and let your hair air dry instead.
12. Don't over brush!
This may be difficult since most people love brushing their hair, but if done too often, regular styling can lead to even more breakage than usual and split ends.
Always detangle hair first before brushing to prevent hair loss during the process. Use a wide tooth comb to detangle.
RELATED READ: How Often Can You Dye Your Hair Without Damaging It
---
When should I use heat on my bleached hair?
Before you reach for those hot styling tools to style your newly lightened locks, wait until they've had time to recover!
You don't want to cause any more damage after you've already had your hair bleached. If you must use heat styling tools on your new do, make sure they are thermal protectant sprays that will help seal the cuticle and prevent further breakage from occurring.
---
Wrapping Things Up
The post has a variety of helpful tips to keep your hair healthy and strong.
Try to avoid or minimize heat styling tools as much as possible. If you insist on using heat tools, make sure to use a heat protectant. This will help seal your cuticles and hold the dye longer between touch-ups!
Also, try not to wash hair too frequently and avoid chlorine or sun exposure whenever possible so color lasts much longer between salon visits. Use deep conditioning masks once a week to hydrate dry-looking strands, which helps them feel soft, silky, and smooth!
Whether you're looking for natural remedies or just want to know how best to care for bleached locks, the post has various tips and tricks to help you.
Try out these tips today and see what they do for your hair.