Too much heat styling and regular washing can lead to dull lifeless hair. Over time, hair tends to become weak and brittle resulting in hair breakage. Using essential oils that strengthen hair is one way to combat hair damage.
Essential oils are mostly extracted from plants through methods like evaporation and distillation. Although essential oils are more known for the special aroma they produce, many studies have pointed out that they are also rich in chemical properties that are beneficial for the hair. 
One of the most important benefits of essential oils is their ability to help keep hair healthy. Lots of different oils have been discovered over time to help do everything from hair growth to hair strengthening.
This post contains some affiliate links. If you click through and make a purchase, I'll earn a commission, at no additional cost to you. Read my full disclosure here.
5 Essential Oils That Will Help Make Your Hair Stronger
In this article, we will focus our attention on oils that can help strengthen hair. After extensive research and experimentation, we've found the following oils to be the best for hair strengthening:
1. Coconut Oil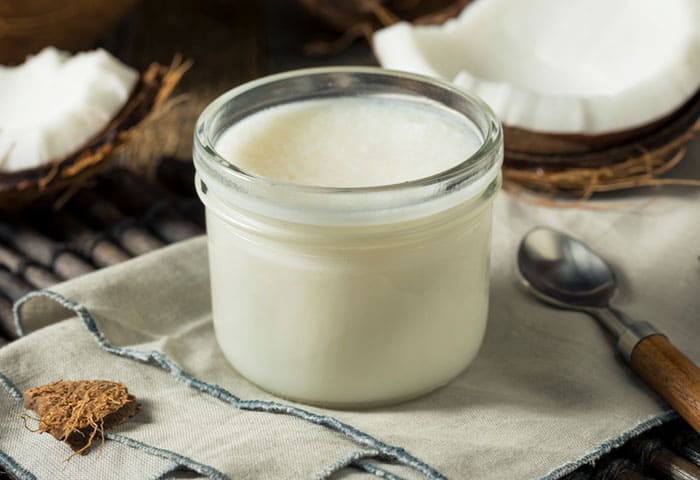 You've probably heard of coconut oil several times. It is not just one of the most popular oils, but also doubles as one of the most powerful oils in the world as far as hair care is concerned. Well, now you know that far beyond their "vacation-in-the Carribean" smell, coconut has a lot to offer your hair.
READ: When NOT to use coconut oil in your hair
Coconut oil has an interesting content of vitamin E and other essential nutrients that your hair can absorb. What these does for your hair is to make it stronger, thinker, shinier, and healthier. Coconut oil has also been discovered to contain lauric and capric acid, which are popular for having antimicrobial powers. This means that apart from making your hair healthier and stronger, it will also help for prevention of dandruff, infections and itchy scalp.
We recommend that you purchase organic, virgin coconut oil if you want to experience the full impact of coconut oil on your hair. 
Our top recommendation: Majestic pure coconut oil hair mask
2. Avocado Oil
If you are familiar with avocados, you'd have known by now that the fruit has so much health benefits. You probably didn't know before now however that the fruit contains a special oil that is very good for the hair's health. 
Like avocados themselves, avocado oil has a high content of proteins, amino acids, healthy fats, and vitamins. The protein content of avocado oil will help you fill in damaged airs in your hair's cubicle, and by so doing, it repairs every damage that has been done, as well as strengthen the hair enough to withstand future hazards. The strength and thickness of avocado oil makes it more recommended for use in medium to thick hair.
Our Top Recommendation: Maple Holistic Pure Avocado Oil

3. Argan Oil
Argan oil is another very popular essential oil for hair strengthening. It is the most expensive on our list, but beyond the price, Argan oil delivers more than you can ever think. Ask anyone that uses this oil and they will be ready to testify about the amazing capabilities of this oil. 
Containing lots of vitamin E, fatty acids, omega 3 and 9, and antioxidants, makes it one of the best oils for getting the best out of a hair that has either been damaged, dried, or coarse. It comes with a special power to add strength to the root of the hair and keeps it equipped to fight adverse conditions.
Today, there are several different smoothing products that contain Argan oil, but you will get the best results by applying pure Argan oil to the hair.
Our Top Recommendation: OGX Renewing Argan Oil

4. Rosemary Essential Oil
Funny name, right?
Well, I bet you don't know how powerful this oil it. It is great for a wide variety of hair troubles, but its most popular use is for strengthening the hair. When the hair begins to hold more dirt and toxins, then Rosemary oil becomes the easy fall back to option to get the hair to its best again. 
Surprisingly, this essential oil is relatively cheap and is spread everywhere around town, so you can just walk into any store to get one. Interestingly, this product has existed for thousands of years and have been a remedy for thinning and brittle hair all this while, so you can expect that it will make your hair stand out in more ways than one. 
A number of alternatives are available in the market for you to get, and remember like we said that you can get it in almost all locations. However, we recommend Healing Solutions Rosemary Essential Oil

5. Pomegranate Seed Oil
If you are experiencing thinning hair, then the Pomegranate seed oil is something you should be proud to use.
It works miracles for restoring thinning hair and forgetting the hair stronger. Its content of high amounts of punicic acid helps for revitalizing the hair, giving it the thick and shiny look, although scientific studies are currently lacking. It is also a great product for protecting the hair against chemicals and other environmental hazards that the hair may be prone to.
Our Recommendation: Unrefined Pomegranate Seed Oil by Leven Rose
Even though it is somewhat expensive, Pomegranate oil has a special level of thickness that covers for the money spent on it. Depends on how much you want it to last, you can still mix the oil with extra-virgin olive oil, bringing the benefit of both with a single application.
---
There you have it, some very important essential oil that can help your hair grow stronger, better, and shinier. 
Check out: 15+ Oils That Make Your Hair Grow
Remember that these products were selected after careful research and experimentation. Some of them may not be as effective to some hair types as they are in others.
It is best to choose one that fits your hair texture and type for maximum results. If you're adventurous enough, then you can also try a combination of two or more of the oils.
Image Credits: Deposit Photos
PIN For Later!