When you have long luscious locks, the question of how to curl long hair with a curling iron by yourself is pretty common. 
Just where do you start when trying to replicate that fresh salon style, but without the stylist? 
Don't worry; we have your back and have created a complete guide to curling long hair with a curling iron so that you can create beautiful curls that last all day.
---
Why choose a curling iron to style long hair?
Curling irons are an incredibly versatile styling tool and often much easier for beginners to get to grips with, particularly if you have a lot of hair to manage. 
Thanks to the clamp attached to the curling iron, it is much easier to hold hair flat against the barrel. 
This allows you to create more polished and defined coils, which can easily be shaken out for a looser, more natural finish. 
You can also opt to forgo the clamp and use your curling iron like a wand. 
It's a great option if you want to practice wand styling before committing to buy or if you want to reduce the number of styling tools in your arsenal. 
By wrapping the hair around the barrel and over the clamp, you can create looser, beachy curls with the same tool.
---
Before You Curl Your Hair
Before we jump straight into how to curl your hair, you need to make sure you have dedicated some time to prepare your long locks for heat styling. 
Long hair is notorious for damaged ends if you do not take the time to care for them properly, and damaged hair is less likely to hold a curl. 
Couple that with the additional weight of long hair that can cause even the bounciest curls to drop as the day goes on, we think it is well worth taking the extra time to give your hair a bit of TLC before you style.
Start With Dry Hair
As we have pointed out, longer hair is more prone to damage, so you must ensure your hair is completely dry before styling.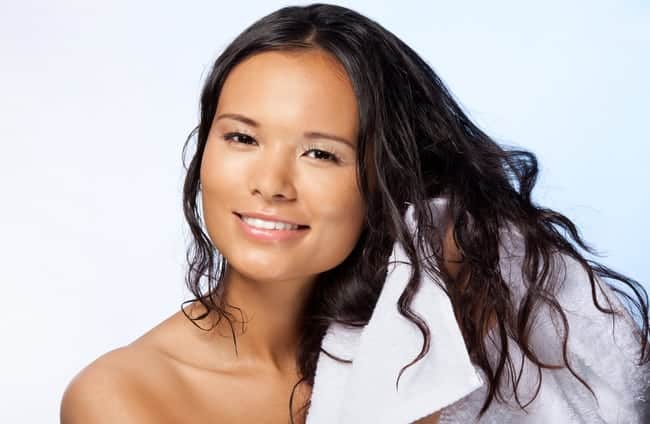 When your hair is wet, the cuticles are open and unprotected. Adding a hot styling tool directly onto delicate wet strands will only create further damage. 
Avoid letting your hair sizzle and take the time to let your hair completely air dry naturally to reduce additional heat exposure or blow-dry it to create a more voluminous look to your finished style.
Heat Defence
While the best heat defense is to limit hot styling tools so that you are not using them every day, on the days that you do, it is best to apply a heat protectant before you start. 
Be sure to choose a product that can protect up to the temperature you will be styling at. This information is usually given within the fine print but can save you a lot of unnecessary damage in the long run.
Don't Skip Styling Products
Curls hold better on day-old hair; however, we understand that waiting 24 hours before styling is not always ideal or practical. 
If you are keen to get curling, add a bit of grit and texture to your hair with either a curling mousse or sea salt spray. This will encourage your curls to hold their shape better. 
You can also mist the hair with a light layer of hairspray before you begin styling.
Traditionally, hairspray is used to lock in your style after you have finished creating your look. But, adding a spritz all over before you style will not only help retain your curls but add another barrier between your hair and damaging heat exposure.
---
What to consider when choosing a curling iron for long hair?
Before you begin curling your hair, you want to ensure you have chosen a curling iron that is best suited for your hair type. In addition, you will want to consider features such as:
Barrel size – Is it large enough to effectively curl your hair length?
Temperature range – Does it support a low/high enough temperature for your hair type?
Barrel material – Should you buy titanium or ceramic?
---
What size curling iron should I use?
When styling longer hair, we recommend choosing a curling iron with a larger barrel, both in length and width, to accommodate all of your hair evenly. This will prevent hair from overlapping around the barrel and allow for even heat penetration. 
The circumference of the barrel will also affect the type of curls that you create. 
We recommend that you start with a 1.25 inch barrel to create natural-looking small to medium curls for long hair that reaches your collarbone in length. 
Experiment with other barrel sizes from 1.5 to 2 inches to create looser, wavier style patterns or big bouncy Hollywood curls.
At what temperature should you curl long hair?
No matter your hair length or type, you should always use the lowest possible temperature setting that will effectively style your hair to prevent unnecessary heat damage. 
Hotter temperatures may create a curl quicker, but for color-treated, fine, or dry hair, the potential damage, in our eyes, is not worth the 5 minutes of time saved.
Again you may wish to experiment and get to know your hair.
Start by curling at a lower temperature below 300 degrees Fahrenheit. 
Suppose your hair is thick/coarse and resistant to forming a curl at this temperature. In that case, you can start to increase the temperature of your curling iron until you discover your optimum temperature. 
If you like to style your hair every day, or your long tresses are fine or prone to damage, then a ceramic curling iron is your best choice. 
They provide more gentle and even heat distribution and the negative ions produced by the barrel help smooth your curls as you style, limiting frizz and flyaways. If you are a beginner, we recommend starting with a ceramic curling iron.
If you are a more experienced user with thicker, coarse hair, you may wish to experiment with a titanium curling iron. 
Typically titanium can reach high temperatures and at a much faster rate than ceramic barrels, curling even the most stubborn strands quickly and efficiently. 
Due to their increased risk of heat damage, we recommend using them with caution once you are confident in your styling technique. 
---
What curling iron do we recommend for long hair?
While there are many great curling irons on the market suitable for long hair, the highly-rated Professional Series Curling Iron is a great starting point! 
Both reasonably priced and packed with great features to start you on your journey to long curly locks, here is a quick overview of its key features at a glance.
Available in 3 different barrel sizes to suit your hair length
9 Inch extra-long barrel for easier styling of long hair
Dual heaters for even heat distribution
Temperature range of 270-430 degrees Fahrenheit 
Ionic tourmaline coated ceramic barrel
Cool-tip to protect against burn fingers
---
How to curl long hair with a curling iron
Now for the technique, when curling long hair, it is always best to work in sections to make the process more manageable. For a complete guide to sectioning your hair for curling, check out our previous article here. 
Once ready, you want to take about a 1-inch section of hair for defined curls or up to a 2-inch section for big bouncy waves. 
Begin by clamping at the ends of the hair or if you want to achieve a beachy wave effect, start an inch or two away from the ends for a more natural look. 
Then evenly wrap the hair around the barrel away from your face until you reach the roots. 
Hold the curling iron in place for no more than 10 seconds (ideally, 5 to 8 seconds) and then release. For stubborn hair, hold the curl in place until it cools to help it to set.
Continue the same way until all the hair is curled for a uniform finish, or alternate the direction in which you wrap the hair to give your curls a more textured appearance. 
When finished, gently finger-comb your hair to loosen your curls to give a wavier effect if that is what you prefer. Then finish with another misting of hair spray to lock your curls in place.
---
How to curl long hair with a curling wand
Curling wands, like curling irons, use a long heated barrel to curl the hair; however, they do not have a clamp to hold the hair in place. 
Often coming in tapered designs, you can create different sized spirals within the hair, and overall curling wands give a looser and wavier effect.
Why choose a curling wand?
If you are looking for a messy, effortless-looking wave, curling wands are a fantastic option for long-haired gals. 
However, they lack the versatility that curling irons can deliver while also carrying a higher burn risk – so be sure to use a heat protectant glove when styling! 
If you are a beginner, we recommended starting with a curling iron before mastering the following technique.
The curling wand technique
Follow the same hair prep we gave for curling long hair with a curling iron, and take a 1-1.5 inch section of hair to begin styling. 
Holding the wand vertically, tip it towards the floor. Begin at the root of your hair. Wrap hair around the barrel, away from your face, starting at the base of the wand until you reach the ends. 
As with a curling iron, stop before you reach the ends to create a more beachy wave effect or continue all the way down for a fuller coil. 
Continue around the head, again alternating the direction you curl for a more textured effect. When finished, either gently shake out your curls or finger-comb through for looser waves.
---
What curling wand do we recommend for long hair?
Again, there are many fantastic curling wands on the market. Still, the HOT TOOLS Professional Nano Ceramic Extra Long Tapered Curling Iron is a great and affordable choice for curling long hair. Here are a few of the key features that we think make it such a good option.
Extra-long tapered barrel to accommodate long hair
Available in 5 barrel sizes up to two inches
Ceramic barrel delivering smooth, shiny curls
Reaches 430 degrees Fahrenheit 
Cool tip to safely rest fingers when styling
Includes a heat protectant glove
---
To Wrap Up
Curling long hair by yourself does not have to be stressful! 
We hope our in-depth guide explaining exactly how to curl long hair with a curling iron (or a wand) has provided you with all the information you need to create salon-style curls from the comfort of your own home.