How to do a French Twist on yourself
French twist is one of the easiest yet stylish styles to do. It can be incorporated on long, medium and even shoulder-length hair. It can also be done for any occasion, ranging from a formal dinner, prom and even to work. While the steps are pretty much the same, your hair length and texture would determine just how well your French twist would turn out and the needed accessories.
Hair accessory for French twist:
The required hair accessory depends greatly on your kind of hair. For fine hair, you need lots of bobby pins, usually small ones and a jaw clip or French twist clip, especially if your hair is very long.
For those with thick hair, you need bigger bobby pins and a wider jaw clip. This is because the smaller ones are usually not enough to hold loose ends in place.
You also need a hair spray to help hold your twist in place and keep stray hairs away. A comb can also be used to comb the hair in place. If you would be creating a ponytail first, you may require a small hair pack.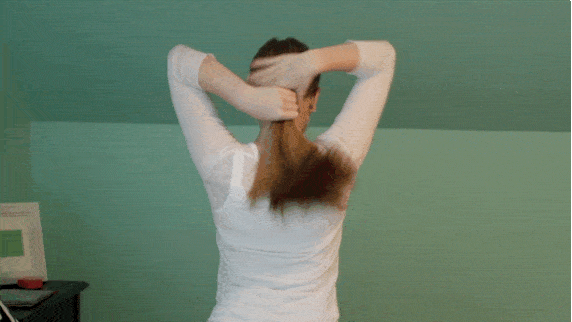 Step by Step: How to French Twist Your Own Hair
When doing a simple French twist on your hair, you only require some bobby pins, U pins and a hair spray.
Here is how to do the perfect French twist:
1. Sweep all your hair into one side, either left or right, and secure using a bobby pin at the back of your hair. This will ensure that your hair stays in place in one side. You can also apply a hairspray to get rid of stray hairs.
2. Place your hand under the hair and brush it gently to one side.
3. Grab the hair from the bottom and twist upwards in the opposite direction. Basically, if you comb your hair to the right, you twist in the left direction and vice versa.
4. Tuck the remaining hair into the twisted space.
5. Use bobby pins to secure the hair you twisted. Be sure to place the pins in a way that they are hidden beneath the twist. You should also use additional bobby pins to hold the ends of the hair within the twist.
6. You can then go ahead and use a hairspray to smoothen the hair and make your twist stay.
French twist on medium hair length
If your hair is just of medium length or shoulder length, you can easily do a neat French twist and here is how:
Pack your hair into a low ponytail. The ponytail should rest just below the back of your hair, that is, your occipital region.
Twist the ponytail from bottom to top and use small bobby pins to firmly secure the hair.
If your hair isn't long enough to form a low ponytail, it is probably too short for a French twist.

French twist comb on long fine hair
Although the previous method can be used to create a standard French twist, you can use a French twist comb to secure your twist, especially if you have long fine hair. To do this:
Gather all your hair into a low ponytail.
Twist the ponytail up and down into a tight coil starting from the base. Tuck the first end under the base and keep folding and tucking till there is no hair left to twist.
Use the comb to comb your hair from the side to the part where the twist is and insert it firmly into the twist.
Here's a great video tutorial showing how it's done for those with long, fine hair:
French roll hairstyle for very long hair
It can be challenging to do a French roll if you have very long hair. That is because it'll be much harder to fit all the 'excess hair' underneath the roll.
Comb all your hair to the back and hold together creating a little hump at the top.
Twist half of the hair around your index finger and hold against your head.
Use bobby pins to secure the twisted parts firmly. Use as much bobby pins as required till the twist is firmly secured enough for you to remove your index finger.
Gather the remaining loose ends and twist it upwards tucking the ends into the first twist. Keep twisting and tucking till you have all the hair.
Use bobby pins to secure that part too.
You can then use your hand or a comb to smoothen the sides of your hair.
French twist clip for thick hair
Doing a French twist on thick hair is more complex and requires bigger pins and a French twist clip. With thick hair, it can be harder for the hair to stay in place so you need to apply the needed accessories and tools.
Here is how to do a French twist on thick hair:
Start by moisturising the hair using water and shea butter.
Divide the hair into two sections, much like a half up hairstyle. Make sure everything the front half section is smaller than the back half section.
Twist the top half and pin it loosely in place using a bobby pin. For thick hair, you would need bigger bobby pins.
Smooth the other lower half and pack it to one side of your hair, usually the right side and then secure using bobby pins.
Grab the ends of the first and second half and twist the ends of the upper and lower half together till you get to the head. Tuck the ends into the twist and continue to roll it down till it meets the head.
Use a jaw clip to hold the twist. For thick hair, you need a jaw clip with much gap between the interlocking teeth to avoid placing too much pressure on the clip.
Secure into place using bobby pins. You would probably need a lot of bobby pins to ensure there are no loose ends and that your twist is firmly placed.
Messy French Twist
Abby from TwistMePretty have this awesome video tutorial on how she does her own version of messy French Twist hairstyle. By using her finger to twirl the hair, and then finishing up the hairstyle with a couple of bobby pins, this is the probably the easiest way I've found so far!
Sideways French Twist
Also called the 'horizontal French Twist', this variation entails you twisting hair horizontally instead of vertically as with the classic twist. This chic updo is perfect for those with short hair. You'll need a lot of bobby pins for this one, as you'll be sectioning your hair, and twisting and pinning each section one by one.
Yes, this one will take much more effort that the old school twist. But it's a good way to switch up your hairstyle.
Kate from TheSmallThingsBlog.com has a good tutorial on how she gets this look done. Check out her video below:
Do you think you can do a French Twist on yourself?
While French twists can be done on any kind of hair texture, the smoothness depends on what you are aiming for. You can move from a messy twist to a more sleek one. You can also create a front bang or even a centre parting. All that matters is your creativity and versatility with this simple and classy style.
Image Credit: Deposit Photos