Styling and maintaining your long tresses does not have to be a boring affair. With long hair, you can get super creative and style from cute buns to classic waves. Most of these styles are also simple and straight to the point. You can rock a style that best suits an occasion, outfit and weather.
Here are 7 creative hairstyles for long hair:
1. Sleek bun using socks
Most of us are guilty of putting hair up in a messy bun and then calling it a day. But buns can look chic too. You can easily achieve a sleek bun with just a sock. All you need is a sock, scissors, bobby pins, hair spray, hair brush and tie. Fair warning, use an old sock (perhaps one that has lost its other pair) since you'll be cutting it up.
Steps:
Comb all your hair using a brush into a high ponytail, right where you want your bun to be. Secure with an elastic hair tie.
Using a pair of scissors, cut out a little portion of the closed end of the sock so it has two openings.
Roll the sock into a bun and pass it through your ponytail, wrapping your hair around it. You can also use bobby pins to secure the bun if you want.
Apply hairspray to give it a more sleek look and to get rid of stray hairs and you're done.
Check Out: The Ultimate Guide to Curling Long Hair
2. Topsy Fishtail
Amazingly, you do not need to drive down to the salon to get this lovely hair look, you can do it by yourself in ten minutes. The steps are simple and fun, you could give it a try.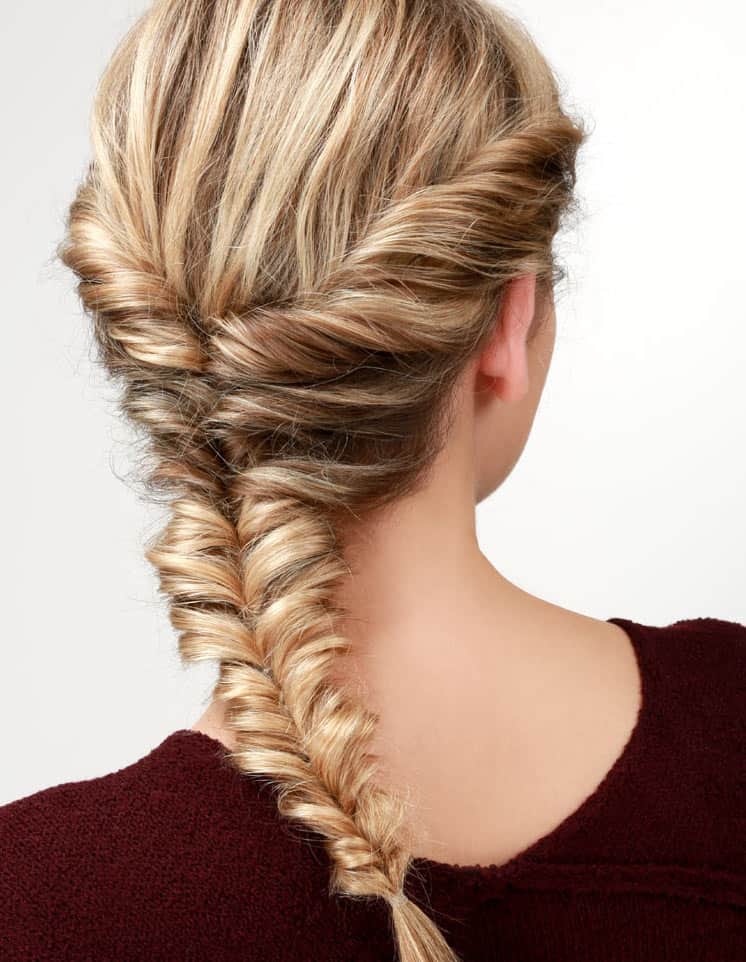 Steps
To get this done, you twist a section of your hair from the front left side of your head backwards, then do the same steps to the right part of your head. Make sure the right part matches with the left part, then fasten with an elastic hair tie. From underneath the hair tie, you reach up and then hold onto the pony and make a topsy, ensuring they are centered properly.
Separate the hair into an even part on both sides from beneath the twist and use that to form a smaller Ponytail on top. Make a Topsy on the smaller Ponytail, then form a new ponytail on the same section. Follow the same steps till you get to the end of the hair, hold with a hair tie. Lastly, loose each section from the top of the hair downwards.

3. Double twist ponytail
Simple and easy to do, this style is perfect for everyday use. With a double twist, you add more style to some oomph to the classic ponytail.
Steps
Comb your hair and leave a parting a little by the side. Twist the larger part inwards and then do the same to the other side. Tie both ends into a low ponytail with the rest of the hair. Use your hands to tuck in the twist and to secure loose parts. You can also wrap few piece of hair around the ponytail to achieve a more natural look.
If you don't want a ponytail, you can chose to twist both sides of your hair and secure together to create a half up, half down hair do.
4. Chic French twist ponytail
For those with long straight hair, having a French twist can be really classy and sophisticated. French twists are easy to make and can be quite versatile. This style is a perfect look for when you have that important presentation or a formal red carpet event. You can also rock it to a casual day at work or school.
Steps
Comb all your hair backwards. Hold in a tight ponytail right where you want your twist to be. Starting from the base, begin to twist till you have a tight twist right at the nape of the neck. Use bobby pins to secure the twist to your head. Be sure to use enough bobby pins and in a way that it stays hidden in the twist.
You can also use your hands to pull out some hair slightly from both sides of the twist to give your style more volume. You can also add side bangs in front of your hair.
5. Easy bubble ponytail:
This bubble ponytail is really cool and makes for that casual and stylish look. All you need is small elastic bands and some bobby pins.
Steps
Grab all the hair above your ears on both sides and tie together in the middle. Use a small piece of hair to hide the elastic by wrapping it around the band. Tie another elastic band about 2 inches away from the first one. Using your index fingers and both thumbs, pull out hair from both sides to form a small bubble.
Tie the upper part with the remaining hair below your ears into another ponytail. Wrap another small section of hair around the elastic band to hide it and secure with a bobby pin below the band. Create another bubble and keep repeating till you have all the hair in small bubbles. You can have about 3 to 4 bubbles, depending on the length of your hair. Your ponytail also does not have to be smooth. It is a casual style after all.
6. Low chignon bun:
This is a very simple hairstyle. It is perfect for those times when you don't want hair fanning around your face and neck, especially in the summer when the weather is hot. All you need is a hair tie and small bobby pins.
Steps
Comb all your hair backwards. Twist both sides till you get to the back and tie together with your hair tie. Twist the end of your ponytail and roll to a form a tight bun. Tuck the remaining end of the hair into a small space in the centre of your bun. Secure firmly using lots of bobby pins. You can also use a hair brush to comb the upper part of your hair and to keep away stray hairs.
7. Centre bun with braids:
You can also get creative with your bun. A little braid around your bun can be all you need to add more class to your simple bun.
Steps
After combing hair into a high ponytail, separate a little section into a small braid. Roll and tuck the remaining ends to create a bun. Wrap the braided part around the bun and use small bobby pins to attach it tightly to the hair.
This style can also be perfect for people with cute bangs in front. You can also create yours if you don't have. It is also perfect for little kids with long hair.
These hairstyles are quite easy, you can really get creative and add your own unique look that best suits you.

Which of these updos for long hair have you tried?
If you find this post helpful and tried any of the updo hairstyles mentioned above, let us know in the comments below how it went!
Image Credits: Deposit Photos
PIN For Later!