Hot Roller Tutorial: 8 Ways To Use Hot Rollers
When you think of hot rollers, you may think they are a thing of the past. From eras when women spent hours primping to look their best serving a 5 course meal at the end of their husband's work day. If you think these old school beauty do's are a 'beauty don't' today, it's time to change your perspective!
Women are still getting big, bouncy curls with heated rollers that last all day. Let's look at how to get big volume with these little wonders and what products to use with them to protect your strands and your style.
Hot Roller Basics
Let's start with a quick hot roller review. Choose a set that heats quickly and holds heat well to give you maximum curl and bounce!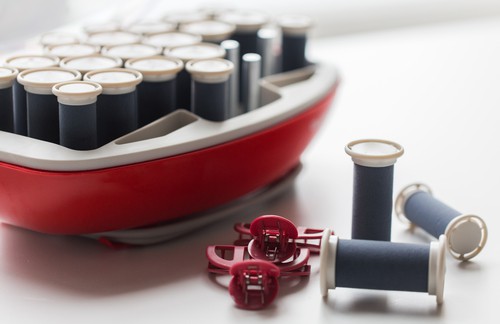 Some of the top hot roller sets available are ones like these Remington Ionic Conditioning Hair Setter rollers. They have a thermal wax core that heats quickly and stays hot longer. This Conair set includes three roller sizes! The small and medium rollers are perfect for short and medium length hair. The BaBylissPRO Nano Titanium Roller Hairsetter kit also offers 20 rollers in 3 sizes. Infrared heat is used in these rollers to warm your hair from the inside out. Your style will set faster and you'll see less damage in your 'do.
How long do hot rollers take to heat up?
Most hot roller sets that you buy today will have a "ready" indicator light on the case. This lets you know the rollers have reached their optimal heat level and you can get started! Warming times will vary by the product you purchase. Some take seconds and others could be up to 10-12 minutes.
You may want to "test run" your set on a day when your schedule isn't packed so you won't be rushed if they take a little longer.
Let's get on to the curls! Hot rollers are so versatile and fun to use.
How to curl hair using hot rollers: 8 ways to get the look you crave
1. How to use hot rollers on short hair
If you're planning to keep short hair for a while, it's better to invest in a hot roller set that is packed with small and medium-sized rollers. Make sure you can wrap your hair around the roller a minimum of 3 times.
Use a variety of sizes in your short hair to add interest to your style. Let these set until they are cooled to give you the most curl possible. Pull them out, give your hair a shake, and off you go.
Check out: Top Picks: Hot Rollers For Short Hair and Tips For Styling Short Hair Using Hot Rollers
2. How to use hot rollers for medium length hair
Like short hair, using a variety of sizes in your medium length hair will give you the best look. Medium and large rollers will give you volume and a beautiful shape.
Add big body to your hair by starting 2-3 inches from your scalp and wrapping sections of hair around the barrel of your roller. Let them set for about 20 minutes, unwind, and shake out your voluptuous waves.
3. Using hot rollers on medium length layered hair
When setting your rollers in layered hair, start by sectioning out your layers. First, part your hair into three equal sections, from your crown to the ends.
Working in the middle section you just created, comb your shortest layer up and away from your head. Set your first roller by starting at the ends of your hair, rolling under until your reach your scalp. Use your clip to secure the roller.
Work your way down this section in the same way with each layer of hair. You'll repeat these steps on each of your "outside" sections to complete your set! You should have 3 rows of 3-4 curlers in each section.
Spray your hair with a hairspray like Redken Hot sets 22 Heat Protectant Setting Spray and let your rollers cool! After your rollers have cooled, let your hair down! It's best to only run your fingers through your hair to separate curls and "fluff" them up. A brush may release your curls.
4. How to use hot rollers for curly hair
You CAN use hot rollers in your already curly hair! You'll want to use the smallest rollers you have in your set, and don't heat them to max temperature.
When they've gotten warm, set your rollers in small sections all over the place! Leaving these in for just 2-3 minutes will spark up your curls and give you a fun look for the day!
5. How to use hot rollers with fine hair
Your fine hair will appreciate the boost it gets from a hot roller set. For fine locks, you'll want to start by teasing a small section of hair (about 2-3 inches). Once you've gotten your section teased at your root, wind your hair around your roller and pin it in to place.
In 30 minutes you'll be ready to take out your rollers and comb your fingers through your sections. Don't pull on the teasing at your roots-you'll flatten down your volume.
Read More: Got Fine Hair? Check out these hot rollers!
6. Using hot rollers for volume
If you're seeking volume over curls, hot rollers are still your best friend. When setting your rollers for volume, they'll all be rolled away from your face. The rollers at the crown of your head will be horizontal and in one row from your forehead to the back, right down the center. The ones to the sides will end up vertical to achieve this look.
Your rollers should be completely cool before you take them out. You'll have big, individual curls so shake them out. Add a volumizing spray like this one by Kenra.
7. How to get loose curls with heated rollers
Large or jumbo sized hot rollers would be best for loose curls. Start at your face with small sections of hair and work your way to the back of your hair. Do this on each side of your head.
Once your curlers have cooled all the way, gently unwind each one, being careful not to tug or pull on them. If you like to blend your curls together, you can do so with your hands.
8. How to get vintage curls with hot rollers
Getting a saucy, vintage look with hot rollers is way easier than you think! Start with one large section in front. Tease your hair at the scalp and then grab your roller!
Place your roller in the middle of the length of your section and wrap the tips of your hair around your roller first. Roll your curler under to your scalp and secure it in place! Do this again with one large section on each side.
Do a second large section at the top of your head, directly behind the first roller you put in. Take whatever hair sections are left at the back and pin those up with 2-3 more rollers.
Before removing the hot rollers, you want them to be totally cool. After you've removed them, release your curls a little with your hands. You can style with your fingers or use a round brush to carefully work the shape you want!
Products to use with hot rollers
Always, always, always, use a heat protectant spray before putting hot rollers in. As with a curling iron, you are exposing your hair to high temperatures, of course you'd want to protect it from damage.
This Thermal Creations Protective Spray Heat Tamer goes in before you style, is heat activated, and will leave your hair shiny and healthy! Another great heat protectant is this argan oil spray that doubles as a leave in conditioner. Your hair is protected from up to 450 degrees worth of heat, and will get a health boost from the added vitamins in this product.
A strong hold setting spray will keep your curls full force all day. The Thermal Curler Spray protects your curls without leaving them sticky or gross feeling. Hot Curls Thermal Curl Spray works to repair damage caused by heat styling and will make your hair shine all day.

How to avoid getting creases
One of the best ways to avoid getting creases in your curls when you use hot rollers is to throw out those metal pins that come with your set. Plastic hot roller clips fit most sized rollers and keep the crease out of the equation.
Can you use hot rollers on wet hair?
Hot rollers work best on clean, dry hair. You can use them on hair that is slightly damp, but your curls not be as vibrant or last as long. There is also risk of damaging wet hair with hot rollers.
Hot rollers can give you a whole new head of hair in less time than it may take to fight with your curling iron. From a saucy vintage look, to big, Oscar worthy waves, your hot roller set might become your beauty go to. Don't leave these unsung heroes in the past. Roll up and roll out with these 8 ways to use hot rollers.
Image Credits: Deposit Photos