If you're familiar with the Curly Girl Method, then you'll know using a diffuser on curly hair can help set its curl pattern.
You've seen the tutorials and read the articles. After diffusing their hair, people with curly hair come out with big and bouncy curls.
But what happens if you use it on straight hair? Can it also give stick-straight hair those voluminous curls?
Well, if you're curious to know what a diffuser can do for straight hair, you might want to read more below.
---
What does a diffuser do to hair?
First thing's first, what is a diffuser?
A hair diffuser is usually a round-shaped attachment for your hairdryer. It controls your hairdryer's airflow so you can focus on drying one section of your hair at a time.
This allows your hair to dry more evenly, creating a better curl definition instead of when air is being blown more wildly, making your hair dry irregularly. Thus resulting in frizz and fly-aways.
---
Types of diffusers
Diffusers also come in different shapes and sizes for various lengths and curl types. If you want to learn more about which type of diffuser is best for a specific hair type, then keep on reading: 
Cup diffuser
The cup diffuser is the most common type you see. It's usually round, and most brands can fit into a regular hairdryer. 
It diffuses air evenly to minimize frizz while also providing volume and definition. They're great for wavy to curly hair types.
Pronged diffuser
If you want to dry your hair faster, a pronged diffuser is your best friend. It's wider than a cup diffuser, so it can dry a larger patch of hair.
It also has small pronged nozzles that provide a stronger airflow. That's why they're recommended for longer and thicker hair.
Hand diffuser
This fun-shaped diffuser is great for coily hair types. The hand diffuser's shape allows it to be set close to your roots to create springy ringlets without disturbing its curl pattern.
But if you're looking to create more volume, then this type of diffuser might not be for you.   
Sock diffuser
The sock diffuser is a heat-proof mesh that can attach to your hairdryer's nozzle. The mesh fabric eliminates static electricity that makes your hair frizzy.
It also provides your hair with a gentle airflow that won't disrupt its curl pattern. The only downside is it will take you longer to dry your hair, but at least it won't come out frizzy.
It's also foldable and lightweight, so it's convenient for when you're traveling.
Collapsible diffuser
If you're looking for a multipurpose diffuser, then the collapsible type is your best bet. 
What's great about it is you can adjust it into a flat surface for when you want to rough dry your curls. You can also stretch it out into a cup diffuser for when you want to diffuse bouncier curls.
When you're done styling, you can collapse the diffuser back into a flat disc so you can easily tuck it away. You can also bring it anywhere as it's lighter compared to other types of diffusers.
---
Does a diffuser make your hair frizzy?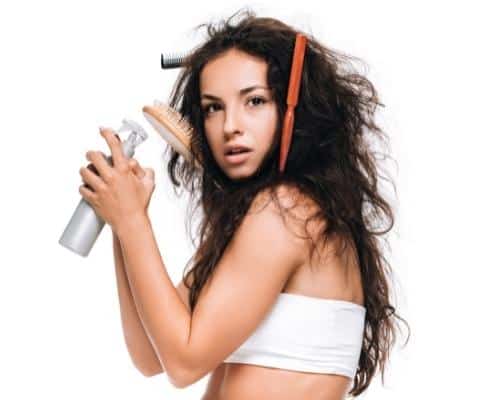 On the contrary, using a diffuser eliminates the appearance of frizz on your hair. 
But if your diffuser is giving you frizzy hair, then you might be using it wrong.
To get the best results, you must start by prepping your hair beforehand.
Start by combing out your wet hair with a wide-toothed comb. Make sure there are no knots and tangles so it'll be easier to diffuse your hair later.
Also, choosing the right products for your hair type helps eliminate frizz as some products contain ingredients that dry your hair out. Some examples of drying ingredients are parabens, sulfates, or alcohol.
Use lightweight and hydrating products that contain glycerin, hyaluronic acid, and plant-based oils. They provide your hair moisture without weighing it down.
Another tip is to apply your hair products to wet hair. This allows your hair to absorb the products more to get the most out of them.
Next, be patient and wait until your hair is damp before you start diffusing it, as drying dripping wet hair can make it frizzy after diffusing.
Adjusting your diffuser temperature can also help in getting rid of frizz. Try lowering the temperature next time if you find your hair getting staticky after using high heat. 
---
Does diffusing your hair make it curlier?
If you have naturally curly hair, using a diffuser can really level up your curls. 
But if you have naturally straight hair, the best thing a diffuser can do is to make it wavy.
A diffuser's purpose is to dry wavy or curly hair into a neater pattern without making it frizzy. Since straight hair doesn't have the natural S-shape that wavy and curly hair does, it's more challenging to create curls using only a diffuser.
But don't worry, if you already have a diffuser at home, you can still use it to give your straight hair some bounce.
---
How do you use a diffuser for straight hair volume?
Just because a diffuser attachment is best to use on curly hair doesn't mean your straight hair can't also benefit from it.
If your hair is prone to frizz, diffusing it can smoothen your hair and create volume.
So if you want to give your hair some definition, you can follow these tips:
Start by applying a heat protectant to your wet hair. This allows your hair to absorb more product.
Set the diffuser to a low setting, and flip your head upside down. This allows your roots to lift, creating more volume.
Start moving the diffuser in a circular motion on one section of your hair. Make sure that section is fully dry before moving on to another part of your hair.
Remember to touch your hair as little as possible to avoid creating frizz.
Once your whole head is dry, you can mist on some finishing spray to help your hair lock in some moisture. And, you're done!
---
How to use a diffuser on straight hair to make it curly
Using a diffuser to make straight hair curly can be pretty challenging. A diffuser can only give straight hair more body and give it some waves.
The upside is that a diffuser is gentler on your hair as it emits lower heat than curling irons. 
So if you want to give your straight hair some beachy waves using a diffuser, then you can follow the steps below:
After washing your hair, dry it using a microfiber towel or a cotton t-shirt. This helps eliminate frizz since regular towels are too abrasive for your hair.
Prep your hair by applying a volumizing spray and combing it through your strands. This allows your hair to absorb more product.
Now it's time to diffuse. Set your diffuser to a medium heat setting. To create more volume, flip your head upside down. 
Grab one section of your hair. Place the bottom of your hair on the diffuser's cup, bring it close to your roots, and hold for a few seconds. This is often referred to as the scrunching method.
If the heat gets too much for your roots, lower that section of hair, and repeat the step.
Remember to let one section fully dry before moving to another section. That way, your hair won't get frizzy. Repeat the steps until all of your hair is dry.
You can also spritz your hair with some hairspray after to help it hold the waves longer.
If your hair has difficulty holding the wave using the method above, another tip is to braid your damp hair then diffuse it. The more sections you braid, the tinier the waves will come out.
Another tip is to pin curl your hair before diffusing it. Just make sure your hair is cool before removing the pins. This helps set your hair so it can hold the waves longer.
CHECK OUT: How to diffuse wavy hair without frizz
---
Final thoughts
So there you have it — the tips and tricks on styling straight hair using a diffuser. 
Not only is it useful for curly hair, but it can also give straight hair a voluminous blowout. 
But if you're not up to go all out, you can still attach the diffuser and blowdry your hair normally. Since the diffuser disperses the heat more gently, your hair wouldn't get as much damage from the heat. 
Sure it'll take longer than usual to dry, but your hair will stay healthy. Trust me; your hair will thank you later!