Eye-catching and head-tilting hair colors like purple are fantastic. But sometimes maintaining the fun and bright colors on your hair can be a hassle. You might also grow tired of being in the center of attention with such brilliant hair colors.
If you currently have purple hair and you want to cancel the bright color out, it's important that you use the right hues to not mess up with your fairy-colored mane.
You should also keep in mind the shade of purple that you have on your hair.
In this article, we'll take a deep dive into what you can do with your current purple hair if you end up wanting to cancel the bright color out.
What Color Can I Put Over Purple Hair?
Purple tones have red and blue hues. To not mess up with your current purple hair, you should apply hair colors with red and blue pigments. Blue, red, and brown will ideally cover your purple hair without any problem.
Blue
Going for blue hair color is probably the easiest way to transition from your current magical purple hair. Your friends might not even easily notice the change in hair color but will definitely perceive the change in your aura.
Be the life of the party once again by coloring over your magical-fantasy purple hair with turquoise or midnight blue.
Red
You have probably heard about the red-purple hair coloring trend. It keeps cycling back no matter what the era for a very good reason. Red-purple shades like deep burgundy, red wine, raspberry, and aubergine can give you vampire-movie feels.
Make people wonder what makes you look stunning and special by rocking this hair color.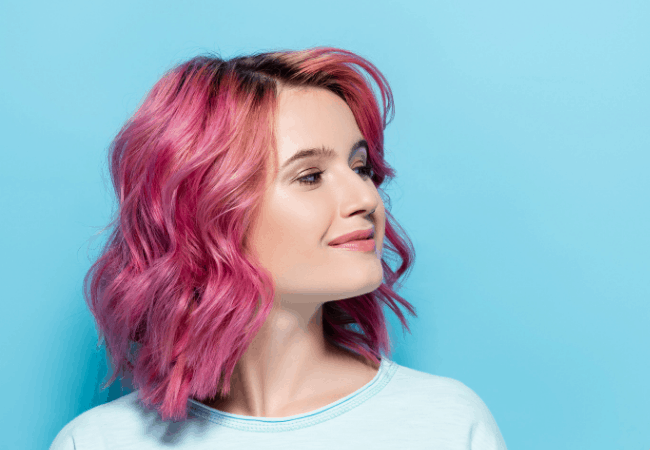 Brown
Both brown and purple have red tones. That said, it is another color that you can easily apply to your purple hair.
You can transition from being stylish, youthful, and fresh to being quiet and noble in an instant with the right brown hair coloring product over your purple hair.
---
How To Remove Purple From Hair
Here are some of the best ways to effectively remove purple from your hair:
Dye Remover
Dye removers could be the safest way to effectively get rid of purple in your hair. The problem with most dye removers is their scent. But don't worry as it goes away after one wash.
What we like about it. It's basically safe for all hair types for as long as you use high-quality products. Plus, it's easy to use. Follow the instructions to get the results that you desire.
How to do it. It usually comes in the form of a kit with clear instructions indicated. The process can be long so make sure to commit to the time indicated in the label so there would not be any mistakes.
Bleaching
Most dye removers only work on permanent hair dyes. So it basically will not work on your purple hair if you've used a semi-permanent dye.
What we like about it. It is easy and highly effective in removing every inch of purple on your hair. It is the quickest way to remove purple from hair.
What we don't like about it. We don't recommend bleaching your hair. Bleaching can be very damaging to your mane. Unlike semi-permanent dyes, bleach will change your hair color permanently.
This should be your last resort if you want a quick way to effectively get rid of the purple in your hair.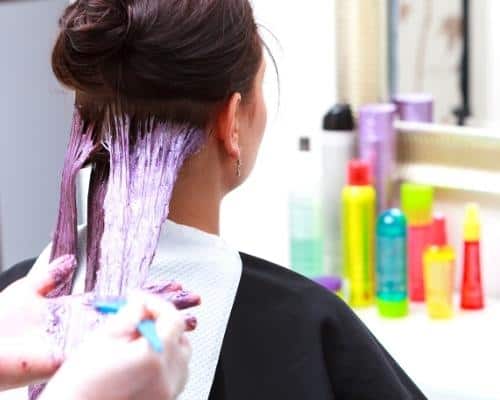 Vitamin C
The same Vitamin C that you take to boost your immune system can also be used to remove the purple dye on your hair.
What we like about it. It works well for semi-permanent hair dyes too. So if you decide not to bleach your hair, this is a good option as it will not strip your hair like bleach does. In fact, vitamin C can potentially be good for your hair too as it's acidic. It will naturally neutralize the pH of your hair.
How to do it. Place the Vitamin C product of your choice in a ziplock and crush them to powder. Then, mix the powder with a clarifying shampoo. Apply to damp hair and cover with a shower cap. Let it sit for 30-60 minutes. Finally, rinse your hair and apply shampoo and conditioner as normal.
---
How Do You Get Purple Hair Dye Out?
Getting rid of purple dye on your hair might not be as hard as you think it is.
We've collated some of the simplest methods to get purple hair out of your hair without damaging your crowning glory.
Ceramides
If you have soft purple, find a shampoo that contains ceramides. This is the least corrosive method that will save your hair from further damage.
Pros
They are safe even for the most damaged hair.
Cons
It might take a few washes before the purple will be totally gone.
Dishwashing Liquid
When it comes to fading medium purple, a basic dishwashing product might help.
Pros
It can fade even those hair dyes that last up to twenty washes.
Cons
They are very corrosive, leaving your hair very dry. You should moisturize as often as possible with oil to prevent hair damage.
Baking Soda
For fading intense purple, you can use baking soda. Add about 100 grams of baking soda to your regular shampoo and use it to wash your fairy hair color.
Pros
It is highly effective in fading hair dyes that last for more than thirty washes.
Cons
It can also cause severe dryness to your hair. That is why we recommend that you moisturize your hair with coconut, almond, or flaxseed oil after using and before applying a new hair dye.
---
How Do I Get Rid Of Purple In My Hair?
Switching to other hair colors or completely getting rid of the fairy-colored purple in your hair might be easier than you think.
Here's the summary of your best options:
Removing purple with natural products
Going to the salon could be the easiest way to remove purple from your hair. Not many of us have the budget for that, though.
Good thing, you can use household products like baking soda and dishwashing liquid to fade the purple dye on your hair. Regular shampoos with ceramides can eventually remove the purple on your mane as well.
Make sure to apply moisturizers as these corrosive products can dry your hair.
Completely getting rid of the purple
You can get rid of the purple in your hair quickly using professional products at home. Bleaching might be the easiest way but it can be very damaging to your already brittle hair.
Dye removers could be your safest option. It's highly effective too. But it might only work on permanent hair dyes.
For your semi-permanent dye, we recommend that you use Vitamin C. The process could be a hassle. But if done properly, you can remove the purple sheen in your hair while keeping your mane healthy.
Getting rid of purple with other dyes
Lastly, you can also remove the purple on your hair using other hair dyes. Blue, red, and brown are the perfect hair colors that you can use to cover your purple hair without preparation.
Grey dye over purple hair
Purple dye usually fades to a lighter version of purple. But if your natural hair is light, chances are your purple dye will eventually fade to grey, depending on how purple your hair is.
Here's what happens if you put grey dye over your current purple hair:
Purple Gray
You can lighten up your lavender hair with a silver dye and achieve the purple-gray color. It's best if you can't choose between going full purple or staying gray.
Lilac Gray
Rock this gray-tone hair color before going full-on lilac. It is a more subtle hair color that you can wear every day.
Can I Put Brown Dye Over Purple Hair?
Yes, you can put brown dye over your mermaid-colored hair.
The results will vary on how faded your current purple hair is and the brown shade that you use for your hair.
Purple Reddish Brown
Use medium brown hair dye over your purple mane to achieve the beautiful color of lotus petals. It's the perfect proportional blend that will bring out the sweet, charming, and gentle personality in you.
Purple Coffee
Achieve the classic look of natural brown with the hint of sparkling purple light with this color.
You can choose a dark brown hair dye over your purple hair. It will then result in this stunning color. Purple coffee will look like a harmonious combination of purple and coffee.
---
Will Dark Brown Hair Dye Cover Purple?
If properly done, yes, dark brown hair dyes will cover your purple mane.
First, choose good quality brown hair dye. It is important to go to reliable brands when it comes to choosing dyes for your hair. Manic Panic, for example, uses high-quality ingredients that are vegan friendly and PPD free.
Before dyeing your purple hair brown, make sure to do a strand test first. Apply the dye to some strands of your hair to see what happens to prevent messing up with the color of your entire hair.
After finding the best dark brown dye for your purple hair and doing the strand test, you should now be able to proceed to transition to brown hair without any problem.
This post may contain affiliate links. If you click through and make a purchase, I'll earn a commission, at no additional cost to you. Read my full disclosure here.
Can I Put Black Dye Over Purple Hair?
Black dyes cover every hair color. Yes, even the brightest purple can be covered by black.
You need not bleach your hair and risk the possibility of damaging it. You can just apply semi or demi-permanent hair dyes and achieve the black hair color that you are aiming for.
What Color Cancels Out Purple Undertones?
The answer depends on the shade of purple that you have on your hair.
Deep purple hair, for example, can be toned down using yellow or gold.
Go back to being blond without any problem by applying yellow hair color to your deep violet hair dye.
Lighter shades of purple, on the other hand, have more blue in them than true purple. This means that an orange toner can cancel out your purple undertones.
Using yellow or orange toner mixed with a developer will neutralize the remaining violet sheen in your mane without damaging it.
---
Dying Over Purple Hair With Blue
The good thing about dyeing your hair is you can dye it again if you end up not liking it .
This is especially true for colors with the same pigments. Both blue and purple, for example, have blue pigments on them.
This means that you can easily go from purple to blue hair with the right products.
But first, wait for fifteen days to give your hair time to settle so you can see the real tone of the dye that you have previously put on.
If your purple hair has not faded to its definitive color yet, it can affect the outcomes of the blue shade that you've chosen. This means your new color will be uncertain if you don't wait.
If your hair came out to be on a lighter shade, you can put on the new blue hair dye immediately. You don't have to bleach your hair or fade the purple even more to apply the new color.
But if your hair color turned out to be a darker shade of purple and you want to apply a lighter blue hue, you have two options – bleaching or lightening colors by two tones.
We recommend the latter as it is less damaging to your hair.
Just as you don't have to be stuck with your natural hair color, you also don't need to wait until your purple hair dye completely grows out on you before you can experiment with other hair colors. Rock that new hair color with no worries!
CHECK OUT: How To Get Purple Shampoo Out of Hair