Having dark-colored hair does not mean that you will never be able to relate to the hair color fun that your light-haired friends do. 
Yes, you can! And you don't even need to apply bleach for that. 
If you want to break convention and redefine standards for beauty, coloring your hair could be the key. Dyeing your hair purple can be the perfect way to set a new norm while standing out.
Just see for yourself how many heads will tilt the moment they see your bright purple hair. 
Plus, there is no need to take the risk of damaging your dark hair just to achieve the purple hair color that you have been aiming for as you need not bleach it.
The remaining question now is, "how will you do it then?".
We're going to answer that question and tackle a lot more about coloring dark hair purple. So keep reading to know how to safely and effectively dye dark hair purple without bleach.
---
Can you put purple dye on dark hair?
The answer is yes you can put purple dye on your dark-colored hair.
The result will depend on your natural hair color, though. 
If you have naturally dark hair, this article is specially written for you. 
Here are some of your best purple dye options when dyeing your dark hair:
Dark Purple
Dark purple dyes would be a great choice if you already have naturally dark-colored hair. In fact, naturally dark hair would be the best base for this type of hair dye to achieve the dark purple color that you are aiming for. 
Opt for dark purple colors like indigo, burgundy, and amethyst the next time you go hair dye shopping.
Intense Lilac
Lighter lilac shades were the more popular choice in the past. These days? Not anymore. 
Dark intense lilac hues have been increasing in popularity now. 
This is good news for those people with naturally dark or brunette hair as it would be easier to achieve this recent trend of hair color.
Purple Punk
Whether you have mermaid-like waves or shiny straight dark-colored hair, this trendy shade of purple will be perfect to break the conventional hair color.
---
Can you color dark hair without bleaching it?
Bleaching can cause a ton of damage to your crowning glory. 
Fortunately, you don't have to bleach your dark hair just to achieve the purple hair color that you have been aiming for. 
Here are some helpful tips on how you can dye your dark hair without using bleach:
Finding the right products
First, you should go looking for the right hair coloring products for your type of hair. In fact, you can find dyes that are specifically made for darker hair colors. This means that you can dye your hair darker purple without bleaching it. 
Look for labels that mention "for dark hair" or anything like that.
Forget the pastel
Sad to say, it's not possible for people with darker hair to achieve the permanent trendy purple pastel color if they refuse to bleach your hair. In fact, even blonds have to bleach their hair just to achieve the unicorn purple hair color. 
As for you, though. You could try other hair dyeing products aside from permanent colors. There is a hair color spray that you can use to temporarily brighten your hair. 
CHECK OUT: Best Green Hair Dye
---
How can I dye my hair from black to purple
There are different hair coloring products that you can use for turning your dark hair purple effectively. Read below to know your options!
Permanent Dye
Permanent dye would be your best option if you wish for your stunning purple hair to last for a longer period of time. There are tons of products to choose from. There are even dyeing products that can last for up to 24 washes. 
Yes, you can enjoy that vibrant purple hair for 24 washes if you opt for a permanent dye.
Semi-Permanent Hair Dyes
Go for semi-permanent hair dyes if you want less commitment and low maintenance. Unlike permanent hair dyes, it doesn't contain chemicals like ammonia or peroxide. This means that the hair color will not penetrate the cuticle and change the structure of your hair. You can expect it to slowly wear off after three weeks.
If you fell in love with your purple hair color, though, you can easily enjoy rocking that new hair color you like through touch-ups. Just make sure to use the same shade. 
The Manic Panic semi-permanent purple hair dye, for example, uses high-quality ingredients. Plus, their products are vegan-friendly and PPD free. It can give you the vibrant hair color that you're looking for without damaging your hair. It's also long-lasting. 
This post may contain affiliate links. If you click through and make a purchase, I'll earn a commission, at no additional cost to you. Read my full disclosure here.
Temporary Hair Dye
Temporary hair dyes would be perfect for those who want to try a new hair color but don't want it to last for weeks. It's the easiest way to color your dark hair purple without the long-term commitment.
You can color your hair for a one-day event or add some fun on your night-out then go back to your natural hair color the next day with no fuss. 
It is a cool hair coloring product that is so easy to apply and wash out. As the festivities and special occasions are fast-approaching, you might want to start searching for the best temporary hair dyes for your dark hair.
CHECK OUT: Best Red Hair Dye
---
Temporary purple hair dye for dark hair
There are tons of products available in the market these days that you can use to dye your dark hair. As mentioned above,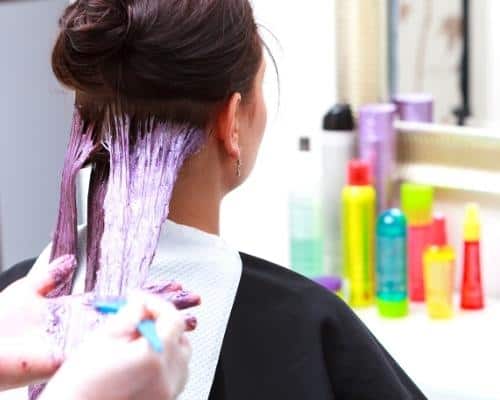 Hair Color Spray
Using a color spray is probably the most convenient way to dye your dark-colored hair. 
This hair dyeing product will be perfect for you if you are a commitment-phobe who doesn't want full-time change or a perfectionist who wants to check if the new hair color trend will look good on you. 
You have the choice to spray less for a subtle look or go for something a more extreme purple by spraying more.
How It Works
Hair coloring spray can give a vibrant purple tint to your dark hair. It is probably the easiest to use hair coloring product in the market. It delivers rich vivid colors without the harsh chemicals that could be damaging to your hair, making it the safest product for both kids and adults. When it's time to wash it out, it washes out easily without any problem. However, this type of hair coloring product isn't completely transfer-proof.
Colored Wax
You might need more than a can of hair coloring spray if you have thick hair. In that case, you might want to consider hair color wax. It works best for people with short and thick hair. Style your dark hair while coloring it purple with a high-quality colored wax. 
This temporary hair coloring product will give your dark hair the vibrant purple you want for about three days. You can extend its life by using a shower cap when you shower or touching up the color with your fingers.
As soon as you wash it out, you will go back to your natural hair color with no hassle.
How It Works
The application is easy. It can instantly give your dark hair the vivid purple sheen that you want to achieve.
Plus, it works well on all hair textures. In fact, it can make your hair look healthier and thicker with proper application. It can give a rigid texture to your hair.
The only downside is that it might not provide full coverage on greys. But hey, it works well for dark hair.
Hair Chalk
You read that right. Temporary hair chalk will also work on your dark hair. Make sure to spray a dry shampoo before applying the chalk to your hair to see great results. 
How It Works
Hair chalk is totally safe and easily washes out if you want your natural hair color back.
There are chalk combs that make the application process even easier.
You can re-apply as often as you like to achieve the intense purple that you want for your dark hair. You must not chalk your hair too often, though, to prevent stripping your hair of its natural moisture.
---
Just because you are born with natural black hair does not mean that you can't achieve mermaid and unicorn-colored purple hair. You have tons of options in coloring your hair in different shades of dark purple hues!