Have you ever gone on a whim and colored your hair? What were your thoughts on choosing the color of your hair? Did you know that there are products that can help your hair go from blah to oomph! 
The questions that come into mind are, what is the difference between blue and purple shampoo? Is purple shampoo better than blue shampoo? How do I know if I need blue or purple shampoo? Is there a big difference between blue or purple shampoo? Is it okay to use blue shampoo on blonde hair?
---
What is the difference between Blue Shampoo and Purple Shampoo?
If you have no hint as to what these color-specific shampoos do, take note of this: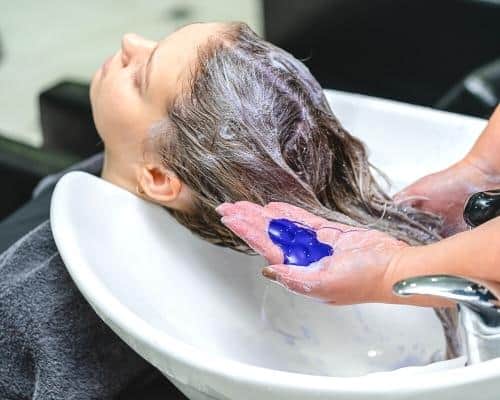 Blue Shampoo
If you have had your hair colored recently and your natural hair color is brunette, then blue shampoo is the key to beautifully toned hair. Blue shampoos contain blue-violet pigments, which stick to the hair as it lathers up. These colored pigments help in correcting the color of the dyed hair.
Purple Shampoo
Purple shampoo, on the other hand, contains violet pigments that also stick to the hair and alters the color of the hair after each wash. It counteracts the unwanted or brassy tones in the hair.
Brassiness means warm tones in the hair appear due to exposure to sunlight and other chemical factors that could alter the color of hair.
---
Difference between Blue and Purple Shampoo
The difference between the two is obvious, their colors! 
But there is more to their color than meets the eye. 
Who should use the blue shampoo, you ask?
Blue Shampoo 
The blue shampoo is good for those with darker hair color, like brunettes or for most Asians, black hair. Lana Grand, a Los Angeles celebrity, quotes " human hair is composed of color pigments that are usually invisible to the naked eye."  but when colored all those colors rush to the surface. 
For brunettes, the underlying pigments tend to have an orange, red or copper tone color. Blue color on the color wheel counteracts with the color orange. 
Same principle applies here, the blue shampoo tones down the brassy tones on the hair that has built up from sun exposure, heating hair with styling tools and also chemicals.
Blue shampoo has a lot of blue pigment that is deposited into hair after every wash. Because the color blue cancels out the color orange, it leaves the hair looking bright and full of vitality.
Purple Shampoo
Purple shampoo is a color shampoo designed to neutralize any unwanted brassy tones in the hair. It is like a normal shampoo but purple in color and its purpose is to cancel out the yellow hues in the dyed hair. 
According to Annakay Simpson, "It's a temporary dye that stays in hair that stays on the surface of the hair to keep blonde tones cool. Anyone with blonde hair and cooler, ashy tones can benefit from purple shampoo." 
While purple shampoo is for those blondes with blonde highlights, rainbow-colored hair, and gray hair. Since violet on the color wheel is opposite to the color yellow, purple shampoo offsets the yellow undertones.
CHECK OUT: What Color Cancels Out Blue Hair?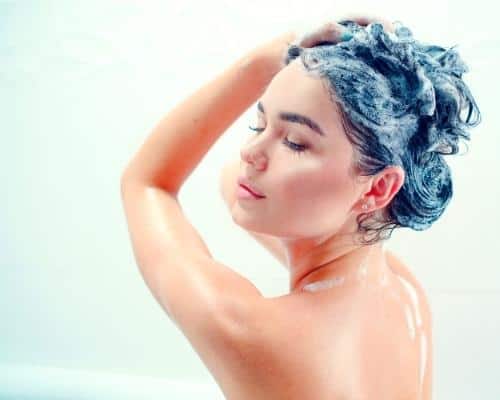 ---
Is purple shampoo better than blue shampoo?
Let's recall our lesson in primary school about colors. If you remember the color wheel, purple cancels out gold while blue cancels out orange. This also applies to color treated hair. Purple shampoo and blue shampoo have their own specific use on specific hair colors.
Blue shampoo is the better option for those with brunette hair who have lightened their frocks with balayage, ombre or conventional highlights as the underlying tones tend to be more orange.
Purple shampoo is the best bet for blondes, gray, platinum and pastel hair. Basically all light color shades. It's also great for those with gray, ashy hair to keep it looking glossy, shiny and salon fresh.
CHECK OUT: How To Remove Permanent Hair Dye From Grey Hair
---
How do I know if I need blue or purple shampoo?
Blue Shampoo 
If you're a brunette who has never tried dying her hair, then you can use blue shampoo sparingly to perk up your strands and help your hair appear lustrous. Blue shampoo is good for those with gray or silver hair if the hair begins to look orange and brassy. Usually, it's best for brunettes who have gone gray.
Purple Shampoo
Brunettes with highlights or balayage can benefit from purple shampoo. It helps tone down the brassiness in the lighter parts of the hair. For blondes who have gone gray, they can get more benefit from a purple shampoo.
CHECK OUT: How long does henna hair dye last
---
Blue Vs. Purple Shampoo: FAQs
Is there a big difference between blue and purple shampoo?
They're both color-correcting shampoos that lengthen the life of your blonde hair or the color treatment of your hair. 
After each wash, it gives your hair that salon finish look but minus the salon trip! Just keep in mind: orange tones= blue shampoo and yellow tones= purple shampoo.
Is it OK to use blue shampoo on blonde hair?
Yes, you can use blue shampoo on blonde hair.  
It all depends on your hair's undertones. 
But it is ideal for those with darker blonde hair than the light blonde ones. It is ideal for those changing hair color from darker roots to a lighter shade of hair color.
Tips on using the Toning Shampoo:
Use alternately with your regular shampoo to maintain the desired shade. It acts as a cleanser while getting rid of the unwanted orange or yellow tones.
If your hair is dry, you can use a hair mask to add back moisture to your locks. Do this at least once a week.
Use the toning shampoo everyday until the desired color is achieved.
Let the shampoo sit for 2-3 minutes to achieve that cooler tone look. Some may even suggest up to 5 minutes but still check the directions with the product you are using.
Dyeing or bleaching hair can cause hair to be damaged and dry, there are also available blue and purple conditioners that can help bring back the moisture in your hair.
If you leave the blue shampoo on for too long, especially on damaged hair, it might leave a blue tinge on your hair (yikes!).
Are you still up for coloring your hair? Just remember to keep in mind that our hair is our crowning glory. And if ever that gets damaged, it takes a few weeks to regain back its natural moisture.
CHECK OUT: How to hydrate hair after bleaching