While it may be true that blondes do have more fun, blonde hair can sometimes need a bit of maintenance to keep its color vibrant.
Over time, blonde hair (natural or not) can develop brassy or warm tones caused by hair washing, chlorine, or even UV rays from the sun. That's why purple shampoo is a great at-home solution to keep blonde hair looking vibrant.
Purple shampoo is a toning shampoo containing crushed violet pigments that neutralize brassy or yellow tones in the hair. This works as purple is the opposite of yellow on the color wheel, causing purple pigments to cancel out yellow tones.
But when purple shampoo is used improperly, it can cause purple stains on your hair instead. Read on if you're a purple shampoo newbie and you've come across this problem or just want to avoid these mistakes.
---
Will Purple Shampoo Stain My Hair?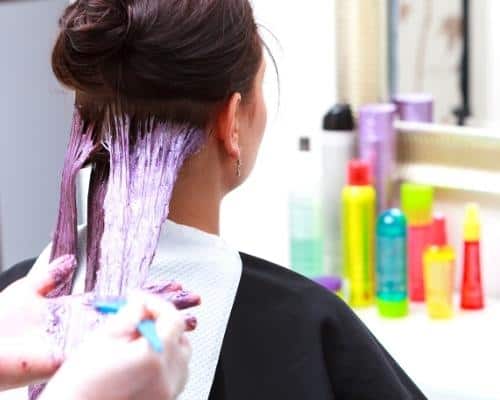 If the purple shampoo you're using is a color-depositing shampoo, then it can stain your hair. The longer you leave it on, and the more often you use it, the more toning it's going to do.
This post may contain affiliate links. If you click through and make a purchase, I'll earn a commission, at no additional cost to you. Read my full disclosure here.
---
Will Purple Shampoo Wash Out?
Fortunately, purple shampoo stains can eventually wash out of your hair.
But how long does it take for purple shampoo to come out? It depends on how porous your hair is and how long you left it on. It can sometimes be hard to remove and can take weeks or even months to wash out.
CHECK OUT: Blue Vs. Purple Shampoo
---
How Do You Remove Purple Shampoo From Hair?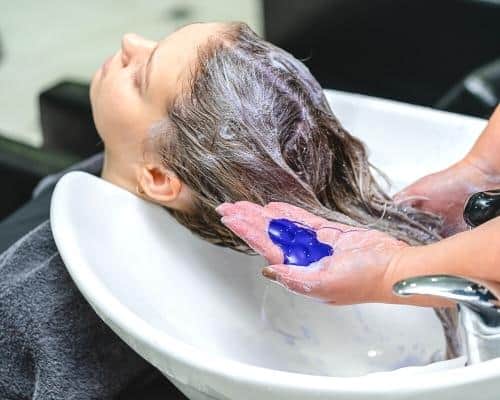 If you don't want to wait for the purple stains to fade away gradually with washing, here are a few emergency tips on how to remove the purple stain from your hair:
Clarifying Shampoo
Clarifying shampoos are formulated to remove product build-ups and to deep clean the hair. Here are a few easy steps to use clarifying shampoo:
Wash your hair with a clarifying shampoo, focusing on the most affected areas
Rinse thoroughly.
Use a moisturizing conditioner afterward, and limit your use to once a week, as clarifying shampoos strip the hair of its natural oils, causing it to dry out.
This post may contain affiliate links. If you click through and make a purchase, I'll earn a commission, at no additional cost to you. Read my full disclosure here.
---
How To Get Purple Shampoo Out Of Hair Without Clarifying Shampoo
If you don't have a clarifying shampoo on hand and are in a hurry to remove the purple stain from your hair, here are a few DIY tricks that you can try at home:
Lemon and Conditioner
Lemon juice has natural bleaching and oxidizing properties that can help remove the purple stains from your hair. Here's a quick recipe on how to get purple shampoo out of hair with lemon and conditioner:
Mix 2 tablespoons lemon juice and 15 ml conditioner
Apply to hair using fingers or a wide-tooth comb
Leave on for 20-30 minutes, covering hair with a shower cap
Rinse with warm water
You can apply this mixture to your hair within two days of using the toner.
Baking Soda and Vitamin C
Baking soda is a harsh cleaner and a natural cleansing agent that can remove tough stains on hard surfaces, fabrics, and even hair dyes & stains. In comparison, vitamin C is a natural lightening agent and works the same way as lemon juice does.
Mix 1-2 tablespoons of baking soda and 2-3 crushed vitamin C tablets.
Shampoo your hair normally.
After rinsing out the shampoo, apply the mixture to your hair.
Leave on for 10 minutes and rinse.
You can repeat this process once or twice a week until the stain fades away.
Hydrogen Peroxide
Hydrogen peroxide is sometimes mixed in with blonde hair dyes to help lighten its color. That's why diluted hydrogen peroxide can help fade the purple stains in your hair.
Mix equal parts hydrogen peroxide and water in a spray bottle.
Spray the mixture onto your hair, focusing on the most over-toned areas.
Leave on hair no longer than one minute, then rinse.
Bleach
Using hair bleach to remove the purple stains on your hair can be damaging as bleach is strong, so only use this if your hair is over toned and none of the above treatments worked.
Mix 5ml developer and bleach powder to the same amount of shampoo
Apply onto hair and leave it on for less than 2 minutes
Rinse thoroughly
As hair bleach is extremely drying for hair, make sure to use a moisturizing conditioner after.
CHECK OUT: How To Dye Dark Hair Purple Without Bleach
---
How To Stop Purple Shampoo From Staining Hair
As the saying goes, prevention is better than the cure; here are a few tips to avoid over toning your hair:
Consult with your hairdresser or do some research first on how to properly use purple shampoo.
Avoid using purple shampoo for at least three weeks after coloring or toning treatment on your hair.
Only use purple shampoo when you start seeing brassy or yellow tones on your hair. If they're not visible, continue using your regular shampoo.
Make sure to follow the instructions on your purple shampoo to not leave it on your hair for more than the recommended time.
Make sure to distribute the purple shampoo evenly when applying it to your hair. Glide the purple shampoo from the roots to the ends, repeating the motion until no purple shampoo is concentrated on one area.  
Purple shampoo does not replace your regular shampoo, so limit your use to once or twice a week to keep blonde hair vibrant.
But if you really need to use purple shampoo regularly, you can mix it with your regular shampoo to add some purple pigment without leaving purple stains on your hair.
CHECK OUT: What Color Cancels Out Purple Hair?
---
Conclusion
If you accidentally over toned your hair from purple shampoo, worry not, as the purple stains can still fade out.
It may take a little work to strip it off using one of the emergency tips we provided, but if not, you can just wait for it to completely fade out through regular hair washing.
That's why it's important to ask your hairdresser or do some research first before using a hair product that you're not familiar with to avoid any more hair mishaps.
CHECK OUT: Best Purple Hair Dye