While curls can look beautiful, they're not always nice to touch. Hairspray can make hair feel stiff, weigh hair down, and make it tricky to go a day or two without washing your hair.
Thankfully, you can get beautiful curls even if you don't want to use any hairspray. If you follow these simple tips, you'll be able to make your curls last without ever pulling out a bottle of hairspray.
Tips on How To Make Curls Last
1. Make Your Curls Tight
Most of the time, people try to achieve the kind of curls they want right from the get go.
But if you're planning on skipping hair spray, it's a good idea to make your curls much tighter than you actually want. Your curling technique can also make a difference. If you're using a curling iron, start from the middle and work your way to the top, instead of curling hair from the ends.
Even with hairspray, your curls will naturally loosen over time. Without hairspray, they'll loosen up even more quickly.
If you make your curls extra tight whilst curling, your curls should loosen to look exactly the way you want them to.
2. Let Your Curls Set
Don't just pull your hair away from a roller or curling iron and call it a day.
Instead, give them some time to set. That way, you'll have a nice secure hold even though you're skipping the hairspray.
To set your curls, hold them in place as you remove them from the curler. Use a metal clamp or pin to secure the curl to your head. You can buy these clamps at any beauty supply store.
Let the curls set until they've started to cool. After that, you can let them loose like you normally would. You'll be able to get the kind of hold that you'd normally get from hairspray.
3. Work With 'Dirty' Hair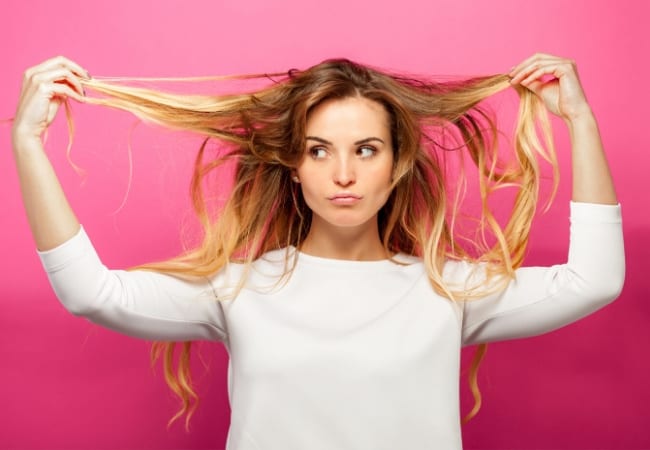 Unwashed hair holds curls a lot better than clean hair! If you know you're going to be curling your hair, skip a day or two of shampooing so that it'll be easier to work with. Even better, wash your hair the night before and have it ready for styling the next day.
Of course, working with dirty hair doesn't mean that your hair has to be an oily, greasy mess.
If you use a nice dry shampoo, your hair will look nice and clean even though you didn't wash it. There are even some dry shampoos on the market that will add more volume and texture to your hair!
CHECK OUT: How To Train Your Hair To NOT Be Washed Everyday
4. Try Natural Curling Methods
In the past, not every woman could use hairspray on her curls. Because of this, many natural methods of curling were designed to hold without any kind of spray at all.
From pin curls to rag curls to sock curls, these curling methods are designed to last. Experiment with various natural curling methods until you find a style that works well with your hair. We've rounded up the best overnight hair curlers if you prefer heatless curls.
Or you can check out these 8 weird things bloggers use to curl their hair – most of them don't require heat!
5. Use A Volumizing Spray
While it's a good idea not to use too many products on your hair, a volumizing spray can give your hair a much-needed boost. For some people, that extra bit of volume can help curls to hold even when there's no hairspray on hand.
6. Use A Finishing Spray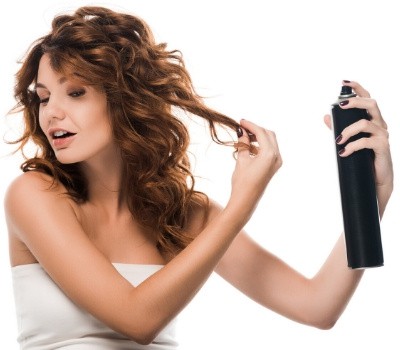 If you like the effect you get from hairspray, but don't like how stiff it makes your hair, you might want to try a finishing spray instead. This can help you achieve a similar look to what you get from hairspray, but it's a lot lighter. If you've never used finishing spray before, try asking your hair stylist for a recommendation.
Check Out: Alternatives To Hairspray
7. Don't Brush Your Curls Out
After blowing out and curling your hair, it's common to run a quick brush through your curls. This helps to loosen curls up, and can give hair a more natural and attractive look.
However, if you're skipping the hairspray, using a brush isn't necessary. Your hair will naturally loosen up and separate on its own. Skip this step and head out the door.
8. Protect Your Hair From The Elements
The wind can do a lot of damage to freshly curled hair, especially if you've skipped the hairspray.
Before you go outside, take an extra step to keep your hair safe. Carefully wrap a loose silk scarf over your hair and tie it beneath your chin. When you've arrived at your destination, you can take the scarf off.
This little bit of extra protection will go a long way towards keeping your curls safe.
9. Don't touch your curls
It's tempting to play with your hair, especially when it's been freshly styled. Unfortunately, whenever you touch your hair, your curls will loosen up. Try to avoid touching your hair if you want your curls to last.
Hairspray can be a useful styling tool, but that doesn't mean that you have to use it. If you keep the above tips in mind, you can skip out on hairspray while still getting a beautiful look. You'll have beautiful soft curls that will last all day and night.
Video Tutorial on how to make long hair curls last without hairspray:
PIN For Later!
Image Credits: Deposit Photos