We've all been there. We grab our wonderful hairspray and as we push the button, it sputters the last bit of spray and then nothing. We realize as we look at the empty can that our date just messaged that they're at the door.
Oh, what to do? You know your hair looks absolutely amazing but without the hairspray, it's going to look like wet noodles in about 20 minutes.
Never fear beloved. You are not the only one that this has happened to. In fact, before hairspray was neatly packaged in a super handy spray can, women used all kinds of things to make their hair do what they wanted it to do. It was only in the 1940s when the first can of hairspray went on sale.
6 Hairspray Alternatives: What to use instead of hairspray
Milk, bananas, beeswax, apple cider vinegar, egg white, and clay, but to name a few, were used in that quest for perfect hair. Let's get into details on each of these hairspray alternatives!
The Egg Option
So, if you're reading this article in a panic because you need to be ready in about ten minutes because your beau is waiting, go check if you have an egg, some aloe gel, and essential oil. Go check. I'll wait for you…
Great, once you've got the ingredients together mix 3 egg whites with a ½ cup of aloe gel and just a splash of water in a spray bottle. Drop a few drops of your favorite essential oil into the mixture. Please shake well before spraying it on your hair.
READ: Aloe Vera Gel For Hair
Most of us know that egg white is great for shrinking and tighten pores while fighting excess oil on our faces. It also alleviates puffy eyes and revitalizes nails but did you know it's good for your hair too?
The benefits of using this mixture are it can be used on very fine hair and it won't weigh the hair down. The egg white also strengthens hair, promotes growth, and cleanses the scalp from excess oils, which in turn fights dandruff. A win-win all around.
The Sugar Spray Option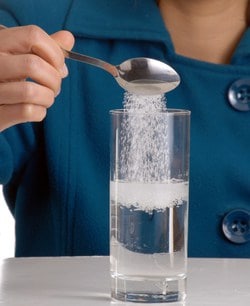 If you need a strong hairspray alternative, you can use sugar spray. This easy and cheap way will hold your hair in perfect style. Firstly, boil 1.5 cups of water while dissolving two tablespoons of sugar in the water. Be sure that the sugar is completely dissolved. Allow the mixture to cool down to room temperature. Pour the water into a spray bottle.
Once cooled, add one tablespoon of surgical alcohol as well as ten to fifteen drops of essential oils. The essential oils are optional, it's just for the scent. If the sugar spray doesn't have a strong enough hold, just add more sugar until you get the balance you want.

If you struggle with a build-up on your scalp, you can use sugar as a scalp exfoliant. Works wonderfully as it exfoliates the dead skin cells, leaving you with a healthy, clean scalp.

For more detailed instructions, check out this post from NaturallyCurly!
The Mousse Option
Alternatively, you can use mousse instead of hairspray. The way you apply it to your hair is dependant on the amount of volume you want. For example, if you want a lot of volume, apply the mousse when your hair is damp, beginning at the roots working it through your hair with your fingers. Flip your head over and dry your hair upside down. The amount of volume you will get is extraordinary.

And once styled, it will stay styled for the entire day. If you have fine or limp hair, use the same method but only a little bit of mousse and only add it to the roots as the mousse could make fine hair look greasy.

The Gel Option
The gel route is easy to apply and has great hold. Usually used on shorter hair, it can be used on longer hair as well. Simply take a small dab of the gel in your hand, rub your hands together and run it through your hair from roots to tips.

Make sure to rub your hands well together as this will avoid clumps of gel dangling in your hair. The friction will allow the gel to become warm which will help with even application of the product. Style your hair with a blow dryer or, just leave it to air dry to get that wet look. But gel comes with a cost. You won't be able to comb your hand through your hair. Once it's gelled, it's gelled.

The Shea Butter Option
Shea butter is one of the best ingredients to use on our skins because of the high concentration of vitamins and fatty acids. And let's face it, when we have lathered our bodies with it, it feels so luxurious and rich. But it can also be used on our hair as an alternative for hairspray. Granted, it won't have the hold like hairspray, but it's perfect for a light hold and will win the battle on frizziness.

Take 1/2 a cup of shea butter, 1/2 a cup of coconut oil (preferably organic), and a couple of drops of lavender essential oil for a refreshing scent. Mix all the ingredients using a hand mixer so that it becomes light and fluffy. Store it in the fridge and use as needed.
Check Out: DIY Coconut Oil Hair Mask Recipes
The Beeswax Option
If you are looking for a more all-natural hairspray that does not have a strong hold, try beeswax and clay. The ingredients you will need are three tablespoons of beeswax, three spoonfuls of organic coconut oil, two teaspoons of bentonite clay and 10 to 15 drops of your favorite essential oil, dependent on how strong you want the scent to be.
Melt the beeswax and coconut oil over low heat and stir in the bentonite clay as well as the essential oil into the mixture. For more hold, add more beeswax. Pour it into a small glass jar with a lid as it will last for a very long time and use glass because it's pretty and good for the environment.

Rub a tiny amount between your hands and run your hands through your hair. Style your hair as you normally would. The benefits of this option are it retains moisture in the hair shaft and promotes hair growth. Check out this tutorial on how to make a hairstyling clay.
---
And there you have six alternatives to hairspray. I hope you have fun experimenting with these and that they will make you enjoy playing with your hair!
Image Credits: Deposit Photos
PIN For Later!