Starting the research on hair products is like stepping into the rabbit hole. You soon realize that just about everything has "chemicals" in it. Real baddies, in fact. From the kind that strips moisture from your hair to the type which alarms health organizations. 
Naturally, that leaves you horrified.
"Did I just have an expensive trip to the salon just to realize that the products I use in the shower will eventually get rid of it in weeks?" That may just as well be the question racing in your mind now. 
Tsk. But that should not be the case! 
And so it is not— with Herbal Essences. You may have already heard of this plant-based brand but are hesitant to switch to something which may not even work at all for you. 
Is Herbal Essences good for your hair? 
Here's the tea: it is. Not only that it boasts of how it does good for the planet, but it also promises to get you that salon-made hair at a reasonable price. 
If you are finally curious about what Herbal Essences can do for you, here are some questions answered. Who knows? This might be the tiny push you needed.
---
Is Herbal Essences good for natural hair?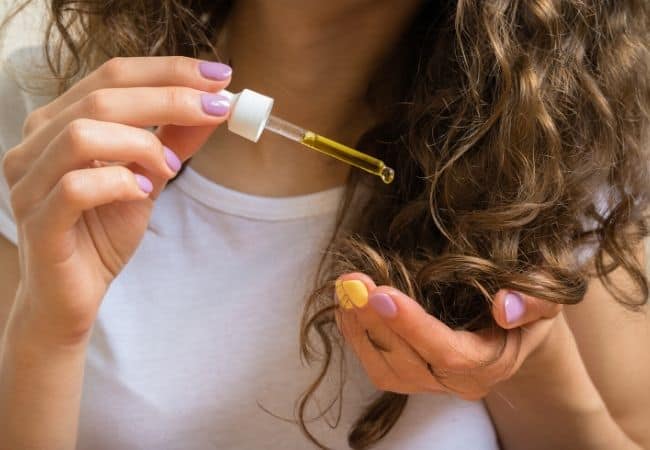 Natural hair, by definition, is what you call hair that hasn't been through any chemical relaxer. To this day, the natural hair movement primarily refers to the Black community's transition to the unrelaxed state of the hair. Mind you, pressed hair belongs to the category of natural hair because once washed and dried, the texture remains unaltered.
"Going natural" could be a scary concept. It seems like leaving your hair like that will only lead to dryness and fragility, right? 
Nope.
The journey doesn't have to be a fairy-to-witch kind of story. 
Herbal Essences offers a wide aisle to make sure that doesn't happen at all. Yes, wide. Their website lists a staggering 67 products specially made to moisturize hair deeply. 
That is a lot to choose from! Fun, right?
A fave among all is the Hello Hydration collection which has proven great for detangling and co-washing. Another good one is the Argan oil collection recommended to tame frizz, helping those with naturally straight and curly hair achieve that healthy look. 
So if you're confused about where to start, these two are your keys, your first step to embracing your natural hair without sacrificing anything! 
---
Is Herbal Essences good for curly hair?
When you have curly hair, it's difficult to tread the line between playfully bouncy and outright messy. It feels like a curse sometimes. 
There you are, with the curls some can only have in salons, yet it feels lifeless and just… everywhere. 
Well, no more of that despair, thankfully. Herbal essences also cater to curly ladies and gents so you can walk with a bounce on your steps and in your hair. 
Two collections of Herbal Essences explicitly designed for this hair type are the Jojoba oil and Lavender Oil collection and the Totally Twisted collection. The latter even has a mousse bundle, so those curls never have to look dead whenever or wherever you are! 
Tip: if you somehow find that your curls are significantly drier than others, you should try their Mango + Potent Aloe collection. It's an outstanding balance of keeping your hair hydrated and still having that oomph to your curls. 
If yesterday you didn't know "silky soft" also applies to your curls, now you do. Time to ditch your old hair products for Herbal Essences! 
CHECK OUT: 5+ Essential Oils That Strengthen Hair
---
Is Herbal Essences shampoo good for your hair? 
The mainline of every hair product is their shampoo. It's only reasonable that you are out here scrutinizing every claim that you hear. After all, the ingredients shouldn't be too confusing. It shouldn't lead you to a chase just to get you disappointed by the end. It should, instead, make sense to you, so you'll buy it, right?
Here's where Herbal Essences is on point. Their shampoos contain natural oils and plant-based ingredients, making them a household name in the beauty world. 
You won't have to scrunch your eyebrows trying to research the active ingredients at the back label!
From Aloe to coconut milk that provide much-needed hydration, tea tree for clarifying and chamomile to spark that shine in your hair, and so much more! Their shampoo collection works to help get your hair needs at a fair price. 
Tip: You can cross-match between your hair needs and your hair type so you can make sure that every issue gets addressed. Their website is extremely helpful for an initial consultation! 
---
Which Herbal Essences shampoo is for you?
Whether you have converted for environmental reasons or the positive reviews finally pushed you to add Herbal essences shampoo to your cart, this quick list will guide you to picking the best for your hair. 
To start, Herbal Essences has three kinds of shampoo: regular, sulfate-free, and dry shampoo. They don't need a long introduction, really. 
You could browse their shampoo line by hair needs. Yes, everyone has different hair types. But not every straight or curly hair has the same problem. So best advice? Identify your hair needs first. 
CHECK OUT: Best pH balanced shampoo
Repair
Their line includes Argan oil shampoo, Beach Plastic Argan Oil and Sea Kelp, Argan Oil, and Aloe vera. If you have long hair, their Long Term Relationship shampoo is a good try as well!
Volume
Their shampoo line includes Arabica Coffee Fruit Volumizing shampoo, Passion Flower and Grapefruit, White Grapefruit and Mint, White Strawberry and Sweet Mint, and Orange Blossom shampoo.
For sure, these also smell as good as they work! 
Moisture
Honey and Vitamin B shampoo is a great way to start. Hempseed oil and Aloe vera shampoo is also great choice too. For deep hydration, you can rely on their Coconut Milk Shampoo and, for some light moisturizing, the Cucumber and Green Tea shampoo. 
Smooth
The best shampoo to give you the silky and smooth hair you always wanted is the Rose Hips Hair Smoothing Shampoo. You have to try it! They also have Jojoba oil and Lavender for those with curly hair.
Detoxify
There is nothing more refreshing than the feeling of deeply cleansed hair. Search no longer! Their Black Activated Charcoal does that efficiently. If you also need some clarifying sessions on the weekend, the Tea Tree Oil shampoo is up for your needs. 
Restore Strength
Ah! Strong is the new beautiful these days. An independent person needs strong hair to enhance their presence. The bio: renew shampoos of Herbal Essences can be relied on for that task. 
Bamboo + Potent Aloe Sulfate-free shampoo especially lends the force of nature to aid you to conquer the day! 
Shine
What say you to a hair that catches the eye at first glance? Well, shiny hair isn't just in magazines. Moroccan My Shine Shampoo and their Shine Chamomile keep their promise to deliver beautiful locks quickly. Why not go for it?
Hair and Scalp Balance 
Dry, coarse hair may seem unsolvable. That should not be so. The Eucalyptus + Potent Aloe vera sulfate-free shampoo restores your hair from root to tip. 
CHECK OUT: Top 10 Essential Oils For Curly Hair
---
The Cons
If the above section hasn't convinced you to give it a go, there is a solution to that. Let's try to dig into why you are hesitating, shall we?
Negative reviews and rumors may have been the most significant factor of all for why you are not committing. Your mind might have one of those nagging questions which need answers.  
Is herbal essences bad for your hair? Well, why don't you read on and weigh in?
Why is Herbal Essences bad?
Herbal Essences is a brand by Proctor & Gamble. It is paraben-free and stuffed with all the good oils and extracts you can possibly scour from this earth. It does not include colorants, mineral oil, paraffin, beta-hydroxy acids, coal tar hair dyes, diethanolamine, toluene, or added phthalates. 
That, alone, is an impressive feat. 
However, some products contain benzyl alcohol which is not too friendly on type 3 curls or wavy hair. Sulfates and dimethicones are also found in Herbal Essences, contributing to dryness. Even artificial fragrances are on the list of no-no's as they can aggravate sensitive skin and nose. 
The most worrying reason to be found is perhaps the presence of 1,4-dioxane. This is a cancer-causing chemical. Although there have been efforts to reduce the chemical concentration in the products, it is still concerning how a "gentle" hair product can contain such a harsh ingredient.
---
FAQs
Is Herbal Essences safe to use?
Absolutely safe? Zero-risk kind of safe? Then no. As was stated above, it has quite the concerning ingredients to avoid. Yet, Herbal Essences is in many ways safer and better than other brands which contain paraben and have no sulfate-free option. 
It is a cruelty-free brand and PETA-approved. Their partnership with Royal Botanical Gardens, Kew, only solidifies the quality of their products as well.
It may sound like choosing the lesser evil, but Herbal Essences has excellent customer reviews to prove that the benefit outweighs the risk.
Does Herbal Essences cause hair loss?
Hair loss can be because of a bunch of reasons: aging, diet, and even stress. 
The ingredients in shampoo which cause hair loss include sulfates, parabens, sodium chloride, propylene glycol, diethanolamine, and fragrances. 
Herbal Essences is free of all this except for the artificial fragrance added. Sulfate-free shampoo and conditioner also are available on their brand. In fact, you may find that Herbal Essences help stop hair loss!
Here are 12 of the best shampoo from Herbal Essences to rejuvenate your hair and stop hair loss. 
1. Rose Hips
2. Bio: Renew White Grapefruit and Mosa Mint 
3. Totally Twisted 
4. Moroccan My Shine
5. Body Envy
6. Sulfate-free Honey and Vitamin B
7. Shine Brilliance Chamomile
8. Bio: Renew Coconut Milk
9. Golden Moringa Oil
10. Bourbon Manuka Honey
11. Hello Hydration
12. Cucumber and Green Tea
Is Herbal Essences shampoo bad? 
Not at all. Sometimes you'd get a bottle of Herbal Essences shampoo that may not be to your liking or not suited for your hair type. But do not be discouraged! 
Herbal Essences shampoos are supposed to address your hair issues while keeping the planet happy as well. 
A pro tip: research is essential. Before you decide to try a shampoo from their brand, you must look for positive reviews from people with the same hair type. 
CHECK OUT: How often should you wash oily hair?
---
Takeaway
Herbal Essences is a great brand to start your conscious journey towards your hair and the world. There is so much that plant power can give, and one of them is solving any common hair concerns. Their line consists of shampoos, conditioners, and hair masks, so there is no need to find another brand to get that healthy hair you want to see. 
Whether you have flat or curly hair, there is a collection for you out there. A little browsing and ta-dah! Your whole haircare routine now gets transformed for the better. 
So go on, try now!