Have you ever felt frustrated because you keep having frizzy hair after a bath? Have you tried different hair products and none seems to be working? Trust me when I tell you, you are not alone.
For the lucky ones, this happens only once in a while, but for some of us, it happens after every single bath and it can really be annoying. Fret not! There are home remedies that have been proven to solve this problem.
Are you as excited as I am? I bet you are. But before I list these amazing remedies I will talk about the possible reasons why hair gets frizzy after taking a shower.
Infographic: At A Glance
Common Causes of Frizzy Hair after Shower
After facing war on a daily basis just to solve the problem of frizzy hair, I became very curious and decided to investigate the causes and learn how to solve the problem. I found out that there are many factors that can lead to frizzy hair after a bath, such as:
Dehydrated hair – the most common cause of frizzy hair is lack of moisture in hair. This can be caused by our shower routine. Some of us love to take an extra-long and hot shower and cause our hair to be stripped of its natural oils and become frizzy.
Chemically laden shampoos – Another cause of frizz is brushing or shampooing your hair wrongly or the use of bad hair care products, such as chemical-laden shampoos. 
Heat & Hairdryers – Excessive use of hairdryer is also another prominent cause.
Now let's go to the highlight of the day! It is time to look at different home remedies for frizzy hair after showering. It is time to deal with this frustration.
READ: How to STOP frizzy hair after washing
No matter what the cause of frizzy hair may be, it is ideal to always treat our hair properly using the right hair care products and engaging in good practices.
Best Home Remedies for Frizzy Hair after Shower
1. Almond oil and eggs
This remedy is known to be one of the best solutions for frizzy hair. When it comes to hair care, almond oil and eggs are one of the most common ingredients, especially for hair masks. It serves as hair emollient and natural conditioner. It also helps to make the hair smoother and supplies the hair with protein.
Recipe:
Prepare one egg and a ¼ cup of almond oil
Mix the egg and almond oil thoroughly
Divide your hair into four to five places and apply the mixture properly on your scalp.
Leave it on your hair for about 35 to 40minutes for proper absorption
Rinse properly with clean water and wash again with appropriate shampoo (free of sulfate) and conditioner.
Repeat at least one time every week for a perfect result
2. Coconut Milk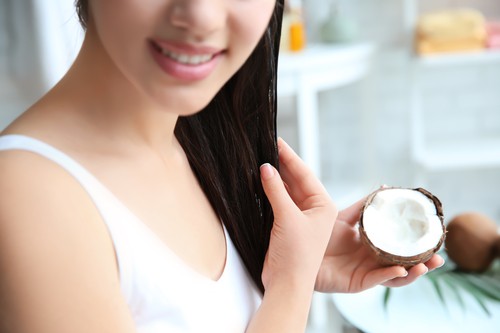 This is of great importance when it comes to providing the hair with more nourishment and nutrients. It has penetrative properties that help to condition the hair. Aside from these, coconut milk is rich in vitamin E which helps in fighting free radicals and keeps the hair moisturized.
Procedure to Follow:
Pulverize your coconut to get the milk or get already made coconut milk at a local grocery store
Warm about two tablespoons of coconut milk
Divide your hair into sections and apply thoroughly
Leave it overnight to ensure penetration
Wash the hair in the morning with a sulfate-free shampoo and pat dry.
Repeat at least two times in a week for shiny and smooth hair
3. Avocado Mask
To be on the safer side, it is advisable to always use homemade hair masks, especially ones made from avocado. The avocado mask has vitamin E and B in its composition which helps to keep the hair nourished and aid quick recovery from any hair damage or frizz.On top of that, avocado masks helps to improve hair texture. This mask is made from avocado and yogurt.

How to make this:
Cut your avocado and remove its pit
Mash it and make a smooth mixture with yogurt
Apply the mixture on your scalp after dividing your  hair into sections
Leave for about 25 minutes to aid proper absorption
Rinse off with clean water and wash with shampoo
Repeat this at least twice every week for a better result
4. Olive Oil
Like I said earlier, the major cause of frizzy hair is lack of moisture. This is the reason why it is very important to keep your hair hydrated often. The effect of natural oils cannot be overemphasized when it comes to adding shine to dry and dull hair. It also locks in moisture. Olive oil is one of the best natural oils that work perfectly for frizzy hair. Not only does it lock in moisture, but it also acts as a deep conditioner.
Procedures to follow:
Get a cup of olive oil
Heat the oil and coat your hair with the warm oil
Cover your hair for about 30 minutes using a shower cap
Rinse your hair thoroughly after and wash it with shampoo
Do this at least two times a week.
5. Banana
I bet you didn't see this coming. 
Yes! Banana has been a solution to your everyday struggle and you had no idea. I was equally surprised to know that banana is another great remedy for treating frizzy hair after a shower. It is most effective when mixed with natural oils to make a mask, such as olive oil, almond oil or honey. It contains antioxidants and natural hydrating properties.
How to make this recipe:
Remove the banana peel and slice the bananas into tiny pieces
Mash the banana pieces with a fork and add the oil of your choice or honey
Blend the mixture to get a smooth paste
Divide your hair and apply the mask on your hair
Rinse off with cold water and then wash your hair with a shampoo
Other effective home remedies for frizzy hair after a shower are Apple cider vinegar and Beer. They are equally effective and will leave your hair with the shine you have always wanted. These remedies will set you free from the frustration of frizzy hair.
Try any of them and thank me later!
Image Credits: Deposit Photos
PIN For Later!