Tell me if you consider this a familiar scenario: You wake up in the morning to dazzle your world with a ponytail. You painstakingly pull your hair into a ponytail, but somehow, the underneath hair is saggy, the base is looking off-center, your "perfectly laid" roots are filled with bumps and lumps. 
Now, you decide to make it all better by using a brush, but your hair keeps changing sporadically from slick but extra-low, to high but too lumpy. 
And when you consider the drooping, flyaways and stray hairs, I'm sure you feel extremely frustrated. At this point, most ladies often give up on a high ponytail. 
Don't be deceived. Anyone who tells you that a ponytail is the easiest hairstyle has probably not attempted the super-sleek, ultra-high, no-lumps-whatsoever that celebs with professional stylists pull off. 
Though real-life hair and red carpet celeb hair don't often mix, your hair can look like that of a star as you walk down your lane. You can achieve this with the tips and tricks I'm about to share, which I have also gathered from studying the professionals. 
READ: 10 Different Ways To Put Your Hair Up In A Ponytail
The Uniqueness of the High Ponytail Hairstyle
Besides being ultra-sleek, high ponytails are also very fabulously versatile hairstyles for ladies with long hair. 
It perfectly combines the elegance of a classy hairdo with the sporty pragmatism of a regular ponytail. The high ponytail is a really unique hairstyle. It is casual enough to be rocked throughout an office day, while still classy enough to be worthy of a red carpet look. 
Ever since Beyoncé walked down the 2015 Met Gala's red carpet with a high ponytail, the style has never gone out of trend. So, you can confidently rock a high ponytail to your next occasion. It is full of texture yet sleek. 
Amazingly, this unique hairstyle can be created DIY, meaning that you can do it yourself from the comfort of your room without having to step out to the hairstylist. 
However, this high ponytail style is harder to create than the traditional gym ponytail, hence keep reading for the critical tips to creating the perfect high ponytail. 
Here's How To Make A Perfect High Ponytail
Tip #1 – Blow dry your Hair 
To create the perfect pony, you have to first get your hair to cooperate. To do this, you have to gently flip your hair over, directing it to the front of your head. 
After this, you have to use a boar brush and a little bit of heat to dry your hair, following the same direction at the root. 
If your hair is already dry before now, then you need to dampen it with water, then use a heat protectant spray to coat your hair while you style it. 
Tip #2 – Don't be in a rush
The mistake we often make while trying to create the perfect ponytail is throwing all the hair to the top of the head, packing it, and hoping for a miraculous best. It doesn't work like that. 
To get a secure and smooth high ponytail, you have to do it in parts. Smoothen the roots of your hair with a little hair gel before brushing it up. 
Then, part your hair into two sections from ear to ear, and tie the section closest to your forehead up to form a half-up ponytail. As you gather your hair, use a boar bristle brush to smoothen it and then position it at the desired height for your ponytail base. 
To get the perfect placement for your ponytail base, imagine a diagonal line starting from the corner of your eye, and then trace it to the crown of your head.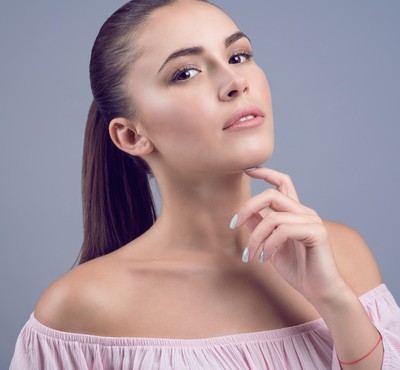 Once you've eliminated all the lumps and bumps, secure the half-up ponytail with a small tie. Now, your ponytail base is set, and you don't have to worry about creating bumps while you style the back. 
To complete the high ponytail style, brush the other section up and then connect it with the already-tied ponytail. 
To secure the whole ponytail, use a hook elastic also known as a bungee elastic. Use a single hand to hold the ponytail in place, then place the hook at the base and wrap the hook elastic around the base tightly. 
Tip #3 – Polish the Ponytail
To make the high ponytail polished and pretty, cover the hook elastic by grabbing a small section of your hair (about half-inch) from underneath the ponytail, and then wrap it thoroughly around the base till the entire hook elastic is covered. 
Secure the half-inch hair with a bobby pin or lacquer it down by coating the end with hairspray or hair gel. Voila! You're all set and perfect to go. 
CHECK OUT: Cute and Easy Ponytail Hairstyles
High Ponytail with Puff
A high ponytail with a puff (also called a bouffant) is one that is worn on the head, but the crown is slightly teased and then puffed out. You follow the same steps as stated above, the only difference being with how you start styling. 
This video should make it easier for you to follow along:
DID YOU KNOW? Ponytails can cause thinning hair!
Then, you backcomb the hair and then secure it with elastic. Afterwards, loosen the top knot triangle and start teasing it with your fine-toothed comb. Tease away as the more you tease the hair, the better your high ponytail with volume will be. 
Instead of dividing your hair into two parts, you have to cut off a triangle section very near your forehead, twist it with a clip and then secure it from the rest of the hair. 
Now, you just have to smoothen out the knot and brush it back to connect with the ponytail and secure with pins. 
READ: How to repair breakage caused by ponytails
High Ponytail with Curls
You can spice up with ends of your high ponytail with curls. After you have followed all the tips listed above and you have secured your ponytail, you can split the ends into three sections. 
The splitting depends on the thickness of your hair. If you want smaller and tighter curls, you might have to create about six small sections. 
Wrap each section around the barrel of a hair wand, hold it down for a few seconds before releasing. There, you have it! A perfect high ponytail with curls!
Image Credits: Deposit Photos
PIN For Later!