Let me guess.
You are here because you just got a balayage and are unsure about how to maintain it at home. OR you are about to get a balayage and you're just checking whether it's true that balayage is easier to maintain than other highlighting methods.
Either way, I will be glad to cover everything related to balayage maintenance.
Read on to know more about:
Balayage hair care routine
How to wash balayage hair
How to keep balayage from fading
How often should a balayage be touched up
The best products to maintain balayage
---
Balayage hair care routine
If this is your first time having your hair colored, you might have to completely change your hair care routine.
This time, you must focus more on moisturizing your hair and repairing the damage brought by bleach and hair color.
Here is a hair care routine that I suggest you follow after getting your balayage:
Right after balayage
Do not wash your hair right after getting a balayage. Wait for at least 48 hours before your first post-balayage wash.
One week after balayage
Shampoo your hair every other day of the week using a sulfate-free shampoo. Use a moisturizing conditioner after every shower.
Use a dry shampoo on other days, especially if you have an oily scalp. Follow it up with a leave-in conditioner, preferably with SPF.
Two weeks after balayage
There's nothing wrong with being extra on moisturizing your balayage. This is why we suggest that you apply a hair mask at least once a week after the procedure.
The most common options are store-bought hair masks, of course. But, if you have the time to prepare homemade hair masks, that would be even better.
One month after balayage
Check for brassiness or faded tones. If you notice that some parts of your hair have orange or yellow tones, worry not because pigmented shampoos can fix this.
To combat warm tones, use a blue or purple pigmented shampoo. These shampoos usually come with their respective color-correcting conditioners.
Use these whenever you notice the brassy tones coming back, which is usually every two weeks. Pigmented shampoos are not for everyday use.
Three to four months after balayage
Ideally, you should touch up your balayage at the salon. This is when your pigmented shampoos can't counteract the brassiness anymore.
By default, I suggest you get a full balayage procedure. But if you are on a budget, get a partial balayage instead.
A partial balayage will only retouch the obvious sections of your hair, usually the top and outer sections, and disregard the hidden sections.
Six to seven months after balayage
If you still want to keep your balayage despite all the hair care habits you must consider, then this is the time to touch up your balayage again.
If you got a partial balayage the last time you visited the salon, get a full balayage done this time.
CHECK OUT: 10 Best-kept Hair Care Secrets From Around The World
---
How to wash balayage hair
With regards to washing balayage hair, the major tip is: do not wash your hair frequently.
The more you wash your hair, the faster your balayage will fade.
Shampoo and wash your hair only three or four times a week, even less if possible.
Also, don't wash your hair with hot water. Bleaching and coloring have already made your hair dry. Washing it with hot water will only damage it further.
During the first few days of washing your hair, use a sulfate-free shampoo. Sulfate is the ultimate cause of brassiness in colored hair because it strips color off the hair.
Check the ingredients of your shampoo. If it contains ingredients like sodium laureth sulfate, sodium lauryl sulfate, or ammonium laureth sulfate, throw that away because it will only damage your balayage.
Remember that you need to moisturize your balayage whenever you get the chance. So, after shampoo, always follow it up with a moisturizing conditioner.
You may opt for natural conditioners such as coconut oil or argan oil. If not, you can use the one that comes with your sulfate-free shampoo or any other sulfate-free conditioner.
After showering, gently pat your hair dry to get rid of excess water. Stay away from hairdryers as much as possible.
During the days that you don't wash your hair, use dry shampoo instead. Dry shampoos can absorb extra oil from your scalp while giving your hair the extra nourishment it needs.
Preferably, get a dry shampoo that has moisturizing agents such as argan oil.
After dry shampooing your balayage, moisturize your hair with a leave-in conditioner. Choose leave-in conditioners that have natural oils and heat protectants in them.
Make sure to pick the right leave-in conditioner for your hair. If you have fine hair, avoid cream-based conditioners because these will weigh your hair down and make your hair look too flat. Opt for a spray leave-in conditioner instead.
CHECK OUT: What to do right after bleaching hair
---
How do you keep balayage from fading?
Prevention is better than cure. Before everything else, make sure that your stylist uses high-quality hair dye on your hair.
These dyes are expensive but trust me when I say that you will save more in the long run. They don't fade easily, and they don't contain harmful ingredients like ammonia, which some cheaper dyes have.
Now, here's the truth about balayage: it will eventually fade, and you can't do anything to stop it. But, a few tweaks in your hair care routine will slow it down.
As mentioned earlier, use hair products without sulfate because sulfate strips color off your hair. Wash and shampoo only three to four times a week. Alternatively, use dry shampoo.
Regularly use a pigmented shampoo, especially when your hair color turns brassy. Brassiness is the by-product of oxidation which is also the reason behind fading color.
Avoid heat. Avoid heated hair tools, blowdryers, and the sun. These contribute to the oxidation of your hair color, which leads to brassiness.
Inevitably, there will come a time when these tips won't be enough, and your balayage will fade. This is when you need to schedule another balayage appointment.
---
How often should you touch up balayage?
Stylists recommend that you should touch up your balayage every three or four months.

As I suggested earlier, you can get a partial balayage instead of the full procedure on your first touch-up if you are on a budget.
A partial balayage is cheaper because it only touches up the outer layers of your hair, unlike a full balayage that redoes both outer and inner layers of your balayage.
However, on your second touch-up, get a full balayage already. Six months after your first procedure, your hair color will most likely be faded or brassy already. Regrowth is also obvious at this point.
In short, you can get a partial balayage on your first touch-up and then a full balayage on the next. Go on with this alternating pattern for as long as you want to maintain your balayage.
---
Is a balayage high maintenance?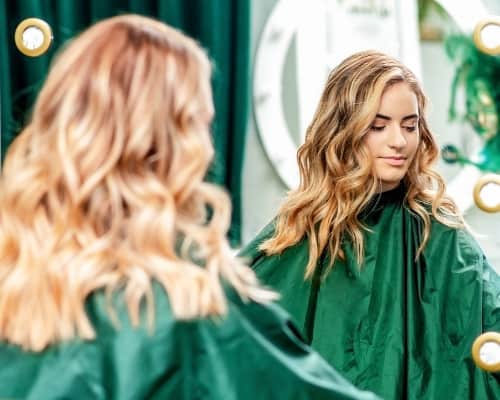 Compared to traditional foil highlights, balayage is far less difficult to maintain, especially in terms of the frequency of salon touch-ups.
Traditional foil highlights require you to touch up every six to eight weeks, while balayage needs to be redone every three to four months. Lesser salon appointments save you time and money.
However, in terms of post-procedure care, the dos and don'ts are almost the same.
You need to moisturize your hair and protect it from heat. You have to use special hair products such as pigmented shampoos to maintain your color.
You need to avoid things such as sulfate, chlorine, heated irons, and the sun. Be mindful about how you dry and comb your hair after showering.
A gentle pat dry is recommended instead of aggressive towel drying or blowdrying. Use a comb or hairbrush that will not pull your hair much since a balayage hair is more prone to damage.
If you are willing to go a little more extra on maintaining your balayage, get a silk pillowcase and use a microfiber towel solely for drying your hair.
Silk and microfiber allow less friction which is healthier for your sensitive and damage-prone hair.
---
Best products to maintain balayage
We scoured the internet to create a list of the most recommended hair care products for balayage. Here are our top picks for each of your balayage essentials.
Sulfate-free shampoos
Sulfate is responsible for the bubbly lather when using a regular shampoo. This ingredient is responsible for cleaning dirt and dust but also strips the hair of its natural moisture.
Sulfate-free shampoos clean the hair just as well as regular shampoos do without harsh cleaning agents, which is why they can lock in moisture and protect hair color from fading.
For moisturizing, L'Oréal Paris EverPure Sulfate-Free Shampoo would be our best bet. This shampoo is also paraben-free, salt-free, and infused with Rosemary, which replenishes moisture on dry hair.
If you'd like to focus more on color maintenance, we recommend dpHUE Color Fresh Shampoo.
It is infused with kumquat extract, a citrus fruit endemic to some Southeast Asian countries, which helps bring shine and vitality to colored hair. It also has sunflower seed extract, which protects color from fading and shields hair from UV damage.
If you think your hair needs extra help to recuperate from the damage, stylists and consumers swear by Olaplex No. 4 Bond Maintenance Shampoo.
Olaplex has a patented ingredient called bis-aminopropyl diglycol dimaleate that, according to their claims, can repair and restructure damaged hair on a molecular level. It follows that this shampoo also reduces breakage and frizz and is color-friendly.
CHECK OUT: Is TRESemmé good for your hair
Dry Shampoos
Dry shampoos are a must-have if you want to keep your hair clean without getting it wet. These are our top picks:
If you've got oily scalp, salons claim that Suave Professionals Color Care Dry Shampoo works just as well as the well-acclaimed Kerastase Powderbluff. It effectively absorbs oil from the scalp and is infused with keratin to keep the hair healthy.
For those with fine hair, Bed Head by TIGI Oh Bee Hive! Dry Shampoo will be perfect for you.
This product takes pride in being a "volumizing dry shampoo", which means your hair won't feel limp and lifeless after usage. More than that, it gives a light matte finish and does not leave a white residue.
For textured hair, Drybar Detox Dry Shampoo works well on any hair texture. It has micro-fine rice powders to absorb excess oil and is infused with golden root extract to increase moisture.
Leave-in Conditioners
Moisture and protection should be your new leave-in conditioner's mantra. This product should moisturize and protect your balayage while you are out and about. Here are our favorites:
R&Co Sun Catcher Power C Leave-In Conditioner does an impressive job protecting the hair from the sun. Vitamin C, its main ingredient, helps protect hair from heat and pollution. It also has coconut oil and hyaluronic acid for moisture and hydration, and vegetable collagen to strengthen hair strands.
If you like some added shine, Ouai Leave-in Conditioner will not disappoint. It boasts a blend of amino acids, tamarind seed extract, and vitamin E that smoothens and strengthens your hair with just a few sprays.
For leave-in nourishment, Briogeo Farewell Frizz™ Leave-In Conditioner takes the cake. It is a blend of three natural oils: rosehip, argan, and coconut. The powers of these three are combined to restore the hair's softness, strength, and manageability.
CHECK OUT: Best Shampoo and Conditioner for Tangled Hair
Pigmented Shampoos
Different hair colors also produce different brassy hues. This means that they also require different pigmented shampoos to resist these unwanted hues.
We recommend Matrix Total Results Brass Off Blue Shampoo for dark blondes and brunettes to maintain your dark-hued hair color. These hair colors usually turn orange when brassy, and Matrix Brass Off Blue Shampoo effectively counteracts orange tones.
For cool blondes or those with grey balayage, you need a shampoo that counteracts yellow tones. KÉRASTASE Blond Purple Shampoo is made solely for those cool-toned hair colors.
It is rich in neutralizing ingredients that help counteract yellow tones in oxidized greys or platinum blondes.
For strengthening, PRO:VOKE ILLUMINEX Touch of Silver Purple Shampoo is our best bet.
It counteracts both orange and yellow undertones, which means it is suitable for blondes and brunettes alike. It is also enriched with Vitamin B to ensure strong and healthy hair.
---
There you go!
Those are everything you need to know to maintain a healthy and vibrant balayage. Now we are sure that you will turn heads as you walk with your gorgeous tresses.