So you finally hopped into the famous balayage trend because you just can't resist the urge to have meticulously painted yet natural-looking hair.
Now that your tresses are balayage just the way you dreamed it to be, what's next?
Are there hair products your balayage should avoid? How should you care for your balayage?
Luckily, this article contains everything you need to know after getting a balayage treatment.
You'll learn what to do after balayage, and also:
What you should NOT do after balayage
How to take care of your balayage at home
Shampoo after balayage
Hair mask after balayage
Leave-in conditioner after balayage
---
What should you not do after balayage?
Right after balayage, the first thing you should do is NOT wash your hair 48-72 hours after balayage treatment.
Give the chemicals some time to settle on your hair cuticles. These chemicals include hair dye pigments and toners used for the highlights.
If you wash your hair after getting a balayage, you run the risk of diluting the pigments swept on your hair. This may result in you not getting the color you want.
Also, this is the time to let your hair recover. Since bleaching dries out your hair, your scalp and strands must get moisturized by natural sebum.
As you may very well know, washing the hair strips it off of its natural moisturizing sebum, which is why washing is a big no-no after balayage.
After 48-72 hours of not washing your hair, then what?
Then, you have to treat your crowning glory like the precious gem that it is. You will have to make adjustments in your hair care regimen to maintain your beautiful balayage.
RELATED READ: Does Balayage Damage Hair?
---
How to take care of balayage at home
To maintain the vibrance of your hair color and to improve your hair health, you have to follow a strict hair care habit.
I don't mean to intimidate you, but honestly, you have to baby your hair after getting a balayage.
Your hair underwent bleaching, drying, and coloring just for you to get the look you want, so it deserves tender love and care.
Did they lie when they told you that balayage is easier to maintain than traditional highlights?

No, they didn't lie. Balayage is easier to maintain in the sense that you don't have to frequent the salon to touch it up.
Unlike traditional highlights, which need to be touched up every few weeks, your balayage, when properly taken care of, can last up to 6 months before needing a salon appointment.
But that doesn't mean you don't need to take extra measures to moisturize your hair and maintain its color between salon appointments.
Here are the things you need to take note of as you care for your balayage hair at home:
---
Washing hair after balayage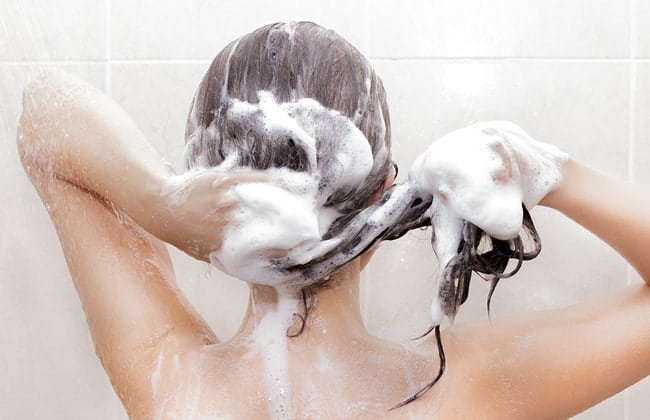 Since your balayage tresses are likely to be dry and brittle, it is advisable to wash your hair less frequently — only around 3 to 4 times a week.
Avoid using hot water when washing your hair because this further strips the moisture out of your hair.
After washing, do not towel dry. Towel drying causes friction between the strands, making them more brittle and prone to damage.
Do not use a hairdryer either. Simply stay away from heated hair tools.
But, if you need to use one, make sure to apply a protective serum on your hair to lessen the inevitable damage.
Use a soft detangling hairbrush to detangle and smoothen the hair with minimal friction.
Doing so will avoid hair fall due to breakage. Plus, hairbrushes are excellent at distributing the natural oils from your scalp to your strands.
Combs are harsher to the hair compared to hairbrushes. So yes, whether you use a comb or hairbrush matters to your hair health.
Shampoo after balayage
Use sulfate-free shampoo whenever you wash your hair. Look at the ingredients list of your shampoo bottle; if you see "Sodium Lauryl Sulfate" or "Sodium Laureth Sulfate," then that's not the shampoo for you.
Avoid sulfate at all costs. It dries the hair and is a color-corrosive ingredient which means regular use of products with sulfate will gradually remove the color of your hair.
Choose hair care products that are sulfate-free.
If you can't go a day without cleaning your hair, but you also don't want to wash it every day, get a sulfate-free dry shampoo instead.
Just make sure that you thoroughly clean up the residue of dry shampoo after every use.
Additionally, use a toning shampoo when you notice unwanted yellowish or orangey tones in your hair which usually shows up every 15-20 days. 
This post may contain affiliate links. If you click through and make a purchase, I'll earn a commission, at no additional cost to you. Read my full disclosure here.
Do not use toning shampoos every day. Toning shampoos help maintain the vibrance of your hair color to avoid brassy tones so just use them whenever you see brassy tones in your hair.
To sum it up, choose shampoos that are sulfate-free and, ideally, those that contain natural moisturizing oils such as argan oil.
Hair mask after balayage
Using hair masks after balayage is necessary. Do this once a week or every ten days.
You may opt for store-bought moisturizing hair masks, but an all-natural homemade hair mask is the best option.
You can mix protein-rich ingredients like eggs and avocados with moisturizing ingredients like coconut oil and argan oil.
Homemade hair masks are cheap, easy to make, and have fewer chemicals than their store-bought counterparts.
RELATED READ: 10 Stages of Lightening Hair
Leave-in conditioner after balayage
Leave-in conditioners help revive bleach-damaged hair.
Some leave-in conditioners are thick and must be applied while in the shower. Conditioners like this should not be left for longer than 30 minutes on your hair as it may damage it.
Other leave-in conditioners come in sprays and are lightweight. These are the ones you can apply to your hair before leaving the house. Conditioners like these usually protect your hair from heat as well.
Carefully follow the directions on the label of your leave-in conditioner. Choose those that are moisturizing and have keratin-building features.
Trim after balayage
Thirty days after your balayage, you should trim its ends so your hair will oxygenate.
Trimming promotes healthier hair growth, removes split ends, and makes your hair look thicker.
You only need to trim a few centimeters to maintain a stronger and healthier balayage.
Touch up your balayage
Even if you don't book an appointment for six months, your hair growth will not be obvious. However, it is advisable to touch up your balayage every 3 to 4 months.
If you want your balayage to look gorgeous all year round, you can book two partial touch-ups and two full touch-ups with 3 to 4 months intervals.
READ NEXT: How Long Does Hair Dye Last?
Avoid heat
When we tell you to avoid the heat, we do not just mean heated hair styling tools. We also mean that you should avoid the sun!
Whenever you go out for a walk or a swim, remember to protect your hair from the sun's harsh UV rays.
You must apply a heat protectant spray if you are going for a stroll but still want to show off your beautiful balayage.
When swimming, use a hair protectant spray and a swimming cap. You would not want your balayage to be drenched in chlorine-filled water.
Chlorine can dry your hair and strip off its color.
CHECK OUT: Best Bleach for Dark Hair
---
Colored hair, don't care!
We certainly do not mind everything we have to remember as we take care of our hair for as long as we have gorgeous balayage!
Now that you know how to take care of your newly painted tresses and have an idea of what products to avoid, you can already slay every event throughout the year with your healthy balayage.
Hopefully, this article helped you to take better care of your colored tresses at home.