No hairstyle could possibly be as universally flattering as the balayage highlights.
It gives off a summer surfer girl vibe as if your hair went to the beach. And a little vacation always looks good on anyone. A balayage appointment might just be the pick-me-up that your hair needs.
---
What is balayage?
Balayage is French for "to sweep away", which is how the technique is done. Indeed, balayage has swept the world by storm not once or twice. 
In the 1970s, they called this hair coloring technique balayage à coton because colorists use cotton to keep hair in neat sections. While the balayage method changed over the years, its result remained a fan favorite.
It wasn't long before the rest of the world fell in love with the hairstyle.
Since the 1970s, it never ceased to pick up a following with every comeback. If a trend kept reappearing over the years, is it safe to say that it never really went away? And that is for a good reason. 
With balayage, you'll get a low-maintenance hairstyle that revamps your entire look. The highlights mimic how the sun would hit the contours of your hair while you have your fun under the sun.
Like art, the magic in balayage is with every stroke of the colorist's brush.
Essentially, it is just one of the ways of adding highlights and dimension to your hair.
Unlike in traditional highlights, hair colorists hand-paint the color or lightener onto sections of your hair. This results in a more natural finish than when the highlights were done using foil.
Although balayage is a popular request in salons, you don't have to share the same exact hairdo as the next person.
Because hairstylists have artistic freedom in how they paint your hair, you can get tailored results. You don't even have to stick to natural shades of hair color.
With the different ways you can do balayage, you can be as subtle or bold with the highlights. 
CHECK OUT: Does Balayage Damage Hair?
---
What are the different levels of balayage?
Balayage promises a beautiful summer-all-year-round hair without you having to wrap your world around maintaining it. If this sounds like the hairstyle for you, your next step would be contemplating, "Should I get a half head or full head balayage?" 
Partial balayage vs Full balayage
Style and Coverage
In full balayage, the hair is fully saturated with highlights. Depending on the hairstylist's brushing technique, all sections of your hair will receive lightener.
To create a noticeable variance in the hair color, stylists will leave certain strands in each section untouched. 
The resulting light and dark strands would appear evenly throughout your hair. But because the balayage is a freehand technique, this blending appears natural.
Partial balayage still achieves the coveted natural sun-kissed look. Hairdressers would separate the hair into smaller sections compared to the parting done for full balayage.
Other stylists would apply the product to strategic areas of your hair to accentuate facial features that you want to flaunt. 
So, the highlights would look like isolated wisps of hair. Partially saturating your hair gives a subtle and precise change. This is a good starting point when you just want to dip your toes into hair highlights and colors.
The difference between partial balayage vs full balayage doesn't end there.
Cost: Money
Your hairstylist works on more hair when you request a full balayage. There is more surface area to cover and more of the products to consume. Since a partial balayage requires less work, the price is considerably less.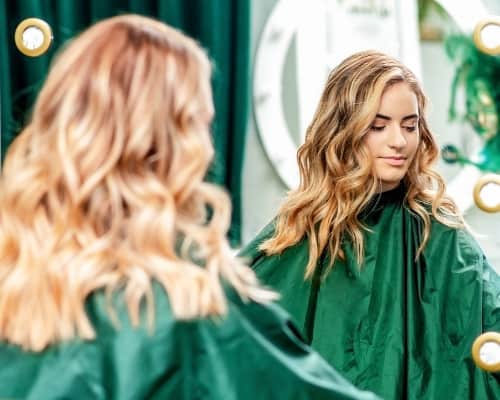 The estimated cost of a balayage appointment in New York City can set you back at least $400. If you have your heart set on a partial balayage, you should prepare at least $200-$300. 
These rates would vary depending on your hair length and type, the salon that you go to, your hairstylist, and the place where you have your hair done. Of course, money isn't the only factor to consider.
Cost: Time
It is hard to estimate how long you'll sit in the salon for your treatment. On average, you need three to five hours. The duration depends on different things besides waiting time. Would you be getting a full or a partial balayage?
The kind of full balayage you want to achieve influences the hair colorist's approach. They can opt to saturate the surface of each section or brush in short strokes. It would take a while because the stylist would have to work through each section.
You can save time in the salon when you request a partial balayage. There is less hair to color or lighten. Since only small chunks of your hair would be treated, you will generally finish early.
And your hair's thickness and length also affect how long you'll be treated. Naturally, a balayage session takes more time for persons with thick and long hair. You might want to bring your phone or Kindle with you.
Duration and aftercare
Unlike full colors, balayage promises a low-maintenance upgrade for your hair. You won't have to deal with distracting new roots after just three to four weeks.
At best, you may only have to visit the salon every six months for touch-ups. But this doesn't apply to all balayage hair.
Since the highlights are more conspicuous after a full balayage, you may need to visit the salon by the third or fourth month, depending on your color.
How long does a partial balayage last?
Partial balayage hair may be the most low-maintenance hairstyle since the highlights are less noticeable. The colors from your highlights will just blend seamlessly with your growing hair. You may have more than four months before you're due for a salon visit.
You can extend the life of your new balayage hair by keeping it healthy and moisturized. A good tip is to keep purple shampoo close by to keep the highlights from turning brassy over time. 
---
Should I get a full or partial balayage?
Based on our scoreboard, partial balayage takes the cake. But those are all from a practical standpoint.
At the end of the day, you should choose what hairstyle makes you feel good about yourself.
Getting balayage hair is like going to the beach without the painful sunburn after. You get dreamy sun-kissed hair sans the harsh effects usually associated with full-color treatments.