Of course, you have heard of balayage! I don't even need to ask. I'm sure your favorite celebrities have tried this hairstyle already.
But what exactly is balayage? Why is it trendy? Isn't balayage just a fancier term for ombre highlights?
It is a good thing that you are here because I can help you figure those out.
From this point onward, I will be answering the most common questions about balayage:
What is balayage?
Does balayage damage roots?
Does balayage cause hair to fall out?
Is balayage healthier for your hair?
Does balayage permanently damage hair?
Does balayage dry out hair?
---
What is balayage?
Balayage, pronounced as BAH-LEE-YAJ, comes from the French word "balayer," which directly translates to "to sweep." 1
In the hair care world, balayage refers to the technique of freehand painting the hair, which results in well-blended, natural-looking highlights. 2
Balayage refers to the technique of how the color is applied to the hair and not the color itself.
This technique is popular among other hair coloring techniques because it allows stylists to hand-select the hair strands they want to color. 3
When you get a balayage, the roots of your hair are darker, either the same as your natural hair color or another shade of permanent hair color of your choice.
Unlike ombre highlights which dramatically change color from the midsection to the tips, a balayage has a softer gradation starting softly at a few centimeters away from the roots then becoming more saturated as it goes closer to the tips.
According to Richard Ward, a celebrity hairdresser, balayage offers a natural and blended look with no obvious regrowth lines. 4
With a balayage, you can have overall light-colored hair without having to retouch every two months!
Aside from customizing the color itself, you can also ask your stylist to apply the color in a way that would compliment your face. Yes, you can contour your face with a balayage! 5
When you choose balayage, you will look chic without worrying about stripey highlights and frequent retouch. But what are the dangers that come with balayage?
READ NEXT: What To Do After Balayage
---
Does balayage damage roots?
The balayage technique usually does not touch the roots, especially if you have naturally dark hair color.
So for those with naturally dark hair, the answer is NO.
Balayage will not damage your roots because part of the balayage technique is to maintain naturally dark roots. This means your roots will neither be colored nor bleached.
Meanwhile, if you have naturally light hair and opt to color your roots, they may acquire damage because of the hair color.
This kind of damage is normal whenever you color your hair.
The good thing is you can prevent this by requesting an ammonia-free hair coloring product.
Other than those concerns, your hair roots are safe with balayage.
RELATED READ: How To Make Bleached Hair Soft and Silky
---
Does balayage cause hair to fall out?
Balayage, just like any other hair coloring procedure, has its own set of risks. So, you need to take precautionary measures, too.
To avoid risks such as excessive hair fall, make sure to assess the condition of your hair before getting a balayage. 
If you have dry hair, you might want to think twice before getting a balayage. Note that getting a balayage involves multiple times of bleaching depending on the lightness you want to achieve. 
Make sure that your hair is healthy enough to go through all those layers of bleaching. Otherwise, you will suffer severe hair fall as a result of damaged hair.
On top of that, make sure that you disclose your hair history to your stylist. Do you have virgin hair, or have you had your hair dyed recently?
If you have virgin hair, then your hair would probably be healthy enough for a balayage.
If you've had your hair dyed before, was it an over-the-counter hair dye, or was it done by a professional hairstylist?
Tell your stylist about this stuff first so they can make the necessary adjustments.
They might require you to get additional procedures to ensure that the previous hair color matches your new one.
In short, you will not suffer excessive hair fall if your hair is healthy enough to undergo a balayage procedure.
---
Is balayage healthier for your hair?
In comparison to traditional highlights, balayage is overall healthier for the hair.
Hairdressers say that balayage uses stronger developers than the ones used in traditional highlights to achieve the desired lightness of the hair.
Frankly, this may be damaging to the hair, especially at the tips.
However, unlike traditional highlights, balayage does not require you to frequently go to the salon to retouch chemicals on your hair.
With that being said, we can say that balayage is safer and healthier for the hair in the long run.
CHECK OUT: Full vs Partial Balayage
---
Does balayage permanently damage hair?
Bleach does damage hair.
Unfortunately, even the best hairstylists cannot color your hair without bleach especially if you want to a color that are few shades lighter than your natural hair. That's the sad truth behind the glamor of hair coloring.
The intensity of the damage depends on the procedures that your hair will undergo. If you want a lighter shade, you will have to bleach your hair more than once.
Repeated bleaching leads to more damage.
Luckily, there are over-the-counter products that stylists recommend to protect your hair at home after getting a balayage. 6
This post may contain affiliate links. If you click through and make a purchase, I'll earn a commission, at no additional cost to you. Read my full disclosure here.
Olaplex Hair Perfector No. 3 and Uberliss Original Bond Sustainer are both professional salon treatments that help the hair repair itself after color-induced damage. Kale-Infused Dream Cocktail and Unite Hair RE:Unite Treatment help maintain the vividness of your hair color while repairing your hair.
---
How To Prevent Hair Damage in Balayage Hair
Aside from using hair care products, hairstylists recommend you build the following habits to prevent further hair damage: 7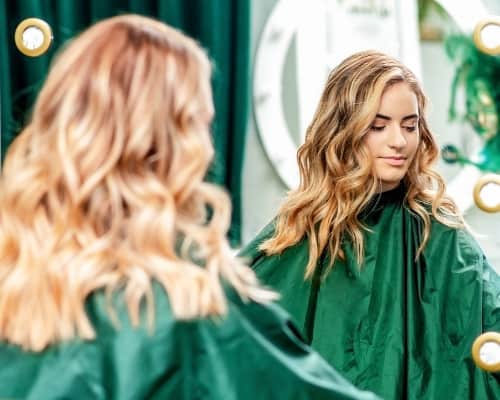 Avoid hot water
Allow hair to air dry
Don't wash your hair every day
Cut down on heat styling
Limit UV exposure
Get a silk pillowcase
Use a microfiber towel
Damage is part of dyeing your hair.
But it is manageable with the help of new hair care habits and some moisturizing and repairing hair care products.
---
Does balayage dry out hair?
Just like any other dye job that involves bleaching, balayage can dry out your hair. But it's nothing an extra hair care product can't handle.
You may opt to use a dye-friendly conditioner as often as you need to or apply a dye-friendly moisturizing hair mask every week.
Also, avoid towel drying your hair because it causes the hair to be more brittle and dry. Instead, allow your locks to air-dry.
With the proper hair care routine and products, the dryness that inevitably comes with a balayage is something you shouldn't worry about.
---
Indulge in balayage!
To sum it all up, bleaching and dyeing the hair will inevitably cause damage. So it is important to ensure that your hair can handle all the procedures before getting it dyed.
Luckily, balayage is a low-maintenance hair dyeing technique. This means that you don't have to show up to the salon every two months, saving you time and money and lessening hair damage.
Balayage is definitely worth the hype. It is low-maintenance, it looks chic, and most importantly, it is a healthier hair coloring alternative.
---
References: