Traditionally used for creating beautifully sleek straight hair, the flat iron is a styling tool that cannot be beaten for its versatility.
But if you have hair that grows past shoulder length, then you may be wondering where to start when it comes to curling your long locks with one of them. 
To remove the stress and take your hair from drab to fab, we have put together an easy guide explaining how to curl long hair with a flat iron.
Whether you are a beginner or searching for tips and tricks on how to perfect your curly-haired look, let us talk you through how!
---
Is it better to use a flat iron or curling iron to curl long hair?
You may be unsure whether to reach for the flat iron or traditional curling iron to achieve your desired look when it comes to curling long hair. 
If you are looking to add natural beachy-looking curls to your hair, then a flat iron is definitely the better choice. Once you have mastered the technique, you can achieve beautiful voluminous waves effortlessly. 
Both flat irons and curling irons can also deliver a tight coil. However, curling irons are known for their ease of control and definition over straighteners.
The drawback for my long-haired gals is that it can be tricky to achieve these evenly if you have a lot of hair to wrap around the tong, often requiring higher heat settings or longer exposure which is terrible for your tresses. 
Check Out: The Best Flat Iron for Curling Hair
---
Choose your Flat Iron
So you have decided to try curling your hair with a hair straightener, but what type is best for achieving those effortless influencer curls we see so much of on Instagram?
Let's start with the shape of the plates. Choose an iron that is relatively small in width but with rounded edges. This way, you can make the most of the versatility the tool has to offer.
Choose one that has a longer plate than other flat iron so you can wrap more hair around. The Furiden hair straightener below has 4-inch extra long plates.
The type of plate is also necessary to consider. The most common types are ceramic and titanium.
If you are in a hurry to get ready in the mornings, titanium heats up fast with even heat distribution. Operating at higher temperatures, titanium plates are great if your long hair is particularly thick and harder to style. 
If you are concerned about heat damage to your hair and have a bit more time to spare when you are styling, ceramic plates may suit you better. They work well on any hair type and at lower temperatures. 
Pro tip: If you are a beginner, start by using ceramic plates until you are more confident in your technique to avoid unnecessary heat exposure to your hair. 
---
Prep the Hair
Before you begin curling, it is essential to prep the hair correctly. After all, you wouldn't run a marathon without warming up first, right? 
You get the best results with completely dry hair that is a day or more past wash day. Hair that is too clean struggles to hold a curl, which is often a problem for thick, long, heavy hair that tends to drop throughout the day. 
Make sure to brush out all the knots in your hair. This will prevent hair from getting caught and pulled between the plates.
When heat styling, it is vital to use a heat defense spray or serum to protect the hair from unwanted heat damage.
The longer your hair, the more susceptible you are to split ends and breakage, so you mustn't skip this step. The ingredients in heat protectors help smooth hair follicles and lock in moisture, leaving you with a smoother, frizz-free curl. 
If your hair is particularly stubborn when it comes to curling or retaining a curl, add some mousse or a texturizing spray to add a bit more grit to your hair. 
Pro tip: Give your hair a gentle misting of hairspray before you begin styling. Not only will this help to lock in your curls, but it adds an additional heat defense barrier to your hair.
---
Section Your Hair
When styling long hair, it is crucial to split the hair into sections. Sectioning the hair makes it easier to manage your hair a bit at a time, and you are better able to keep control of your look.
We recommend dividing the hair into two halves, top and bottom, using the top of your ears as a guide.
Clip the top section out of the way so you can focus on the underneath layers of hair first. Beginners may wish to further divide the section into smaller, more manageable sections of hair until you get the hang of the technique. 
---
How To Curl Long Hair With A Flat Iron: The Technique 
Now that your hair is prepped, sectioned, and your flat iron has warmed up, let's answer that question, just how do you curl long hair with a flat iron?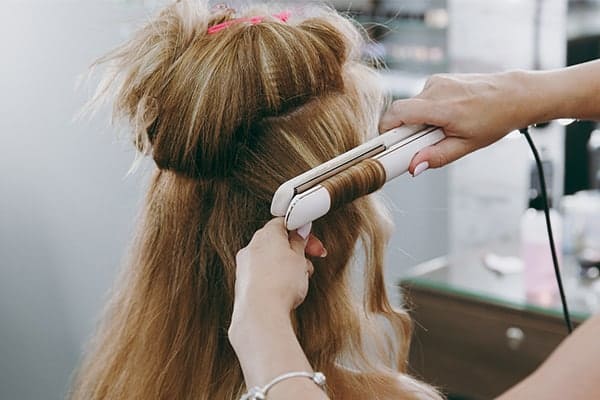 For beginners, remember it may take some practice to perfect your technique, so be patient and take your time when starting out. The method you opt to use with be dependent on the type of curl you wish to achieve.
For a tighter curl, you will want to work in sections of hair no bigger than 1-inch at a time, or for looser curls and waves, you could work with up to 2-inches.
You will want to clamp the hair at your desired starting point, typically close to the root.
However, for a "bouncy blow-dry" looking finish, we recommend starting from around halfway down your hair length. 
Now for the twist, which direction to curl your hair with the straightener is ultimately down to you. However, we recommended curling away from your face for a more natural effect that nicely frames the face.
Pro tip: Alternating the direction you curl your hair with the straightener will give the look a more natural textured finish.
For tighter, more defined curls, we recommend twisting the flat iron 360 degrees in the direction your want to curl or 180 degrees for a looser curl or wave.
Once you have wrapped the hair around the iron, glide it down towards the ends of your hair.
The slower you pull, the tighter your finished result will be thanks to the additional heat exposure.
Check Out: 5 Flat Iron Hairstyles for Long Hair
Either stop once you reach the ends of your hair or if you want to create a beachy wave, release the hair an inch or more away from the ends to get that holiday finish.
When you have finished curling, run your fingers through your hair to gently break up some of the curls to avoid sporting that prom night look, and set your hair with a spritz of hairspray all over.
Pro Tip: The more horizontal you hold the iron, the tighter your curl will be. Hold the straightener more vertically to create a looser finish.
---
Why can't I curl my hair with a flat iron?  
Using a flat iron to curl hair does not always come easily to everyone, but that's okay. You can still create beautifully glamorous curls or relaxed waves in your long hair.
Practice can make perfect, be sure that you are not gripping the straighteners too tightly as this can make it harder for your hair to glide through, and be sure to brush out all tangles to avoid the same problem.
If you are still having difficulty mastering these methods, you may prefer to try a different curling tool such as hot rollers or other overnight hair curling techniques.
Using straighteners to curl hair is not necessarily for everybody, so to avoid frustratingly bad hair days have fun experimenting and figuring out what works best for you!
READ: The Definitive Guide on How to Curl Long Hair
---
To Wrap Up
Using a flat iron to curl your hair is a great way to make use of the versatility of such a fantastic styling tool.
Be sure to follow our tips on choosing the best straighteners for the job, and make sure you prep your hair before you begin styling to make sure your long curls last.
Most of all, have fun experimenting with the different looks you can create. These methods may take practice but once mastered, you may never turn back!