Is this your first time using purple shampoo? A purple shampoo's principle lies in basic color theory. Purple is the opposite of yellow in the color wheel; purple pigments neutralize brassy tones, which may show up on blondes. 
However, like any hair care product, it may show different results for different hair. That's why it is necessary to read a starter guide before buying a purple shampoo bottle.
How often should you use purple shampoo? Are there more tips and insights you need to know before making it a go-to hair product? There's a big chance that's the case!
Read on to find out how you can jumpstart your battle against brassiness.
---
Should you use purple shampoo every day?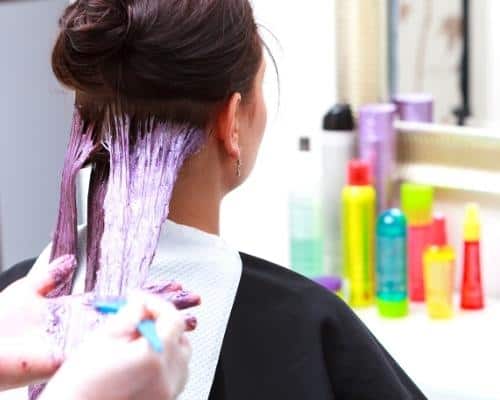 While it's a true miracle delivered for those with blonde hair, artificial or au-natural, it is often confusing how to use this product correctly. Does the "shampoo" in purple shampoo mean you can use it every day?
The real answer is a bit complicated.
It is not advisable to use your regular shampoo and purple shampoo at the same time since this can cause damage to your hair. 
Purple shampoo is also NOT a permanent replacement for your regular shampoo. Purple shampoo acts like a treatment rather than a cleanser, and it does not clean the scalp as your regular shampoos do. 
There are some things to consider when deciding how often you should use a purple shampoo. But, generally speaking, consider using a purple shampoo once a week rather than every day.
---
How long should I leave purple shampoo in my hair?
Purple shampoos are as tricky as hair dyes. You become skeptical if you should follow what's on the back label or trust a random Youtuber's success story to achieve your goals.
What's your best bet, then? Well, the safer option is following the manufacturer's instructions.
Think of it this way: they have assembled researchers to study how this product works. Logically, what's on the back label will ensure a likely win for your hair.
If it says three to five minutes, do not leave it any less or more. Some brands that might have less purple pigments in their products will require 20 minutes of processing, so better check before heading to the shower.
---
What happens when you use too much purple shampoo?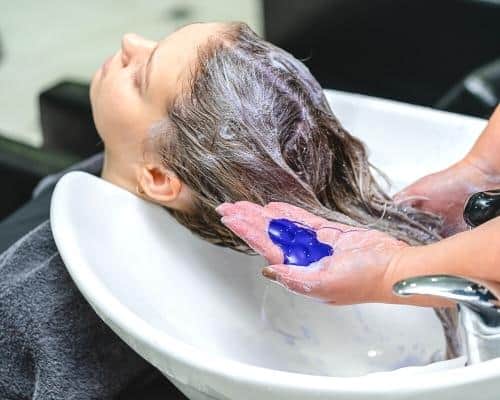 Yes, there is such a thing as overdoing it!
If you use too much purple shampoo or leave it for too long, your hair can turn lilac! 
And as much as an unwanted color is horrifying in itself, too much product can also build up on your scalp, making your hair brittle and dry. 
So don't guess your way on this one. While lilac hair may seem an extreme case, neutralizing too many yellows with purple shampoo will most likely lead to darker and duller hair. 
---
How often should you use a purple shampoo?
It's time to dive into some specific details when using purple shampoo.
Purple shampoos act as a toner for those who want to reduce brassy, yellow, or orange tones in their hair. 
If you have light-colored hair, you will likely have these warm undertones that can show up due to various environmental factors and unlifted natural pigments. Orange tones may show up after several weeks if you have bleached hair from a brunette.
If you want to maintain your hair color and prevent brassy tones, your usage will depend on how much pigment is in your hair, i.e., more pigment equals higher frequency. People with dark blondes will require purple shampoo more often than those with platinum blondes or white hair.
But usage of purple shampoos doesn't only depend on hair color. It also depends on hair type. 
For those with curly and frizzy hair prone to dryness, purple shampoo may increase dryness. In this case, you can rely on other products like purple conditioners to still deliver your results.
How often should you use purple shampoo and conditioner?
There are several purple products in the market. Purple shampoos are the most popular, but conditioners and masks are also vital to get quicker results.
A combination of purple shampoo and conditioner works well for those with pronounced brassiness. This ensures that the purple pigments can penetrate your hair shaft and cover your strands entirely. 
Albeit the quickest way, it's not always the best. Remember that purple shampoos and conditioners may cause product build-up. That's why it's best to use only one of them. 
If you have brassy mid to end sections, you can choose to co-wash rather than use shampoo.
On the other hand, if your brassy parts lie mainly on the roots, you can choose to use shampoo only since this targets the scalp area, unlike conditioners. This is the best option for hair that quickly experiences dryness. 
The frequency still relies on your results. If it seems like co-washing doesn't do it for you, you can use a combination of both with an increased frequency. Again, it is best to monitor your progress weekly rather than jumping to a more rigorous routine from the start.
How often should you use purple shampoo on bleached hair?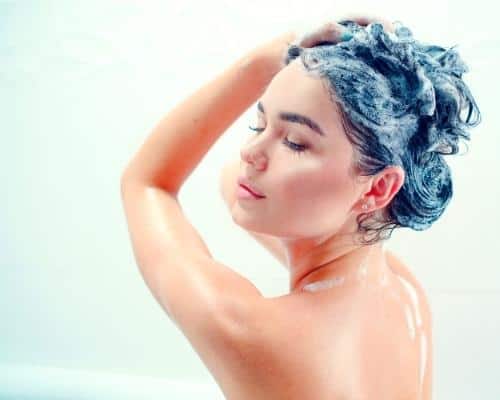 A bleached hair's main enemy is the appearance of unwanted tones. Yellow hues, specifically. Canceling them out may need a salon appointment, but it might also be solvable with purple shampoo. 
An important reminder: purple shampoos only work for light-colored hair. That includes blondes, platinum, ash blondes to very light browns, silver or gray, white, and pastel colors that underwent bleaching.
If you had dyed your hair to a cooler tone, aka ash blonde or brown, the pre-lightening process likely rid you of the natural pigments. Brassiness signals that the deposited dyes, especially blue ones with small molecules, left already and revealed the warmer undertones. 
To get back your preferred ashiness, you may need to use purple shampoo on every wash until the yellow vanishes. This routine is especially advisable for bleached dark blonde to light brown hair. 
For those who bleached their hair near platinum, 4-5 times a week may eliminate your yellow hues in about three weeks.
How often should you use purple shampoo for blonde hair?
Blonde hair, even your natural, can fall into the hands of unflattering brassiness. However, people with dark hair who have lightened their hair to several levels will likely see a more noticeable brassy change.
Most natural blondes don't have brassy hues. Those who found themselves with brassy strands after a summer vacation shouldn't panic but should know this instead: it is reversible with a purple shampoo. 
You can maintain your natural color by using it once a week. Meanwhile, it would help if you stayed away from chlorine, too much sun, smoking, and air pollution since these factors can damage your cuticle and increase brassiness.
Purple shampoos work more efficiently for dyed hair where the cuticles are more porous and can absorb the purple pigments quicker. If you dyed your hair blonde, this is a rough guide to maintaining it between salon appointments.
White hair requires once to twice a week washing with purple shampoo.
Platinums and silvers may need to have it thrice a week.
Light ash blondes may also require this frequency to avoid brassy hues.
Those with dark blondes are most susceptible and should use it as an everyday wash until the yellowness completely disappears.
Again, this shouldn't be a regular shampoo replacement. You will need clarifying treatments occasionally when you incorporate this into your routine to avoid damage.
How often should you use purple shampoo for highlights?
Despite the increase in highlighting techniques, one thing always stays true about them: they are hard to maintain. Blonde highlights, in particular, make way to, you guessed it! Brassiness!
Traditional foil highlighting uses bleach or a lightener to lift the hair to several levels lighter.
If you have brown or dark hair, it's pretty tempting to brighten your face with this technique. But brunettes have orange undertones, and this may quickly appear once the highlight fades. Since full highlights cover the entire hair, it's best to use purple shampoo every time you wash.
If your hair is long, a conditioner and hair mask are a must-add on your shopping list. Partial highlights only lift color to two levels and may need less purple shampoo application weekly.
You should always check how well your hair adjusts to purple toners.
Everyone has a different hair history, and while purple shampoos have already proved their efficiency on a lot of hair, it's wise to keep your routine gradual and sure.
Never overdo it and deal extra damage to your hair!
CHECK OUT: How To Get Purple Shampoo Out of Hair