Hair color is one of the best and easy ways to try a new look, express your sense of style, or follow a trend! 
However, it can be a lot easier for people with lighter hair since they can slap on a color and go. 
If you have dark hair, often, your best bet for a nice vibrant color is just to go for some bleach first to really get true-to-color effects. 
But with bleaching also comes a ton of damage.
Bleach acts by breaking down proteins in your hair. 
So sure, it does lift the color to make your black hair the perfect blank canvas. But this comes at the cost of extreme moisture stripping, frizz, and breakage. 
Even if you're willing to do the upkeep and deal with the damage, it can take a while when you're going for a really new and bright color!
Sometimes it'll take 2-3 sessions of bleaching to even get your hair ready to bind with the color and let it show. 
So, the question now stands, what do you do to color black hair without bleach?
---
Can you color dark hair without bleaching it?
The answer here is simple: Yes, you can!
The results will definitely vary, but there are lots of options to explore when coloring hair without bleach. 
Temporary dye
Maybe you don't want the color to last for weeks. 
Perhaps it's just a change you want to try out for the day. You can give temporary dyes a shot for this! 
There are temporary dyes that come in different formulas and consistencies that can be used on dark hair. Sprays and hair clay or colored pomade are some common examples of temporary options you can try. 
Often, these temporary dyes are packed with pigment and can be pretty vibrant and impactful, even on dark hair. 
Just make sure to double-check the label as each brand's formula can vary.
Oh, and don't forget! These wash out at the end of the day with regular shampoo. 
Semi-permanent dye 
Some semi-permanent dyes like Arctic Fox are also great for dark hair. The result will be a much subtler color that forms a gloss over your black hair. 
Semi-permanent dye coats the outside of hair and doesn't change anything about the composition of your hair strands. On the bright side, this means that your hair will be free of any chemical damage when you use semi-permanent colors. 
However, if you're opting for a bolder look, then this won't be too satisfying. The best this will do is give your hair a tinge of purple, blue, green, red, or whatever color you put on top of it. 
Also, when choosing a semi-permanent dye, brighter neon and intense colors will often work better on darker hair, but they'll never show up true to color if you don't use bleach.
One more tricky thing with semi-permanent dye is how it washes out with shampoo and washing. Although this gradual process takes 8-10 washes, it might not last as long on unbleached hair. 
It takes a lot of pigment to tint black hair, so having it wash away bit by bit also means it will be less noticeable faster. 
Permanent dye
If you're looking for a color to stay in and don't really want to stray away from your natural hair shade's color "family", then a permanent dye would be best! 
Permanent dyes have some chemical action that alters your hair to let it absorb different colors, but they're usually nowhere near as damaging as bleach. 
Unlike semi-permanent dyes, the permanent kind often contains a developer that really lets the color bind with your hair. So, while semi-permanent dye can get washed out bit by bit, permanent dyes stay for at least 2 months.
However, like with any product that can change your hair, like permanent dye, it will need some upkeep to maintain your hair's health and shine. 
Special Formula Dyes 
These might be a bit harder to come by, but in essence, if you're really going for a way lighter shade, these are your best bet. There are some permanent dye lines made specifically with black hair in mind.
The color results range from light blonde to red to brown — just about any "natural" hair color.
But you'll have to double-check and make sure it specifies that it can lift color on dark hair without any bleach. 
---
What colors can you dye black hair without bleach?
Okay, now that you know the different formulas you can explore to get your desired results, maybe you're trying to think of a hair color that doesn't need bleach. 
If you want to stay as far away from bleaching as possible, then you'll also have to know that some colors will just not work. 
Definitely off the list are pastels, true blondes, platinum, and any other light color.
Colors with a white base will also, unfortunately, not be in your options. 
So what colors show up on black hair?
Brown
It might not be the most mind-blowing shade, but brown is one of the easiest colors to transition from black. Especially when using permanent dyes, it's a no-brainer, especially if you're going for a lighter, softer shade. 
But don't immediately think that brown is boring! There are lots of options you can go for that dramatically change up a look. 
Ash brown 
This color is definitely one of the trendier shades of brown that you can give a shot at. It's one of the lighter options too. So if you're going for a more cool-toned option to change up your hair, then this can be it! 
Red-brown 
If the look you're going for is something warmer and more fiery, then a red-brown would do the trick. A mahogany red would be great for giving you an edgy look if you want to stay within the brown color group. 
Deep brown
For an even more subtle shift, you can try a deep brown. It just gives your hair enough extra dimension to be a small but noticeable change. 
And there are lots of other browns out there for you to experiment with! 
Tinted Black 
Okay, well, maybe brown is a bit basic for other people.
But don't worry, you can use other bright colors to tint your black hair. For this, you'll need a semi-permanent dye. 
You can use deeper colors to achieve a very subtle look that comes through when hit by the light.
Another option is to use a bright color, intended to be a more intense shade, while it will appear as a deeper version of itself on black hair.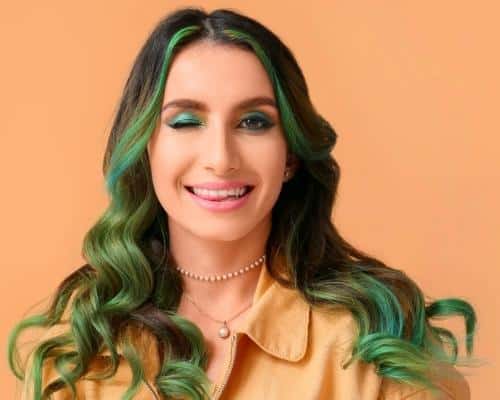 Deep Emerald 
You can try neutralizing a bright green shade into a deep, rich emerald when you layer it onto your dark hair. Check out our post on the Best Green Hair Dyes to see other shades of green!
Burgundy 
If you're looking for a vampy blood red, you can use a true red or even a reddish-purple to achieve a nice rich wine color. 
Storm Blue 
For a subtle but edgy look, you can try using an electric blue. On dark hair, it will give a deep navy blue tint that is sure to turn heads. 
Blue black hair dyes are great for black hair too, especially if you want just a hint of blue.
Dark Purple 
A true bright purple on black hair is another classy option.
It's just as subtle as a deep blue, with some red character giving it a unique look. 
CHECK OUT: How Long Does Hair Dye Last?
---
So, in conclusion, being born with gorgeous black hair doesn't mean that's the color you're stuck with for life!
Even without bleach, you have tons of options in consistency, formula, color, and tone! 
And should you change your mind on using bleach, check out our post on the best bleach for dark hair.