Maintaining curly hair through the night is probably one of the most challenging things to do as far as hair care is concerned. Of course, you can have a good day where all your hair products performed so good, all doing what they are supposed to do.
At this point, your curl definition would look as perfect as you want – no problem! The big question, however, is how you can make the beautiful curls last through the night without tangling.
This can be quite a difficult battle, one that most curly girls find daunting. Well, you don't have to sleep through every night paranoid, not when you can keep your hair in its look through the night.
Don't fret. I have solutions for you. I think these solutions will interest you.
Do note however, that there is no one best way to maintain curly hair through your sleep. You have to find the perfect way to wear your hair to sleep without having dents, flattened, or frizzy curls by morning.
Still trying to find what's perfect for you?
Useful Tips on How To Keep Curly Hair From Tangling at Night
Here are a few methods you could adopt to sleep with curls and not get the annoying tangles by morning. However, you mix them up, depending on your unique hair situation.

1. Loose Bun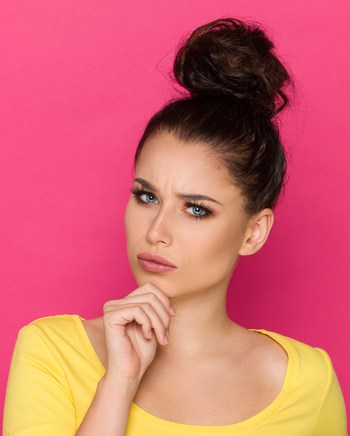 Yes, this is already a popular method among curlies, but it is worth mentioning. Many people already know that loosening the bun can help reduce frizz. Our advice here is that you get a leave-in conditioner and scrunch gel applied into the hair moments before you flip it over to secure into a bun.

Ensure that your bun is at least kept slightly loose since tight buns can cause overstretching. By loosely twisting and tucking your bun, you will be able to avoid dents. After the twist and tuck, you can use a scrunchie to secure the hair.

One thing about this method is that it allows you to play around several styling options in the morning. If you discover that your hair is not dried yet, add a bit more of your curling product, then either diffuse or air-dry.
2. Two-strand Twist

This is another relatively popular method adopted by your fellow curlies to keep their hair from tangling as they make acquaintance with their beds. The two-strand twist is unique in its approach to maintaining curly hair, and to be honest, it's highly effective too.

You can do this one on wet or dry hair, depending on personal choice, but starting on a damp hair can potentially make the hair tighter. One good thing about this method is that it gives you the liberty of targeting several specific sections of your hair so that you can shape them in a way not to get flattened during sleep.
3. Plop

Plopping is another popular curl drying method that is adopted by a lot of people to help keep the hair from being weighed down by gravity. The technique is quite simple and can be done by almost everybody. Just apply a gel to the hair.

Once done, lay a microfiber towel on a surface, then flip the hair over, letting it pile on top of itself into the towel. Secure the towel on your head by tying it on different sides. The job of the towel is both to hasten the drying process and to set the 'pile' of curls nicely. You can either complete this process yourself or contact a stylist to help teach you how to go about it.
4. Pineapple

Now it is getting interesting…
And a little intense, right?
I bet you never knew there was something called pineapple in hair care, do you? Well, now, you know. In fact, several curly girls already adopt this method on their dry hair as they sleep.
It is even simple: All you need to do is to flip your dry hair over, get it secured into a not so tight ponytail. To preserve the hair from dents and unnecessary breakage, you can make use of either a fabric covered or scrunchie hair tie, since each of them can go very soft on the hair, while still forcing out the desired effect.
At this point, stand back upright, and get the ponytail separated into two, so that there is one part on either side of your head. By morning, spritz water or curl freshener on the hair to keep it fresh.
5. Sleep on a Bonnet or a Satin Pillowcase

Avoiding hair friction during sleep can involve a complicated process on its own. But one thing is for sure, using a satin pillowcase is good for your hair. The smoothness of the silk or satin pillowcase will allow hair to glide smoothly on it, without causing frizz.
The good thing about this method is that you can use it in combination with lots of other techniques. For example, you can pineapple your hair and still sleep on a satin pillowcase. There are some situations where women even go as far as wearing a satin bonnet and again sleep on a silk or satin pillowcase. The goal here is to find the combination that best suits your hair.
If you are not comfortable with the feeling that comes with using a satin pillowcase, then you can use a satin bonnet or tie a satin scarf to protect your curls, instead of the pillowcase option. To a large extent, this can help to prevent unwanted knots or annoying tangles.

6. Mini Braids
You've probably seen one or two people adopt this method. Well, it works, and it is something we think you should learn to start trying. Braiding hair before you sleep helps to keep the hair in place, which is especially helpful for those who have long hair.
You can try out this method in your most comfortable way. It could be a loose braid, multiple braids, or a French braid. The looser the braid, the more likely you are to maintain your natural curl pattern. If you find French braiding difficult, just get your hair divided into 5-7 sections and do a regular braid.
---

There you have it. Keeping your curl through the night doesn't have to be a problem, as long as you know what to do. Like we mentioned earlier, none of these methods is a one-fits-all. You have to find the combination of what suits your hair and stick to it. However, be open to learning and doing new things once in a while.
Image Credits: Deposit Photos
PIN For Later!