Hair loss happens. As a matter of fact, we lose hair every day.
However, losing clumps of hair frequently can be a big source of concern.
Many have attempted different remedies, spent money on expensive hair treatments but with little to show for.
Can you really use coconut oil for thinning hair? This article aims to answer that.
Coconut oil has many benefits in food, hair and skin. It is present in many creams, shampoos, and oils and is usually available in a solid form.
Pure coconut oil is solid at room temperature. There are many ways to treat hair loss but one of the most common and economical one is by using coconut oil.
This post may contain affiliate links. If you click through and make a purchase, I'll earn a commission, at no additional cost to you. Read my full disclosure here.
---
Benefits of Coconut oil for hair
Coconut oil is a commonly used natural oil for hair. It is so widely used for everything that people swear by its ability to promote hair growth.
It mainly "strengthens the hair and nourishes the scalp", according to dermatologist Dr. Shari Marchbein. This improves blood circulation and in this way, the hair get the nutrients it needs for growth.
It contains antioxidants that enrich the hair and gives it a healthy appearance.
CHECK OUT: How To Do a Scalp Detox with Coconut Oil
A major reason the use of coconut oil has become popular, either alone or as an ingredient in other hair products, can be attributed to its effectiveness as a hair moisturizer.
The hair needs moisture as dry hair causes loss and encourages the growth of dandruff. In Asian countries like Thailand and the Philippines, using coconut oil for the hair has long been practiced since ancient times.
Coconut oil is especially useful in making the hair fuller by preventing thin hair follicles.
For pregnant women experiencing hair loss, coconut oil might just be that perfect solution. If you are currently dealing with hair loss or you find that your hair isn't retaining length, this might just be your solution.
---
How to use coconut oil for hair growth
Research has shown that when used as a prewash and post-wash conditioner, coconut oil has a protective effect on hair thereby preventing damage. Its protective effect also works on both untreated and chemically treated hair.[1]
Lauric Acid, a key component of coconut oil, has a high affinity for hair proteins which helps coconut oil deeply penetrate the hair shaft. By regularly aplying coconut oil to your hair, it lubricates the hair shaft which helps prevent breakage. [2]
While coconut oil does not necessarily cause hair growth, it stimulates the scalp and helps provide the needed conditions that encourage growth. It also strengthens the hair causing you to retain length.
READ: What Does Coconut Oil Do For Your Hair
Before investing in the use of coconut oil, it is important you understand certain ways you can best go about it. Here are some important things to note:
Include other natural ingredients: To get maximum results with coconut oil, mix the oil with other natural ingredients like honey or other oils. This increases its benefits and offers more visible results.
Use with your shampoo or after shampooing: Coconut oil can be mixed into your shampoo or conditioner in a 50:50 ratio. It can also be massaged into the hair after shampooing.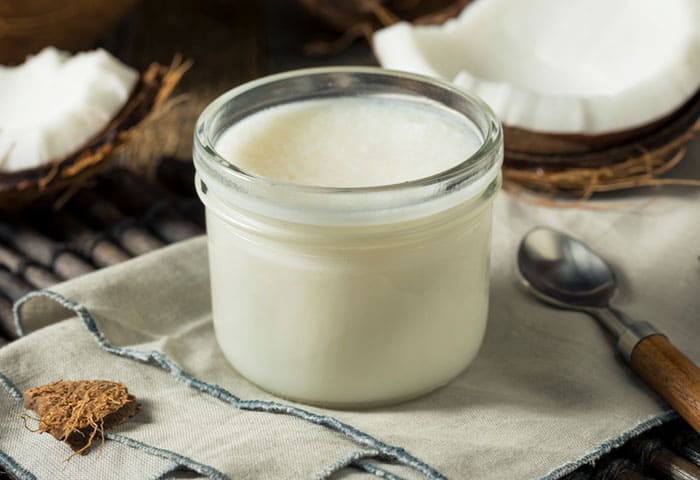 ---
Here is a simple way to use coconut oil:
Start by melting coconut oil in a cup placed in a bowl of hot water. Avoid adding hot water or heat directly to coconut oil as this can reduce its benefits.
Place some amounts in your hand and begin to massage through the hair. If your hair is coarse and hard to manage, you can massage little amounts into the scalp.
Cover your hair with a shower cap and leave for about 15 minutes to allow the hair deep condition.
Wash off using your normal shampoo and conditioner.
You can also apply a little amount in your damp hair to further condition it.
---
Coconut oil for thinning hair edges
Everyone loves a well groomed and sleek edges.
If you notice you are experiencing thinning edges, the first thing to do is to stop certain factors that are contributing to it. It won't make sense to start a hair growth regimen only to lose the hair again due to your lifestyle or use of certain drugs.
A great mistake most women make is by making hairstyle that places pressure on the edges. Avoid hairstyles that picks and tightens your edges and use edge control regularly.
To use coconut oil for thinning edges, apply a little amount to your edges and massage gently. Do this as often as possible but be sure to keep the amount to a minimum.
You can also use coconut oil as a DIY Hair Mask, which you can mix with other ingredients like honey. Lauren tried it for a month, and she noticed her hair feeling stronger with hair strands thicker and shinier.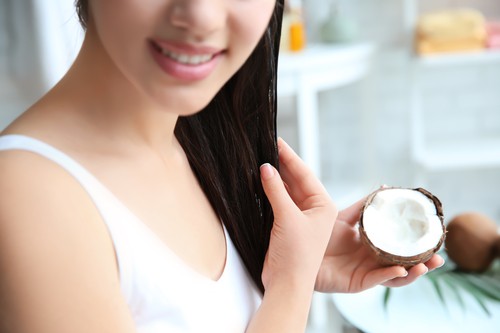 ---
Best coconut oil for hair growth
Coconut oil is a natural oil extracted from coconut tree.
However, there are so many brands in the market and few are impure and mixed with other type of oil. It is important that you get the purest coconut oil so you don't end up doing your hair more harm than good.
The most common kinds of coconut oil you will see in the market is the refined ones and Virgin coconut oil.
The main difference between the two is that refined oils are usually pressed and refined many times during extraction.
Although both types are safer and are effective, refined coconut oils may have some nutrients stripped away. Virgin coconut oils are also more expensive but generally offer quicker and more intense results.
You can also find fractionated coconut oils which are coconut oils that are sold in liquid form.
Organic coconut oils are extracted from non-GMO coconuts. You can easily get coconut oils from your local grocery stores and supermarkets, vitamin and supplement stores, health and beauty websites and manufacturer's websites.
Avoid buying coconut oils that come with no name. These kinds are usually inferior and offer little benefits.
READ: How to use Coconut Oil as a DIY Detangler
If you want to get into the science of it, HairGuard has a great resource on coconut oil and hair growth.
---
FAQs on How To Use Coconut Oil for Thinning Hair
---
Is it okay to leave Coconut oil in hair overnight?
Another way to use coconut oil is by using it as a hair mask, overnight. This is a great way to treat dandruff and add more moisture to the scalp.
Rub a little amount in between your palms and massage into scalp. Cover your hair with a shower cap or hair wrap and leave overnight.
Wash the hair the following morning with a light shampoo. This is also equal to deep conditioning your hair with coconut oil.
If you have very dry scalp, leaving it overnight is a great way to get maximum results.
Is coconut oil hair type selective?
Although many people have reported an increase in hair volume, texture and length with the use of coconut oil, few have experienced hair loss after using. This is because coconut oil is not for every hair type.
Coconut oil is especially useful for people with fine to medium shiny hair.
This is because it provides the hair follicles with the needed protein.
However, if your hair is more coarse and dry, you may experience hair loss and brittle hair. This happens because of protein buildup, blocking hair the moisture it needs causing more dryness.
---
What amount is reasonable and how often?
You should understand that the best way to get maximum results when using coconut oil is by using as little amount as possible.
Too much and you might end up with heavy, brittle hair.
A little amount rubbed through the hair is enough for that result you are aiming for.
Also, you need to take into consideration the hair products you're using.
If you're using homemade or natural hair care products (instead of commercial ones), it will be difficult to remove excess oil from the hair. Use an organic clarifying shampoo instead.
---
PIN For Later!
---
Research Studies Referenced In This Article:
Rele AS, Mohile RB. Effect of mineral oil, sunflower oil, and coconut oil on prevention of hair damage. J Cosmet Sci. 2003;54:175–92. [PubMed] ↩

Gode V, Bhalla N, Shirhatti V, Mhaskar S, Kamath Y. Quantitative measurement of the penetration of coconut oil into human hair using radiolabeled coconut oil. J Cosmet Sci. 2012;63:27–31. [PubMed] ↩

Mhaskar S, Kalghatgi B, Chavan M, ROut S, Gode V. Hair breakage index: an alternative tool for damage assessment of human hair. J Cosmet Sci. 2011;62(2):203–207. [PubMed] ↩
Image Credits: Deposit Photos