Do you encounter problems with styling your hair before sleep?
If yes, then try to answer this question: what is your night-time regimen? The term night-time regimen applies so much to skin care, that we often forget about our hair. 
If you want to have a sweet seven to eight hours of sleep, then you have to reconsider your usual night-time regimen of just makeup removal, applying face serum and neglecting your hair. Taking care of your hair should be one of your priorities. 
Also, if you've been looking for a comfortable sleeping hairstyle which will make your hair look better and save you some time in the morning, then you need to style your hair properly at night.
Find out how to wear your hair to bed that will give you a comfortable night's rest and wake up to beautiful hair the following morning. 
1. Braids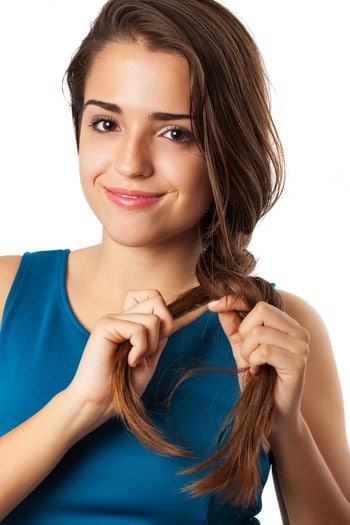 Braids are a great way of sleeping that ensure that you get in good hours of sleep. With braids, you are also assured that you can wake up to a great hairdo. There are different types of braids.
Loose Braid: 
To get a loose braid, brush your hair to the back, grip the ends, and tie it loosely into a braid. Secure the braid with a fabric scrunchie to prevent hair band markings from appearing on your hair the next morning. 
This hairstyle is also great for ladies with long hair who would love to wake up to a couple of nice soft waves. If you enjoy sleeping on your back, then you should tie the braid to your side, to make sure you are more comfortable. 
CHECK OUT: Busting 5 Myths About Sleeping With Wet Hair
French Braid
After your night shower, you can braid your damp (never wet) hair into a simple French braid.
If your hair is already dry, then you can apply a little water to the hair. You can either tie your hair into a single French braid, or if you want to wake up to tighter waves, then tie your hair into multiple French braids. 
The amazing thing about this braid style is that it is ideal for all hair lengths and types. Take some part of your hair from the top, and partition it into three equal sections, middle, left and right. 
Hold the left section, take it across the middle one and join it to the right section. Repeat this same process for the right section. Once you've repeated this process till you get to the nape of your neck, take the ends of the braid and plait it into a three-strand braid. 

Two Braids
If you have natural tight curls, then this braid hairstyle is ideal for you. It will keep your curls from getting all over the place while you sleep. They will relax your curls, keep them from getting frizzy, and will get you soft bends the next morning. 
Remember to apply hair oil to your hair before you sleep to ensure that your hair soaks in enough moisture throughout the night. 
READ: 5+ Oils That Strengthen Hair
3. Twisting
If you don't desire wavy curls the next morning, then you should try twisting your hair. Twists are a simple hairdo that keep your hair away from your face and guarantees a good night's rest. 
To twist your hair, simply section your hair into two partitions. Twist each of the partition away from your face, and then twist both sections together. 
4. Top Bun
The top bun is often described as one of the most hairstyles to sleep in at night, and an added benefit is that it creates beautiful waves the next morning. To create this style, you have to first ensure that your hair is slightly wet. 
Next, brush your hair gently and then pack it into a ponytail at the top of your head. Do not pack the ponytail to a position that will be uncomfortable for you to sleep with. After securing the top ponytail, twist the hair at the ends of the ponytail, wrap it gently into the bun, and then use a scrunchie to secure the ponytail. 
To ensure maximum sleeping comfort, ensure that the ponytail is not too tight. Another plus of this hairstyle is that you can wake up to enough volume in your hair, so you won't be needing the blow dryer in the morning.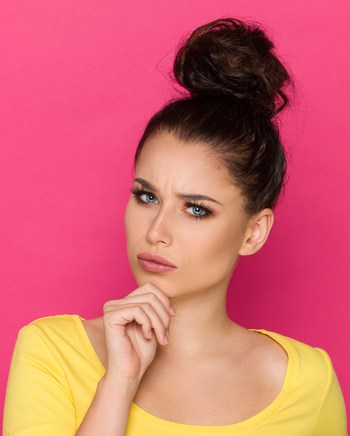 5. Pineappling
If you have naturally curly hair strands, then pineappling your hair is another superb way to sleep. Gather your hair loosely to the top of your head, and then pack it with a scrunchie. This ensures that your curls don't get damaged while you sleep. You can also try the wrap-around headband trick. 
READ: How To Keep Curly Hair From Tangling At Night
To do this, place your favorite headband on the top of your head, take small and big chunks of your hair and wrap it around the headband. Continue wrapping your hair around the headband until there isn't any strand of hair left. If you turn and toss while sleeping, then you should secure your loose hair strands with bobby pins. 
---
Cap your Hair
If you want full all-round hair protection, then you should cover your hair completely with a silk or satin nightcap. This is an excellent way to protect your hair while you sleep as it keeps any hairstyle you have on till the next day. It is important to use only a satin or silk sleep cap as these two are the most hair-friendly materials. 
Check Out: Here's Why You Should Sleep With A Silk Scarf in Your Hair
If you don't want the elastic of the cap to imprint on your nape and forehead, then you should fold and tuck the edge of the cap the other way. If you do not fancy the idea of a cap, then you can opt for a silk or satin scarf. 
So, go ahead, prepare for a wonderful night's sleep in your hairstyle of choice, and wake up to an amazing look. These protective night hairstyles are tried and trusted to give you a great and comfortable night. 
Image Credits: Deposit Photos
PIN For Later!