So you decided you want to curl your hair and even found videos showing you different techniques on HOW to curl your hair. That's great but then you wonder how to prep hair for curling.
If you have straight, fine hair, getting long-lasting curls can be challenging. However, the key to those curls lies in your prep. 
How do you handle your hair and what steps do you take before curling? 
---
How To Prep Hair For Curling In Four Steps:
Sure, there are lots of celebrity inspiration and video tutorials out there geared towards helping you achieve gorgeous curls, but most tend to focus more on the PROCESS  of curling the hair, than the process involved in the prep. 
To help you with this, I got some practical and useful tips that would help you prep your hair for curling like a pro.
1. Start with 'Dirty Hair'
When we say dirty hair, we mean hair that you haven't washed and shampooed in a day or two. This is because when you wash your hair, you rinse off the natural oils which your scalp produces. 
Just like a gel or pomade, these oils add hold and texture to your hair. Dirty hair is less likely to lose curls since the natural oils will help your hair retain the shape. 
Simply put, a curl will hold much better on slightly oily hair, than slippery just-cleaned hair. 
CHECK OUT: How To Get Your Curls To Hold All Day
However, if it's already too late, that is, if you've washed your hair already, there's an alternative method. Simply use a blow dryer to rough dry your hair, or let it air dry completely before you start curling.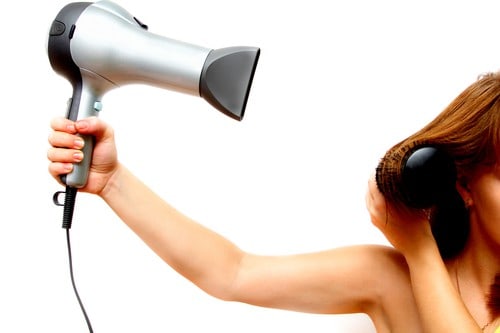 TIP: Skip the conditioner. They make your hair slippery so curls won't hold for long. 
If your hair looks a little oily or dirty around the roots, use dry shampoo. If you're in between washes and you're bothered about oily hair, using some dry shampoo around the roots will help soak up any excess oil. 
For those struggling to get their curls to hold, check out this post exploring the reasons why your hair won't hold a curl and what to do about it.
2. Add Texture
The next prepping step is to add texture to your hair. There are several products you can use to add texture to pin straight hair so that it holds the curls for a long time. 
Use these products to your advantage. 
So, if you've been asking, "What should I spray on my hair before curling?", here are some of the ideal hair products.
Curl-enhancing cream:  Curl-enhancing or curl-defining cream is typically designed for people with curly hair. But fortunately, it also works for straight-haired ladies who want to add some curls.
Depending on the length of your hair, add some amount of the cream and comb it in from the roots to the tips of your hair, distributing the product evenly.
Pomade or Gel: You can use either of these two if you don't have a curl-enhancing cream. However, don't use so much to the extent your hair gets weighed down. You just want to coat your hair lightly.
For fine, hard-to-curl hair, use a setting spray. Lottabody Setting Lotion is the OG of setting sprays. Thank goodness they still continue making them after all these years!
If you're looking for a setting spray that also doubles as a heat protectant, I recommend AG Hair Thermal Setting Spray. It's specially designed to hold curls made from heat styling tools like curling iron and hot rollers.
While using any of these products, remember to distribute it into your hair evenly.
3. Use a Hairspray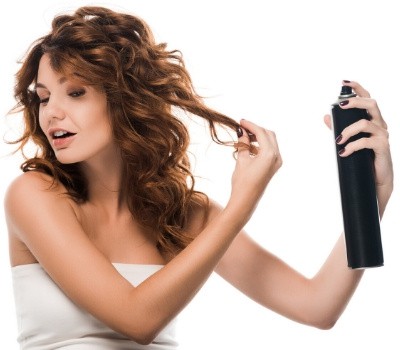 Again, prepping your hair for curling is all about adding texture. Most people make the mistake of saving hairspray applications for the very end of the curling process. 
If you only spritz your hair when you're done curling, your hair will most likely fall flat after a short duration. 
Using hairspray or curl-setting spray before applying the iron will help prevent your hair from getting burned, and will also help you create curls that last.
So, apply a light coating of light to medium hold hairspray to your hair before curling, spraying it a few inches from your hair. 
Hold the spray 20-30 cm away so your hair won't turn white. Then, you can gently comb it from the roots to the tips of your hair, distributing it evenly. 
TIP: Steer clear of firm-hold hairspray. This is typically used for keeping locked in place, and it can result in a crispy, stiff look. 
4. Choose the Right Equipment for Curling
Curling irons are designed in various materials such as tourmaline, ceramic, titanium, gold, and chrome. 
The best choices are ceramic and tourmaline irons. They provide frizz control, even heat distribution, and cause less hair damage than the other options. 
CHECK OUT: The Best Curling Iron To Prevent Hair Damage
Titanium and gold curling irons get very hot and can offer a good curl, but they are not an ideal choice for frizz and heat protection. 
Though chrome irons are inexpensive and readily available at drug stores, they are not recommended. Chrome irons tend to fall and frizzy curls.
Should I wash my hair before curling it? 
If you are planning to use a wet set (also known as a roller set), then you can wash your hair before curling. In fact, freshly washed hair is ideal for a roller set. 
However, if you want to get curls from hot rollers or curling iron, then your hair needs to be completely dry. 
Even more, hair that was washed a day or two before is best for curling. Freshly washed hair is very slippery even once it's dry, making it harder to style. 
With day-old hair, the natural oils of your hair provide texture and make your hair strands moldable. At least, wash your hair the night before to make curling and styling easier the next day.  
TIP: If you can't last a day without washing your hair, there's a solution. Take your completely dried, freshly washed hair and a top-quality hairspray. 
Divide your hair into small sections and mist the hair lightly. Don't touch the hair until it is fully dry again. This way, your hair will have the features of a day-old hair and thermal styling will be far easier.
For more tips on curling freshly showered hair, check out this post on how to curl clean hair.
Bottomline
If you follow the steps and tips we've discussed above, curling and styling your hair will come easy. Plus, the beauty of adequately prepping your hair for curls is that you'll end up with curls that last throughout the day. 
Image Credits: Deposit Photos