It is no secret that bleaching is probably one of the most intimidating things you can do to your hair. That's for a pretty good reason, most of the time. Bleaching is infamous for damaging, drying out, or even irreversibly ruining your hair if poorly done. 
But when done well, bleach can do wonders for anyone who wants to express themselves through their hair.
Of course, it doesn't just stop with bleaching. It just gives you a blank canvas to start. So what is the best colour to dye over bleached hair?

But before you get too excited and start thinking of colors, let's go back to the basics of how we can start painting over that canvas and turning it into the work of art that you want.
---
How to color over bleached hair
Make sure that your hair is light enough for the color and intensity you want.
Different dyes work better on different levels of lightness, so always check your desired color to see how light your base should be.
Do your research and pick the best kind of dye for you.
Dyes come in permanent, semi-permanent, and demi-permanent formulas. Know which one works best for you before coloring your hair. 
If you need a crash course, know that permanent dyes last the longest but cause more damage because they change how your hair proteins are structured. They also only come in "natural" colors like black, brown, red, and blond.
Semi-permanent dyes cause the least damage but can wash away after a month or so because they only coat the top layer of your hair. Thus, they're a lot more gentle on your hair. These also come in various colors and are your best choice when it comes to "unnatural" brights, neons, or pastels. 
Demi-permanent dyes are somewhere in between semi-permanent dyes and permanent dyes in longevity. They act like permanent dyes but with less damage. 
Pre-condition your hair. Before you dye your hair, you can use a deep conditioner to prime it and prevent extensive drying and damage.
Apply the dye following the instructions on your kit. If you're using permanent dyes, do a test strand first to ensure you don't damage your hair or have allergic reactions.
Now that you know how to color over bleached hair at home, it's time to answer the question: "What colour can I put on my bleached hair?"
Well, simply put, the best color for bleached hair is just about any color! Bleaching hair makes it the perfect starting point for any color as long as you get it light enough.
There are 10 levels of lightness when you bleach your hair. The higher the number, the lighter your hair. As a general rule of thumb, dyes are more true to color when starting with a lighter base. 
CHECK OUT: How long does temporary hair dye last?
---
Best Colors on bleached hair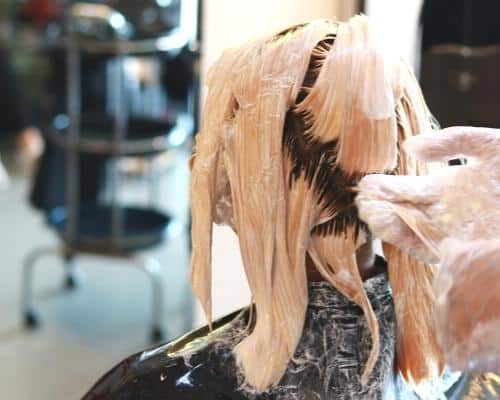 Platinum Blonde
Let's start with the color that really makes use of the lightness of bleached hair. Platinum blonde is the perfect color to go for when you're looking for a way to stand out.
This pristine, nearly white shade is definitely eye-catching but can be challenging to maintain. Just remember to use a purple toner or purple shampoo to keep it looking nice and shiny and not dull and brassy.
Ash blonde
Putting ash blonde over bleached hair is another great way to keep up with trends while minimizing that nasty bronziness that can dull bleached hair. The cool gray tones in ash blonde cancel out the yellows that can make your blonde hair look unkempt.
Pastels
If you're looking for a way to try out new things with your hair, look no further than pastels. Pick your favorite color and use semi-permanent hair color after bleaching. There's a rainbow of pastels to pick out there, and only people brave enough to go for bleaching can truly pull it off. 
CHECK OUT: What unnatural color should I dye my hair
---
How to dye bleached hair back to natural color
Done with experimenting with your hair? Or maybe you just feel like the next big change is to go back to your natural color. It's just like filling in a blank space with color, right? 
Well, it's not as simple as that. So before you grab the box dye, consider having a professional bring you back to au naturale, just like you would when you go light.
Adding darker color to bleached hair can be a complex multi-step process if you want it done right.
Otherwise, it can look unnaturally dark or muddy. There are even nightmare stories of hair turning green if you just jump the gun!
But don't you worry. It's best to know some things about returning to your natural color to figure out if it's something you can do at home or something you'd rather trust your favorite colorist with.
Bring back the warmth. One of the things that bleaching takes away is the natural warmth in brunette or red hair. When you go blond, the golden, red, or orange tones in your hair are wiped out. 
So, master colorists suggest starting with a light warm color and layering it, going deeper and darker along the way. This can take a few sessions.
Toners and color depositors will be your new best friend. 
Sometimes you start with brassy blonde, which is not the best base for a new color. So, don't forget to cancel out the brassiness first by using a purple toner or purple shampoos and conditioners. 
If brassiness isn't a concern for you, then try giving your hair coloring a boost by using color-depositing shampoos. There are ones out there that help bring in more black, brown, red, or ash into your hair and give you a hand with the transition.
Prevent color fading. Use a color-safe shampoo when you wash, and try to avoid activities that might cause your color to fade, such as swimming in saltwater or getting too much sun.
---
FAQs:
Can I use permanent hair color after bleaching?
Absolutely.
Make sure to give your hair some time to "breathe" between bleaching and coloring with box dye. And don't forget to do a test strand before you go all in. If it shows any signs of further damage, stop right there.
Can I put a box Colour on bleached hair?
Yes, but be careful. Box dyes are usually permanent dyes and can cause extra damage to bleached hair.
What color to put over orange bleached hair
When bleached hair starts getting brassy, the best way to cancel it out is by using a purple or blue toner. Those colors should be cool enough to take away the unwanted warmth of the orange tinge in your hair.
Can I dye my hair after bleaching it the same day?
The quick answer is yes, you can! This is assuming all other factors say that you're in a good position to do so.
What this means is that if you're coming in with healthy hair, you could most probably take bleaching and coloring on the same day!
However, if you have more damaged hair, it's best to either stick with semi-permanent dyes or just give it a week or let your hair rest and recover before heading in with a more long-lasting dye.
---
Conclusion
So, now you know the basics: Coloring Bleached Hair 101!
Don't forget to make the choices that are healthiest for your hair, whether you're coloring it with fun pastels, going for a sleek blonde, or dyeing it back to your natural color. Happy coloring!