I have always wanted to dye my dark hair blue. Blue is quite a fascinating color — a standout beauty among a wide array of colors yet devoid of drama.
It seems like blue is the hair color trend these days. Some even call it the quarantine color. 
Katy Perry's blue asymmetrical blue bob is a head-turner.
Kylie Jenner's teal ombre hair color is versatile and looks great on any skin tone.
Lady Gaga's icy blue hair is subtle yet elegant. 
Gwen Stefani's iconic sky blue hairdo twenty years ago still rocks to this day.
And the list goes on.
Lately, I have veered my fascination toward BTS (Do I sound like an ARMY?).
Aside from their vocal and dance talents, they have gained popularity for their astoundingly remarkable visuals, from fashion to hairstyle. The Bangtan boys are exceptional in sporting all hues of the rainbow, especially blue. 
Asians typically have dark hair by default. Mine is dark brown. Dyeing my dark hair blue is out of the question. 
Here's the catch: Is bleaching part of the equation to achieve the desired result? Should I subject my tresses to such a horrendous ordeal?
These questions piqued my curiosity:
Do I need to bleach my hair to dye it dark blue?
How to dye black hair blue without bleach?
How can I dye my dark hair blue at home?
Thanks to technology, the internet is awash with plenty of topics about anything under the sun, including blue hair dye. 
Asking for hair care advice from professional hairstylists is just a few clicks away. My favorite hairstylist pitched in too. And he replied almost instantly.
I have collated all information on how to dye dark hair blue without bleaching. Feel free to pitch in on the comment section below. 
---
Do I need to bleach my hair to dye dark blue?
Dark blue dye (especially midnight blue hair color) is such a dark shade that sitting atop any base color does not require bleaching to achieve the desired effect. 
Even if it is just a tint of blue, the blue hue is visible to the naked eye when it catches light, especially sunlight. 
However, if you choose a lighter shade like sky blue or aquamarine, then bleaching is a prerequisite for the blue color to show up. 
But bear in mind that bleach is a harsh invader that breaks apart hair protein to remove hair color. It leaves hair strands lighter… and significantly weaker. 
My choice of midnight blue (inspired by Megan Thee Stallion) does not require bleaching.
---
How to dye black hair blue without bleaching
No blue dye can modify the black pigments in your hair. 
A dark shade of blue dye directly applied to unbleached black hair creates a subtle tint. The outcome is a glossy blue sheen that is obvious only when light hits it. 
Choose a blue hair dye specifically designed for black hair. It enhances the depth of black hair and gives it some dimension. 
However, if you choose a lighter shade of blue, hair experts agree that unbleached dark hair will not achieve the desired effect at all. 
If bleaching is inevitable, my hairstylist advised using Olaplex Hair Perfector #3. Oil-infused hair dye also helps cushion the impact of hair damage. 
It is prudent to take extra care of our hair with or without bleach. Choose a hair conditioner with extra moisturizer. 
As much as possible, shampoo every other day and avoid hot tools for styling to prevent further damage. Use Keratin sealer in your hair care regimen to replace lost hair protein.
---
How can I dye my dark hair blue at home?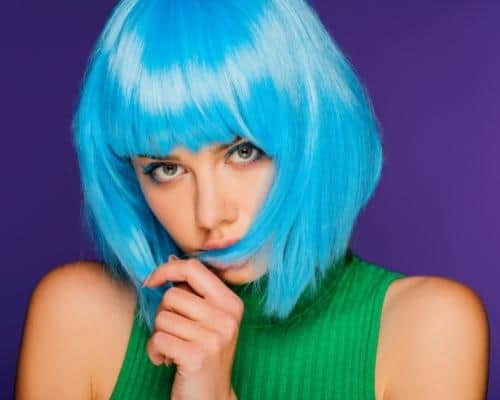 Most of us have tried DIY at home at least once in a lifetime. Penny-pinching is harmless if the process does not require hair lightening. 
Dyeing dark hair blue changes the tone of the hair from warm to cool. Aside from enriching the existing color, it contours the face to project a vibrant aura. It is a safe bet for just about any type of skin tone.
There is a wide variety of hair color brands in the market to choose from, ranging from temporary to semi-permanent to permanent hair dye. Do your research and always go for quality products in your at-home DIY. 
Lifestyle and personality tend to influence the selection process.

If you want to experiment with colors, choose either temporary or semi-permanent. On the other hand, people who are always on the go (especially those who need to cover more than 50% of gray hair) may opt for permanent hair dye. 
Whatever your choice, I advise you to be extra cautious in reading the fine print on the package. Words like free from peroxide, free from ammonia, or free from ethyl alcohol must be present.
 And do not forget to follow instructions. 
Here are the DIY steps : 
Wash your hair thoroughly to get rid of excess oil residue.
Protect your clothes and skin. Wrap a towel around your neck to protect your skin from the dye. Use gloves to keep the dye from staining your hands and fingernails. 
 Mix the dye. Follow the package instructions for mixing the dye. 
Apply the dye to your hair. Using a dye brush, coat your hair in sections. Apply the dye to the bottom layers first.
 Let the dye sit for as long as necessary. Set a timer, so you do not leave the dye on for too long. Some products require 15-20 minutes. Others require half an hour. 
Rinse out the dye. Use cool water to rinse your hair. Warm water may remove
           more of the dye, and the color may not look as vibrant. 
Most blue dyes are semi-permanent and may wash out easily. In this case, you need to re-dye your hair every three to four weeks, preferably only at the roots. 
Whether DIY at home or with the help of an expert, dyeing requires after-dye hair care. 
That means using a system of shampoos and conditioners formulated for color-treated hair. Sometimes your blue hair needs a hair mask for extra conditioning and detangling. 
I have envisioned my dark hair with beautiful strands of midnight blue. I am glad there is no need to change the settings of my canvas.
I suggest you give it a try too.