After living with poker-straight hair for years, I decided to look at the curling tool market to perhaps give them a go!
I have always been envious of my friends who have luscious curls, and so I headed in the direction of curling wands and curling irons. 
They do look like the brother and sister of the curling world, but on closer look, they are very different hair tools!
Both will do what they say on the tin — give you curls, obviously, but both the wand and the iron offer features that will appeal to some and not others.
Before you start doing any research on wands and irons, it's key to get your head (excuse the pun!) around what they actually are.
---
Benefits of curling wand vs curling iron
The wand works without a clip (sometimes known as clipless irons), so think Harry Potter, and you are halfway there! The iron opens and then covers a part of the hair, like a clip.
So these great tools have been around for years, but just because of their age doesn't make them obsolete.
The iron creates polished, uniform classic curls (tight or loose). If you want the same look every day, this is probably the option for you!
A curling wand is, shall we say, less regimented and is used to create natural waves as well as different types of curls. 
When choosing between curling wands vs. curling irons, the key is the look you are trying to get.
Curling irons can give you curls, which are spirals or beautifully constructed ringlets. It can be a bit tricky to start with, but once you loop the hair around the barrel, you are there, and the clip makes it easier to keep it still.
So, where does a beginner start when deciding to go for a curling wand vs iron, and which is easier to use? Well, it depends on a number of factors.
With a curling iron, think traditional again — think ringlets, think uniform, think on point. A wand offers a far more relaxed look, as it has no clip to press and heat the hair.
The wand allows for more gentle heating of the hair, and when the hair drops away from the wand, it produces a unique look each time. The wand does offer more flexibility as it can produce tighter curls or looser ones.
I love the curling irons look if you're heading out to a night out on the town (hopefully, those days will be back with us soon!) I love the glam Hollywood look you can get. Think Marilyn!
Since my Mum's era, the irons have definitely moved on; different size barrels are standard to get different curl types.
You also have more options to vary the heat, which is greatly dependent on the thickness of your hair. The thinner your hair, the less heat you need, keeping it from unwanted breakages. A useful tip, though, is to use a heat styling protection product.
Is a curling wand easier to use?
Now the curling wand is a different product altogether. It doesn't come with a clip or clamp that curling irons generally have. Although curling wands can come straight or tapered, the conical shape is more popular as it gives you natural-looking curls.
It gives you a big curl near the roots of your hair, then as your curl cascades down your back, the curls flow. The concept of using it is easy – just wrap your hair around the barrel, and it can work its magic on you in five seconds.
It's easy to burn your fingers with a curling wand. That's the one thing you really have to watch for! So better make use of that heat-resistant glove that usually comes with the iron.
But even with a curling iron, there's still a risk of burning your face or neck! Or even your hair, for that matter, when you use high heat on fine, thin hair. As with any heat styling tool, go easy on the heat.
It's also helpful to have an automatic shut-off. I am always so paranoid about leaving the house with any heating item on. I have had many dashes back to my house to check I have turned my straighteners off!
Can you use a curling iron as a wand?
Yes, you can! Just wrap your hair around the barrel (without using the clamp). The only downside is that your hair might get creases from the ridges of the clamp.
---
Curling wand vs curling iron for short hair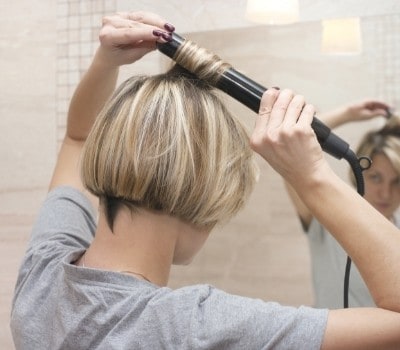 Just because you don't have gloriously long tresses (that's me!) doesn't mean you can't have curls in your life.
For the best result on my hair, I recommend finding one with the smallest barrel.
The smaller they are, the better, as your hair can wrap around the tool more times than it would with a wider one.
The ½ inch or ¾ works if you're aiming for tight curls, and go for the 1-inch for much looser curls.
CHECK OUT: A look at the best curling iron for short hair
---
Curling wand vs curling iron for thin hair
If your problem is thin hair because it is particularly prone to heat damage, it doesn't matter if you use either a curling wand or curling iron.
But you do need to be aware that any extreme heat can cause damage and affect its condition in the long run, especially if you want curls every day!
Keep the iron set below 200 degrees Fahrenheit if you have fine or thin hair. Also, make sure that the type of material the barrel is made with is gentle to the hair. If the heat spreads evenly, this avoids hot spots.
Now, if you are blessed with big hair (I am very jealous!), and you want that beach wave tousled look, I would suggest using a curling wand instead of a curling iron. This is to avoid the clamp, which can give you a look with too much structure.
---
Tapered curling wand vs curling iron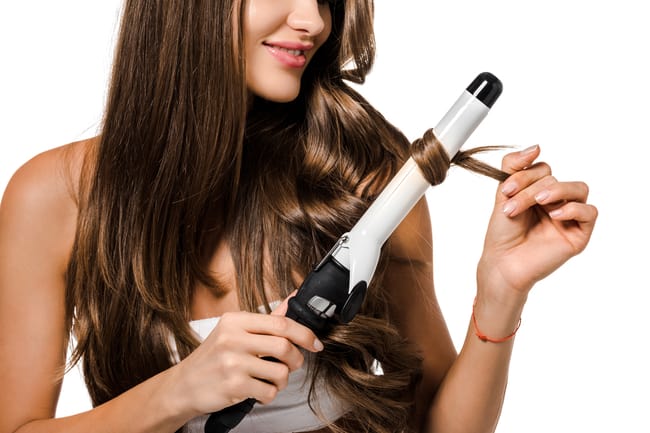 An even easier beach wave look is achieved with a reverse tapered base wand. 
This type of curling wand produces curls that go from wide to small, giving an even more relaxed, less uniform look. It provides an even more natural look to a standard wand without changing between different accessories. 
On top of the conical shape, you can get a wand with an automatic rotating function, which is definitely worth the extra money.
---
Do I need a curling iron or wand?
So with both the curling wand and the curling iron in the boxing ring, who comes out as the winner after the final bell? There is no winner as they are both unique in their own ways.
Both are simple to use, but both take some practice to get the look perfect.
Some people find the iron clip gives them a more secure tool to work with, and once you master the length of time to heat the hair to avoid any unsightly creases, you can get perfect uniform results every time.
Some feel the lack of clasp gives you more flexibility in the styling and a more relaxed, less uniform look. Both have a slightly different feel when using it.
In the end, as with everything, it is a personal choice, but you can be assured that whichever tool you are picking up prior to a night out on the town, you will be leaving the house with curls to die for!