You enjoy using a curling iron when you want your hair to look voluminous and beautiful. However, if you are struggling to get the style you truly want to have or you have noticed your curls are falling flat in less than an hour, there is a fairly good chance you are making one of the five most common mistakes.
1. Setting the heat too high
You should notice a heat control setting located somewhere on the equipment you are using to complete your style. Some of these products allow you to control the exact temperature while others just have the basic low, medium and high settings.
There is not one good reason to use your curling iron at the highest setting because you could accidentally burn some of your hair off or cause severe damage to your ends. Keep the temperature at about 250 degrees Fahrenheit or less to play it safe.
2. Wrapping hair around the curling iron barrel for too long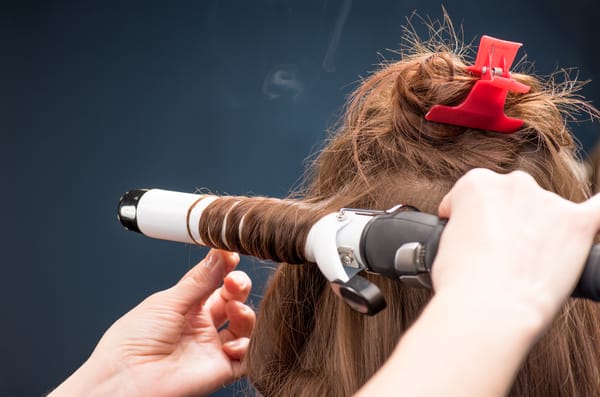 You want to get that perfect curl, but leaving strands of your hair wrapped around the iron for several minutes is not a good way to make it happen. In fact, if you leave it on for an extended period, your hair could burn right off at that moment! The last thing you want to do is burn some of those beautiful strands.
If you want to have loose curls, consider leaving the strands wrapped around the iron for about four or five seconds. If you would like them to look a bit tighter, the greatest amount of time to hold the iron in place is about 10 seconds.
3. Using the Wrong Kind of Curling Iron
You may see people with beautiful curls in magazines and online photographs. When you try to use their hair as inspiration for your own, you often struggle to get it to look the same way. In that case, there is a good chance you are simply not using the right curling iron.
Smaller irons are ideal for getting those tight curls while the larger options are ideal for loose waves. If you prefer to switch it up from time to time, it is best to buy several of these different styling tools so you can always get the style you want.
4. Using Irons With a Clamp
If you currently use a curling iron with a clamp, you may have noticed it leaves some dents at the ends of your hair. Those dents can cause the style to look slightly messed up, so the best way to avoid that problem is to use a curling wand without a clamp. There are tons of these wands available in different sizes. Even if you are on a budget, you can find several affordable yet high-quality options.
READ: How To Choose The Right Curling Iron
5. Using a Hairspray After
Most people have the habit of spraying their curls down with a bottle of hairspray because they want the style to last a whole day instead of falling flat. However, the weight of the hairspray can actually contribute to the curls falling out a bit faster.
Check Out: What To Use Instead Of Hairspray
Instead of putting that kind of product on the hair that will make it feel hard and cause it to go flat, you should always use a dry texture spray. The spray will help you keep your style in place all day long while adding a lot of volume to it.
You can make sure your hair looks its best by avoiding these common and frustrating mistakes. Simply take your time, use the right tools, never overdo it with the heat setting and do not forget the texture spray.
PIN For Later!
Image Credits: Deposit Photos