Hair drying might sound like a simple endeavor, but if carried out the wrong way, it can result in a limp, tangled or frizzy mess. How you dry your hair will also depend on your hair type. In this article, we'll talk about the best way to dry hair after shower.
Keep reading to discover the different techniques on how to dry your hair. 
This post may contain affiliate links. If you click through and make a purchase, I'll earn a commission, at no additional cost to you. Read my full disclosure here.
Whether you air dry or blow dry your hair, it's best to use a microfiber towel first instead of regular cotton towel. It's just much gentler to your hair!
Sale
Turbie Twist Microfiber Hair Towel Wrap for Women and Men | 4 Pack | Quick Dry Turban for Drying...*
DRY YOUR HAIR FAST: Nothing beats the original. Our microfiber hair wrap is made from a super absorbent...
REDUCE FRIZZ: Rubbing hair vigorously with a bath towel damages strands and promotes frizz. Turbie Twist hair...
SUPER LIGHTWEIGHT: A lightweight, perfectly fitted hair turban you can put on with ease. There are no...
TWIST AND LOOP: Unlike other brands with flimsy buttons that fall off, our extra strong elastic loop design is...
FAMILY FRIENDLY: One size fits kids and adults! Perfect for getting kids ready and for family travel. Wrap...
* Prices and Images pulled from the Amazon Product Advertising API on 2023-09-18 at 11:44  
---
How do you dry your hair properly?
There are two methods for drying hair: air drying and blow-drying. Each of these methods come with risk of hair damage, so it is important to go about it the right way. 
Air Drying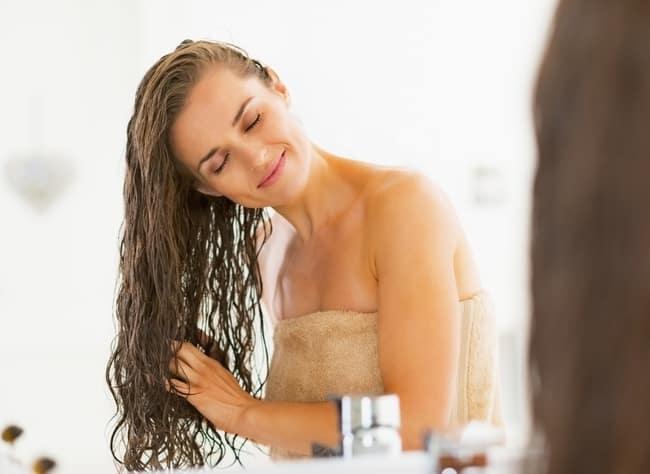 Most people tend to just leave hair to air dry after shower. It's simple, easy to do, and required no special equipment. To air dry properly, follow these steps:
1. Pat your hair
After coming out of the shower, use a clean T-shirt or a microfiber towel to pat your hair down. T-shirts and microfiber towels are better than regular towels as they are soft on all hair types and do not cause abrasion.
If you've ever asked the question; how do I keep my hair from being fluffy after washing? Then, pay particular attention to this step as using microfiber towels also help to reduce fluff and frizz. 
2. Detangling
When your hair is half dry, you should start detangling it with a wide-toothed comb. Start from the side and back sections of your hair and slowly work to the crown and front. 
You should ONLY comb from the roots of your hair when it is completely free of tangle. If you root-comb a tangled hair, it might cause hair breakage. 
3. Use a high-quality hair product
You can apply a cream to smooth away dryness and frizz, or a gel to get a stronghold. To get extra volume in your hair, you can also apply mousse.
4. Style your hair
Before your hair dries completely, you should comb through it and arranged it in the style you want to wear it. For instance, if you're going to wear it out as curls, then you should cut it into sections and twist it. If you want a straight hairstyle, comb your hair down. 
It is recommended that you only air dry 70% – 80% of your hair, then apply a blow dryer for the remainder. After your hair is completely dry, add styling gel or cream, or a little oil if your hair tends to get frizzy. 
Use your fingers to apply the product around your hair. To avoid disrupting the texture of your textured, curly or kinky hair, do not brush. 

Blowdrying your Hair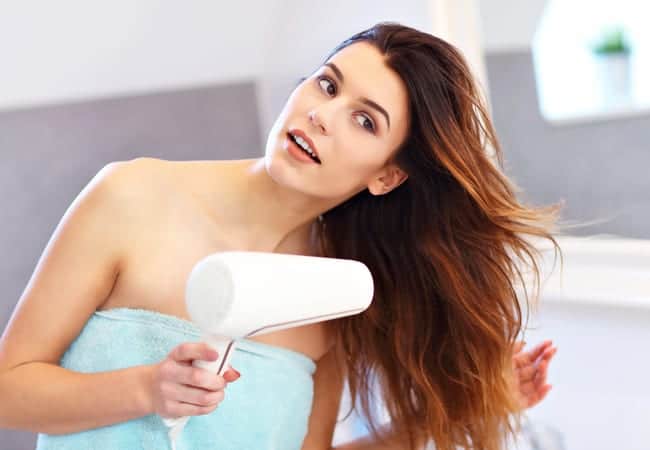 If you want to use the hair dryer to speed up the drying process, you have to be careful so that you don't damage your hair. To properly blow dry your hair, you need a high-quality dryer, an airflow diffuser attachment, a leave-in conditioner or heat protectant spray/cream, a wide-toothed comb, a hair oil/serum, and a styling cream. 
Before blowdrying
After washing your hair, comb through it starting from the ends using a wide-toothed comb, then work your way to the roots in small sections. This will help you to get rid of tangles. Next, you should apply a heat-protectant product or leave-in conditioner to your hair. This will protect the layers of your hair from the upcoming heat. 
Blowdrying your hair when it is still sopping wet is a terrible idea. The hair is at its weakest when it is wet, making it more prone to damage. So, before you blow-dry, you should squeeze out excess water from the hair with a microfiber towel, then airdry the hair till it's damp before you blow-dry.
If you have curly hair, you can consider adding some styling gel through your hair. This will give your curls a better structure and shape. 
During Blowdrying
Connect a diffuser to the nozzle of the blow dryer: This distributes the heat evenly and reduces frizz. Hold the hairdryer at least 6 inches away from your hair. If you have curls, a diffuser will retain their shape. Remember to use the lowest heat setting first to blow dry your hair, and avoid blow-drying the ends of your hair. The ends are the driest part of the hair so you should use only minimum heat. 
Once your hair is completely dry, you can apply some oil or serum to it. If you notice that your curls are too clumpy after using gel, then you should finger-comb your hair till the clumps break off. 
RELATED: Find out the healthiest way to dry your hair!

How to Make Your Hair Dry Faster
Do you also want to know how to make your hair dry faster? If yes, keep scrolling to see some of the methods to apply.
1. Apply a Conditioner
While still in the shower, you should apply a conditioner to your hair. This will rehydrate your hair after the wash, seal in the needed moisture and the silicone in the condition repels water, preventing your hair from absorbing excess water. Also, as you apply the conditioner, ensure that you comb through your hair for even distribution. 
2. Squeeze out water from your hair
If your hair is still sopping wet when you leave the shower, it's going to take a long time to dry. So, it is best to part your hair into sections and gently squeezes the water out of it before you leave the shower.
3. Get a microfiber towel.
As said earlier, a regular towel does not do your hair any favors, instead it roughens up your hair cuticles which can damage your hair. As an alternative, use a soft microfiber towel.
As it has a smoother texture, the microfiber towel is able to absorb twice as much water, without frizzing your strands. If you have a lot of curls, a clean, soft, cotton T-shirt will work better as it will dry your hair fast without disrupting your curls. 
4. Focus on the Hair Roots not Ends
More often than not, the ends of the hair will dry first before the roots. To speed up the drying process, you should focus on removing water from the roots. 
Thankfully, if you follow these tips and techniques, you can finally say goodbye to your hair-drying woes. 
PIN For Later!
Image Credits: Deposit Photos