Do you wake up at night with your hair tickling your face?
Does your hair get pulled by you or your partner when you put weight on it?
Do you sleep and wake up with dry and brittle ends? Or maybe your hair get stuck at your back while sleeping?
I used to have really long hair. And although long hair can be pretty, it can also be hard to maintain.
This post may contain affiliate links. If you click through and make a purchase, I'll earn a commission, at no additional cost to you. Read my full disclosure here.
The longer your hair gets, the tougher it becomes to sleep with it without it either disturbing your sleep or getting it damaged.
---
Sleep Essentials for those with long hair:
Kitsch Satin Sleep Set*
Includes one queen satin pillowcase, along with a matching satin eye mask and a volume scrunchie!
FRIZZ-FREE HAIR. Unlike cotton, satin pillowcases lessen friction between your hair so you can wake up with naturally beautiful hair without the frizz!
REDUCE BREAKAGE. Using a satin pillowcase and scrunchie for your hair keeps your hair's natural oils.
Softer than silk, it will keep your hair healthy and reduce dryness, breakage, and tangles.
* Prices and Images pulled from the Amazon Product Advertising API on 2023-12-10 at 03:02
---
Luckily, I found out that there are things you can do to protect long hair while sleeping.
After all, our hair uses our sleeping time to restore itself.
I will also show you in the rest of this article how to prevent your hair from disturbing your sleep at night.

---
7 Ideas on What To Do With Long Hair While Sleeping
1. Braid your hair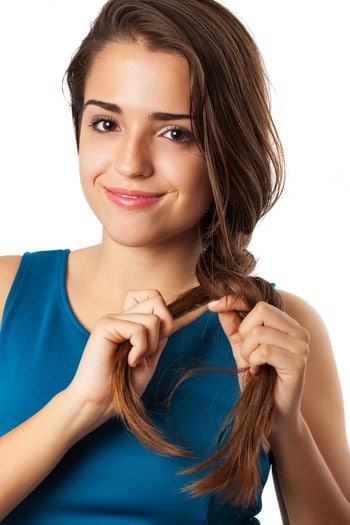 Many people with long hair put their hair into tight buns or ponytail before going to sleep. Although this method might feel a bit comfortable for a while, it can lead to hair damage.
It is better to braid your hair instead. But be careful not to braid your hair too tight.
While braiding your hair you need to make sure the braid is held loosely, starting from your neck region to the ends. This is to avoid your hair looking braided even when you already unbraided it by the time you wake up.
It is also advisable not to braid your hair when it is wet.
To braid your hair, you can go for a fishtail braid, a Dutch braid or a three-strand braid. These braid styles will prevent the end of your hair from breaking excessively.
2. Put Your Hair in A Bun
This is one of the methods that can save you from the problems that come with sleeping with long hair.
While putting your hair in a bun, always ensure that it is not strapped too tightly.
To prevent the risk of split ends, used a scrunchie. This helps hold your hair gently without pulling it while you sleep.
For people that love to sleep with wet or slightly damp hair, it is advisable to use a sock bun.
This helps you to sleep comfortably all night. And a sock bun gives you beautiful curl that lasts all day for those that want curly hair.
3. Apply an Overnight Hair Treatment
This is one of the best ways to hydrate and repair your hair. It's not news that adding hair treatments and hair masks into weekly hair care routine is very much important.
Taking advantage of the sleeping hours to apply these treatments will allow it to stay longer and thereby making it more effective in repairing the hair and hydrating it too.
I recommend you do this like twice or once a month to get the best result.
4. Use Dry Shampoos at Night
"The best to use dry shampoo is before bed."

– Mary Futher, Founder of Kaia Naturals
The use of shampoos excessively can cause your hair to lose its natural oils and therefore, making the ends brittle and dry. To protect your hair, you can use dry shampoo instead. This can be applied to the roots of your hair at night.
5. Cover your hair with a satin head scarf
I find it comfortable to cover my hair with a satin scarf while sleeping. This helps to keep my hair in check and protect the ends of my hair. Also, with my hair covered, my hairstyle can be maintained for a long time.
No matter the kind of hairstyle I make, my satin scarf always preserves it well. Aside from satin scarf, you can also use a turban or a silky bonnet.
6. Brush your hair before going to sleep
Doing this before you sleep ensures you'll have tangle-free hair. Brush your hair gently.
Not only will it help to untangle but also increase the shine and the length of your hair. Make sure that all knots are removed with your hand before you brush your hair from roots to tips.
7. Use satin or silk pillow covers
You probably never thought of investing in pillow covers, did you? I never thought as well!
But did you know that using cotton pillow covers can damage your hair?
Not only can the use of wrong pillow cover cause damage, but it can also cause pain. This is why satin or silk pillow covers are advisable.
Although changing your pillow cover from cotton to silk or satin can be a bit expensive, but trust me, it is worth it.
8. Always Make Sure Your Hair Is Dry Before Going to Bed
READ: Myths about Sleeping With Wet Hair
Although washing your hair at night has a lot of advantages, you should never sleep with wet hair. It is compulsory that you make sure your hair is dry before going to bed.
This is because sleeping with wet hair can lead to hair breakage and tugging, especially for people who turn and toss while sleeping. I also advise you use hair primer to hasten blow-drying and prevent hair damage.
9. Remove Your Hair Extensions Before Sleeping
No matter the brand or kind of hair extensions you have on, always try to remove them before going to bed. This is because, although it is harmless to wear the clip in extensions all day, it can damage your hair and even the extensions when worn overnight.

---
Got more ideas?
So the first half of the ideas in this list were more about hairstyles, and the second half are hair care tips for your long hair.
How about you? If you got long hair, what do you do with it while sleeping?
Do you put it in a top knot bun? Or braids?
If you got any more ideas that we haven't covered above, please let us know in the comments!
Image Credits: Deposit Photos
PIN For Later!