Here's a quick question: Do you like taking a shower before sleeping like I do? 
For those of us who enjoy ending the day with an amazing, hot shower (or even a cold one at that!), then you'd agree with me that it can get pretty difficult to maintain your hair till dawn. 
This post may contain affiliate links. If you click through and make a purchase, I'll earn a commission, at no additional cost to you. Read my full disclosure here.
---
If you want to use your sleep time as your "love your hair time", then what better way than to use a super nourishing hair masque and wrapping your hair in a microfiber towel?
Your hair will thank you in the morning!
* Prices and Images pulled from the Amazon Product Advertising API on 2023-09-17 at 13:59  
---
Most people are of the opinion that going to sleep with a wet hair can only turn out as a disaster in the morning.
But trust me, there are several ways to sleep with wet hair and still avoid the dreaded morning bedhead.
What if I tell you that you can get the best version of your hair even when you wake up? 
Here are some tips on styling your hair overnight to achieve an amazing morning look. 
---
DIY Tutorial: 7 Hairstyles To Sleep in With Wet Hair
1. Pineappling
Do you want to wake up with your natural curls intact? If yes, then the pineappling technique is the way to go. 
All you need to do is gather all the wet hair to the crown of your head, and then wrap a silk hair scarf around the base of your head. 
A silk scarf, rather than cotton, is best for this style. Cotton completely strips the hair of moisture. 
Even more, if you use cotton, the coils of your natural hair are likely to get caught up in the fabric weaving, making the hair prone to breakage. 
READ: How To Style Wet Hair In A Hurry
2. Twisting Wet Hair into a Bun
After your shower, what do you use on your hair? The products you use at this stage determine how your hair will turn out in the morning. 
From experience, I can tell you that it's best not to use leave-in conditioner on your wet hair, except when you have dry hair. If you use leave-in conditioner, your hair will remain unappealing and damp till morning. 
However, you can improve the natural texture by applying a good beach spray product on your damp or towel-dried hair. Now that you've applied a good product, you can pack the hair to the top of your head, and gently twist it into a bun. 
Wet hair is very fragile, so try not to use a hair tie or an elastic band on it to avoid breakage. Instead, use about four bobby pins to secure the loose bun. 
You shouldn't have a problem styling your hair in the morning with this hairstyle. All you need do is shake it out and apply a little spray. 
3. Braiding Wet Hair Overnight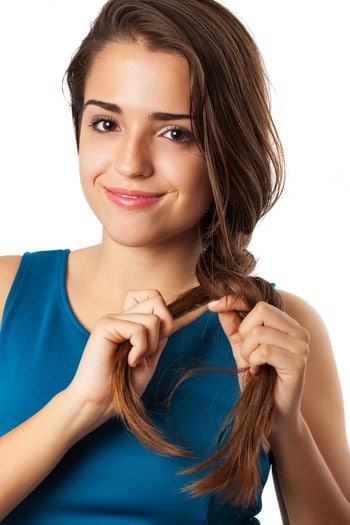 This hairstyle is a popular favorite among people that sleep with wet hair. With this hairstyle, you give free rein to your imagination and let it do the work. 
If you want an all-over wave the next morning, then twisting your wet hair into French braids is ideal. If you want tight curls, then twist wet hair into cornrows. 
Twisting a low, loose braid will turn into beach waves the following morning. The texture and volume you desire should determine the kind of braids you opt for. 
You can apply leave-in oil before braiding. The essence of this is to keep your hair nourished, smooth and shiny. 
Check out: Quick Hairstyles For Wet Hair In The Morning
4. Dual Buns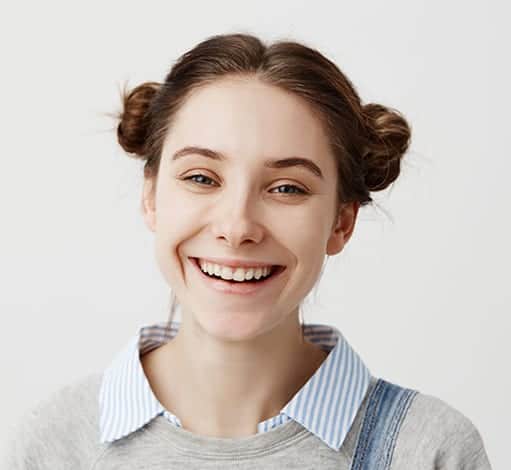 If you want something fast, simple and convenient, you can always choose this hairstyle. Grab your hair, then gently divide it into two sections. 
The division doesn't have to be even. There is absolutely no need for you to worry about perfection. Afterwards, twist each section into opposing directions, and then fold each into a bun. 
Secure each loosely with ponytail holders or bobby pins. When you wake up in the morning, you only have to loosen both buns, apply a little texturizing spray, and voila! you have a perfect hairstyle. 
5. Ponytail
Your hair is still damp, and your eyes are closing in sleep already. Do not despair. 
You can simply pull all your hair to the back and then form a loose ponytail which you can easily secure with a scrunchie. Zoom, and you're off to bed. 
When you wake up the next morning, you can set your hair with a stronghold spray. This will help you in maintaining the hair throughout the day. 
READ: How To Stop Hair Breakage Caused By Ponytails
6. Retro Waves
If you're not too sleepy, you can style your wet hair with rollers to achieve retro waves in the morning.
First, add some of your favorite styling cream to your damp hair, and then get some bobby pins and Velcro rollers. Start with the area that is closest to your forehead, divide the hair into sections and roll it, then secure with bobby pins.
Continue rolling like this till you've covered the entire hair. The next morning, you can shake the curls loose and step out with confidence. 
For more details on how to do this, check out Andrea's full tutorial here.
7. Bantu Knots
If you have very curly hair, then you know that it can frizz up easily. Bantu Knots is the hairstyle solution you've been searching for. Curly hair needs a lot of liquid. 
So, apply few pumps of an excellent leave-In conditioner to your hair, next comb through with a styling cream from the roots to end. If you have dry curls, I recommend you apply a moisturizing oil to the ends of your curls to prevent frizz. 
After you've massaged these products evenly, take a one-inch hair section and twist it around to make a tight knot. Tuck the ends under the hair to secure it. Repeat this procedure throughout your hair till you have about 20 knots. 
Smaller knots will help you achieve tighter curls. After this, you can use a silk scarf to wrap your head and go to sleep. 
After this, you can use a silk scarf to wrap your head and go to sleep. 
---
Which of these hairstyles is your favorite?
If you love taking night showers, or perhaps you are caught in the rain at night and your hair gets wet, it can be really bothersome to have to go through all the long processes of blow drying the hair before sleep. Hence, the essence of this article. 
In this simple tutorial, I've touched on seven hairstyles that you can rock to bed even with your damp hair. The beauty of these hairstyles is that you can easily style them and step out of the house looking great  the next day. 
Amazing, right? 
Share your pictures of these hairstyles and let me know which one you love the most.
Image Credits: Deposit Photos
PIN for Later!